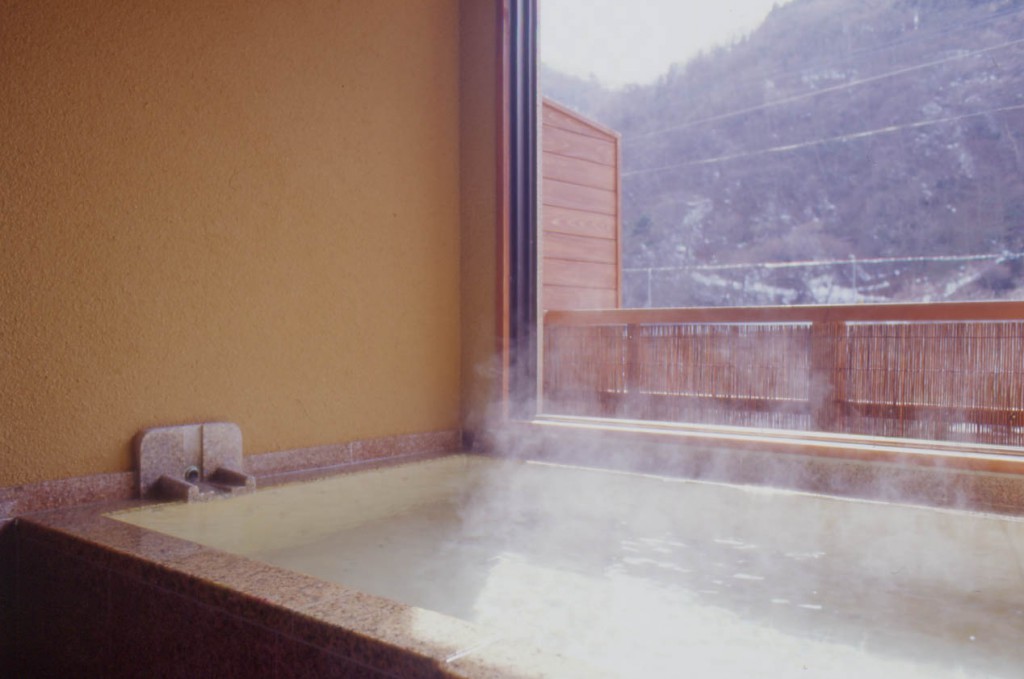 My friend took me to Shima Onsen but truthfully speaking, I've had an aversion to onsens before I came here. I've had this image in my head that the properties of an onsen bath would make my skin itch and my hair dry. Because I have sensitive skin, I thought that it wouldn't be suitable for my body. But I think Shima Onsen suits me – it's completely different from other onsens.
When I entered the ryokan, the employees immediately greeted me with a smile and led me to my room. The room was a subdued, Japanese-style room, typical of an onsen inn. I felt that the room itself was a bit small, but considering its reasonable price, the room's size was enough.
With regard to the baths, I was able to go to the open air baths immediately from my room. I was surprised that you can have these large, open air baths to yourself. Moreover, you can bathe any number of times so I bathed after I arrived at the ryokan and then again after I ate my meal.
A very tender steak was served during dinner. It was delicious – so good that I almost regret thinking that one would expect an onsen inn to serve Japanese food.
The checkout time was a late 12:00 pm so I had enough time in the morning to prepare to leave. For lunch I went to Kashiwaya Cafe and I also sampled some of the famous manju buns at a nearby manju shop. Location-wise there are lots of things to do and the onsen town itself is a pleasant place to be.
Despite bathing in the onsens, my hair didn't become dry not did my skin itch. I also slept very well – proof that I was able to relax.
Time:February 2014
Gender:Man
Age:27 years old
Situation:With friends
★Response from Kashiwaya Ryokan
Thank you very much for staying at Shima Onsen Kashiwaya Ryokan during your trip for the summer.
We are happy that you were able to see onsens in a new light because the water at Shima Onsen contains components with moisturizing properties that are soft and gentle to the skin. Moreover, you really get warm so you can be warm while you sleep and you can sleep soundly.
Thank you too for enjoying your meals. Our supplementary steak made from Joshu beef is very tender and is very popular with our guests.
If you interested in Japanese style Onsen, Please click here
Shima Onsen Kashiwaya Ryokan >