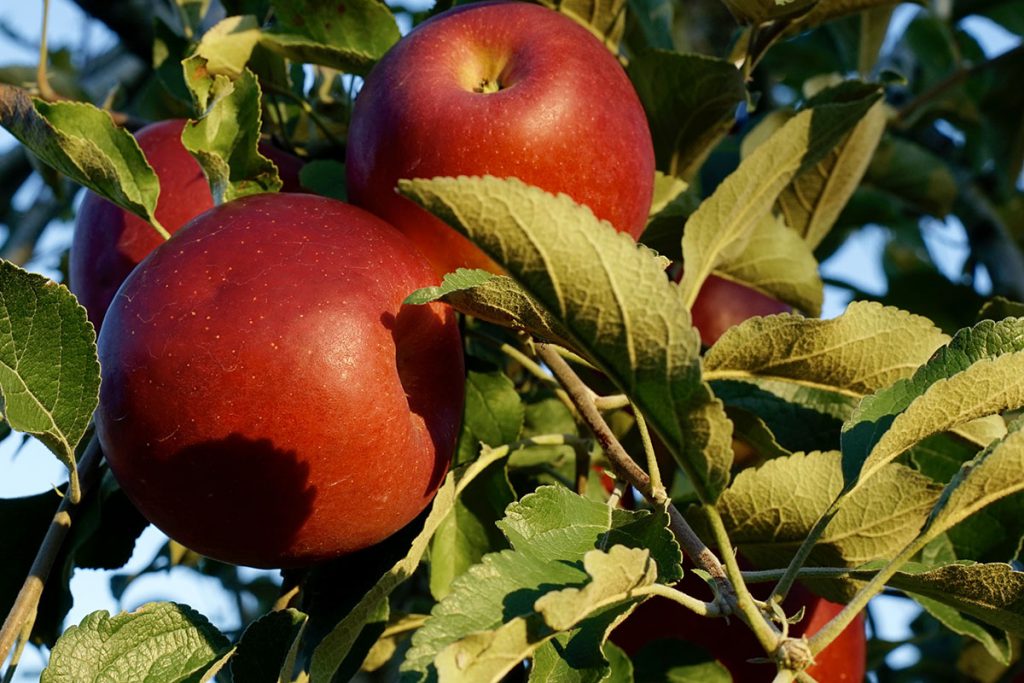 In Japan, there are fresh seasonal fruits you can eat during any time of year. Apples, grapes, tangerines, strawberries, peaches, Japanese pears–you name the fruit, and you can find it in Japan. What's more, there are fruits in season all year round due to the diligent efforts of our farmers.
And wherever you go, there are also tourist friendly orchards that allow you to pick your own fruit!
In Japan, all-you-can-eat fruit-picking is very popular. You just pay the entrance fee, go into the orchard, and pick as many fruits as you can eat. Popular even among international visitors, you can enjoy fruit picking right here in the Shima Onsen area.
In the Shima Onsen area, we especially recommend apple picking.
Nakanojo, where Shima Onsen is located, is a big producer of apples, and there are many growers in the area. The different varieties of apples are harvested from August all the way through November, and the apple-picking season for visitors also coincides with this period.
In early August you can enjoy the Tsugaru (notable for its fresh, sweet flavor) and Sansa (balanced sweet and sour flavor) varieties. October is the season of the juicy and deeply flavorful Akibae, as well as the bright red Yoko variety developed here in Gunma. And finally, the world-famous Fuji variety is ready to harvest in November.
Fuji apples are the most representative of Japanese apples, making up a majority 55% of all apples harvested in Japan. In recent years, they have been produced in other countries (notably, China and USA), and it is said that they are the most commonly grown apple variety in the world. The Fuji apple is about the size of a baseball and has a superbly sweet flavor. A hybrid of the Red Delicious and Ralls Genet varieties of apple, it first came to the market in 1962.
Being able to eat as many of these amazing apples for just one coin (500 JPY, or about 5 USD) is a dream come true to fruit lovers!
For apple-picking in the Shima Onsen area, we recommend Kanai Farm, Shirogami Fruit Park, and Jindaira Farm, all of which are accessible via public transportation (local bus bound for Nakanojo Station).
The fee for all-you-can-eat apple-picking is only 500 yen. If you want to take any of your apples home, extra fees will apply.
In the Shima Onsen area, you can also enjoy strawberry, peach, blueberry, and many other varieties of fruit picking during various seasons.
We hope you enjoy the diligently cultivated flavors of Japan's gorgeous countryside when you visit.