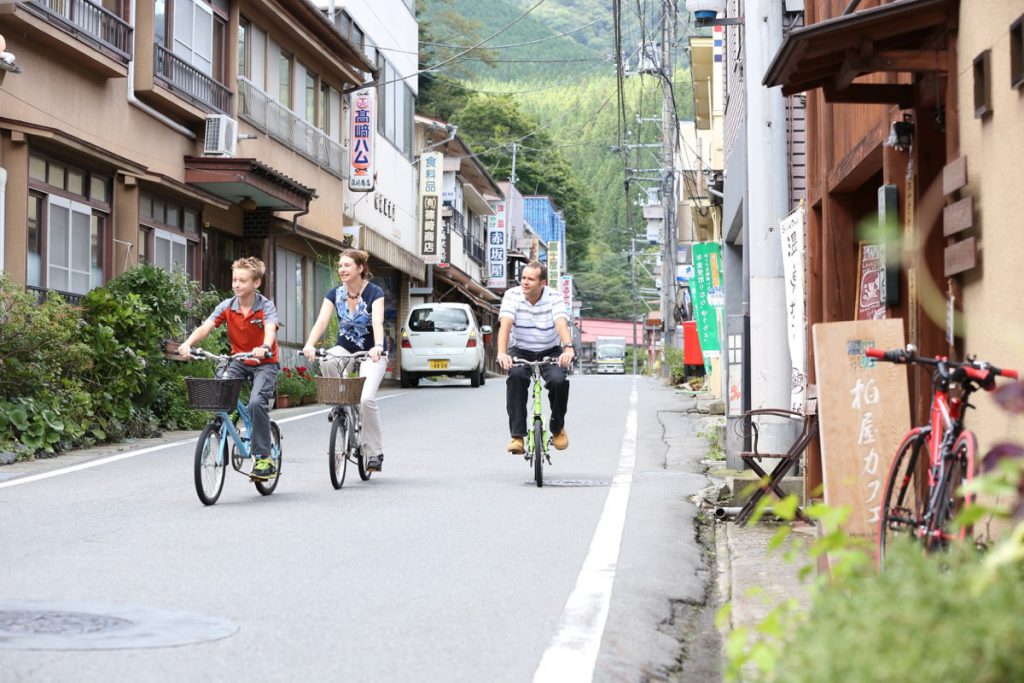 Shima Onsen is a sprawling hot spring (or onsen) town located along the Shima River. The town area covers about 3km north to south. However, if you measure from the southermost oketsu (mysterious indentations in the riverbed that Shima is famous for) to the northernmost Shima River Dam, the onsen covers a length of 6km.
Now, this distance is only a short car ride, but on foot it might be a bit daunting. That's why the mode of transportation we recommend for traversing Shima Onsen has to be…bicycle!
What's more, we offer free rental bikes to our guests at Shima Onsen Kashiwaya Ryokan, so please don't hesitate to use them!
Kashiwaya Ryokan is located at an elevation of about 634 meters, the same as Tokyo Sky Tree in Asakusa. The elevation at Okushima Lake is about 770 meters, so to get there you would climb 130 meters. Climbing up the dam itself Is roughly 70 meters, which means it's only about 70 meters from Kashiwaya Ryokan to the bottom of the dam (the Hinatami area).
In other words, it's a very gentle slope that you can take your time climbing without getting too tired out.
From the central town area to Arayu District is about 2km, or 10 minutes, and from Kashiwaya Ryokan to Okushima Lake should take about 30 minutes.
We had biking trip to Okushima Lake, so be sure to check it out!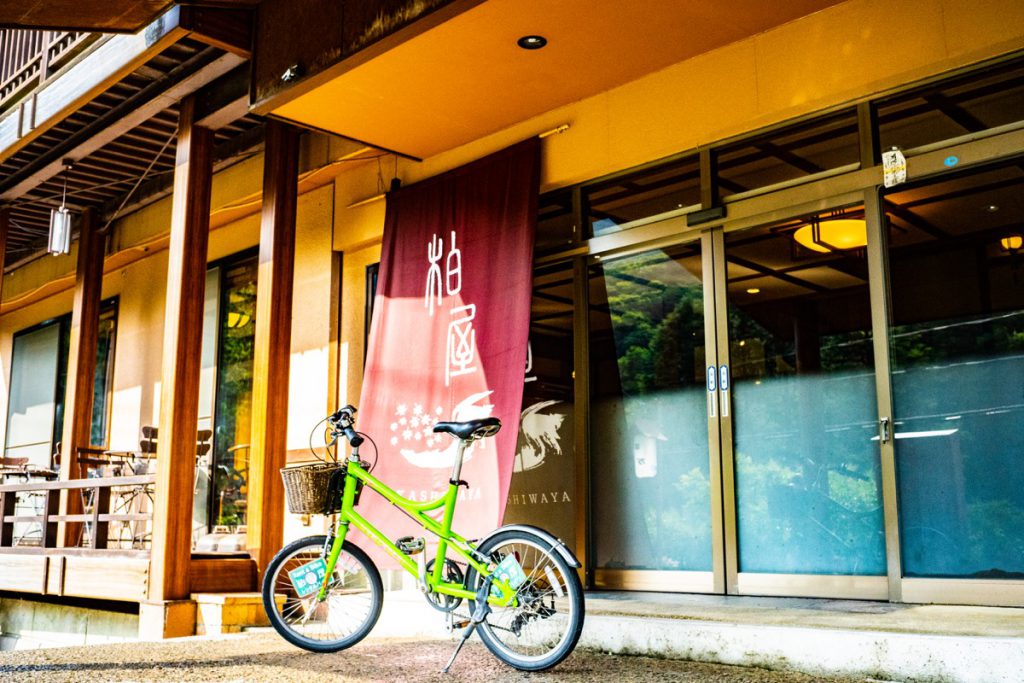 Let's start on our bike ride to Okushima Lake!
Onsen guchi Area
The area around Kashiwaya Ryokan is known as the entrance to the hot springs (Onsen Guchi).
2min, 450m –
Handmade soba and udon noodles at Tsuchiya.
Yamaguchi Area
3min, 800m –
Ichiriki Sushi, Shima Onsen's only sushi restaurant.
Washinoya sells alcohol, craft beer and foodstuffs like a convenience store.
Enjoy a free foot bath at Okinaya.
5min, 1km –
This is Tsukimibashi bridge.
Arayu Area
This is the beginning of Arayu, the shopping district.
7min, 1.5km –
This is our very own Kashiwaya Cafe and across the street is Shimamura Yakimanju.
Pottery Workshops are offered here at Mugendai.
Here is an ATM with English support at this post office.
Fugetsudo sells onsen manju buns.
Nakamuraya sells local alcohol.
Marumiya is known for its unique art pieces.
9min, 1.8km –
Hagibashi bridge marks the end of the line for buses in Shima Onsen.
Takadaya is another shop that sells onsen manju.
Sekizenkan is said to be the model for the bathhouse in Spirited Away.
10min, 1.9km –
From here we enter a narrow alley called Ochiai-dori.
Ramen shop Yumin.
Komatsuya and Nakajimaya, two handmade soba noodle shops located right next door to each other.
The freshwater fish and lightly fried eel are popular here at Kurenai.
12min, 2.1km –
Arayu ends here. Let's make our way a little further to Yuzuriha and Hinatami.
Yuzuriha Area
15min, 2.6km –
You can enjoy foot baths and drinkable onsen water.
16min, 2.8km –
From the building on the left you can see Koizumi no Taki waterfall. Let's get off our bike to check it out!
Hinatami Area
19min, 3.1km-
Turn right here and we immediately start up the dam.
Just a little more.
30min, 4.3km –
We made it to Okushima Lake.
It took 30 minutes to get here.
The water level is low now, but from Autumn to Spring the water increases and you can really enjoy the spectacular Shima Blue water of the lake.
Today we aren't going to go around the lake, but the circumference is about 4km, perfect for a bike ride or a hike.
Alright, let's go down to the Hinatami area.
6:00min, 1.8km from Dam –
This is Hinatami Yakushido Temple.
Since we came all the way here, let's go in.
You can enjoy foot baths and the onsen here.
Alright, let's head back to Kashiwaya Ryokan!
The road back is all downhill, so it's a piece of cake!
Travelling by bicycle, you don't have to worry about parking at all and can really move at your own convenience. What a perfect way to spend a relaxing day of exploration at your own pace in Shima Onsen!
If you interested in Japanese style Onsen, Please click here
Shima Onsen Kashiwaya Ryokan >