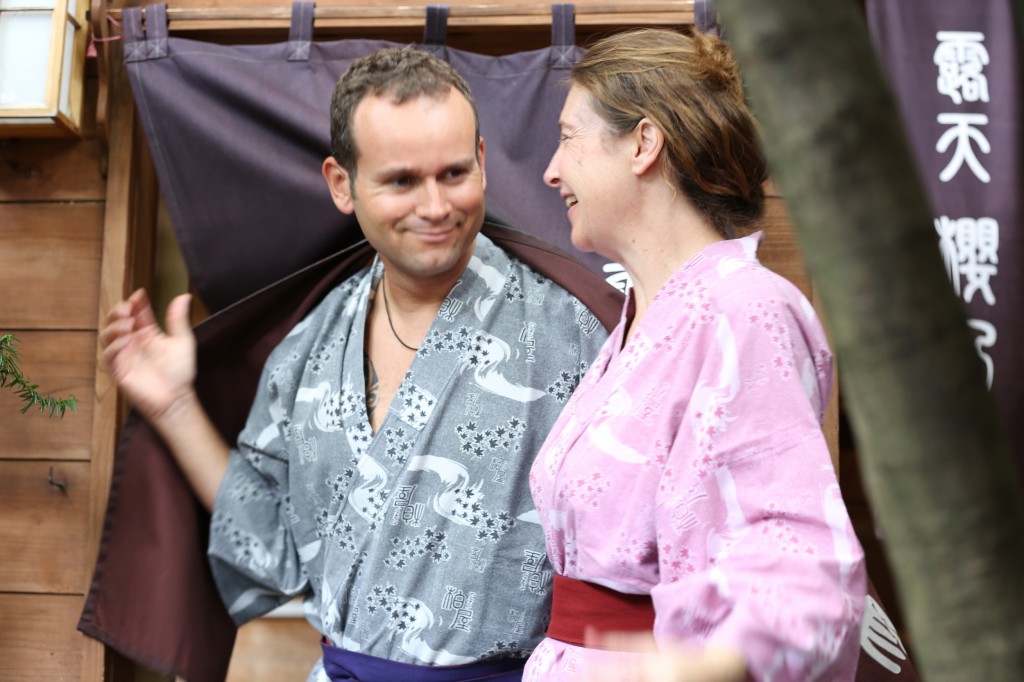 When I think about staying at a Japanese Ryokan, the first thing that comes to mind is relaxing in a yukata. A yukata is a type of light cotton kimono that all onsen ryokan have available to guests. Yukata are popular even among our international guests, and they allow you to relax during your stay at a ryokan while experiencing Japanese culture on a deeper level.
We've put together some essential information about yukata and how to wear them here.
First, the yukata is just one type of traditional kimono in Japan. This means there are many other kinds in Japan. For example, women can wear one of two kinds of kimono at formal occasions: tomesode for married women or furisode for unmarried women. There are also plain black kimono for mourning, which traditionally have a family crest embossed on them. There are even special kimono just for guests.
For men's formalwear we have the nagagi robes, haori jacket, and hakama trousers which form the base of the outfit. On these robes there may be as many as 5 family crests depending on the person's rank. There are also black habutae kimono made from silk. And for men's everyday wear, there are the iromuji, samue, and jibei robes.
Finally, there is the robe that both men and women can wear casually: the yukata.
They say that originally yukata were only meant to be worn when going to the bath and when coming out. They are generally made from cotton, but there are also yukata made from a blend of hemp and polyester.
These days in Japan, many people wear yukata as fashionable summer wear. From fireworks displays and summer festivals to traditional obon dances and holidays during the summer, people young and old enjoy wearing yukata during the summer.
And yet another place to wear yukata is at an onsen ryokan, including our own Kashiwaya Ryokan in Gunma Prefecture.
As I mentioned at the beginning, most onsen ryokan have yukata prepared for guests to use as sleepwear and for relaxing around the inn. You can even wear the ryokan yukata while walking around town. That means these robes are used all year round, not just in summer! When it comes to ryokan, the yukata is a type of resort wear for guests to enjoy and relax in.
Originally many onsen ryokan just had simple indigo-dyed yukata available. These days, however, many ryokan – including Kashiwaya, of course – have a variety of designs and colors. So guests can now enjoy not only wearing, but also choosing a yukata that perfectly suits them!
Yukata are very popular among our international guests, and many of them have been kind enough to post photos of themselves wearing yukata to their social media profiles.
Since they are difficult to find abroad, I'd like to give a brief introduction of how to put a yukata on. As it's such a rare opportunity, you'll want to wear your yukata correctly and really immerse yourself in Japanese culture.
But don't worry! Yukata are the most casual form of kimono, which means they are very easy to put on.
The most important thing to remember is that both women and men wear yukata in the "right-front" (migi-mae) style. This simply means that, for someone looking at you, the right-hand collar should be in front of the left-hand one.
Wearing your yukata the opposite way is a real faux pas. This is because the "left-front" style is only used in funeral garb, so please be careful!
The basic steps to putting your yukata on are:
Put both arms through the sleeves.
Fold your right-hand sleeve over your front first, followed by the left-hand sleeve. This will ensure you are wearing your yukata in the proper, right-front style.
Tie your obi sash to keep your yukata in place. Men should wear their sash at the hip, and women at the waist. This is considered an attractive way for women to wear their obi.
If it's cold, put on the small overcoats called hanten or chabaori, which should be available at your ryokan.
As I said before, yukata lent to guests at ryokan are not just for sleeping, but for relaxing during your stay. Feel free to take a stroll around town in your yukata, and if you do, don't forget to share all your cute photos on Instagram or other social media!
Instagram : Shima Onsen Kashiwaya Ryokan
If you interested in Japanese style Onsen, Please click here
Shima Onsen Kashiwaya Ryokan >