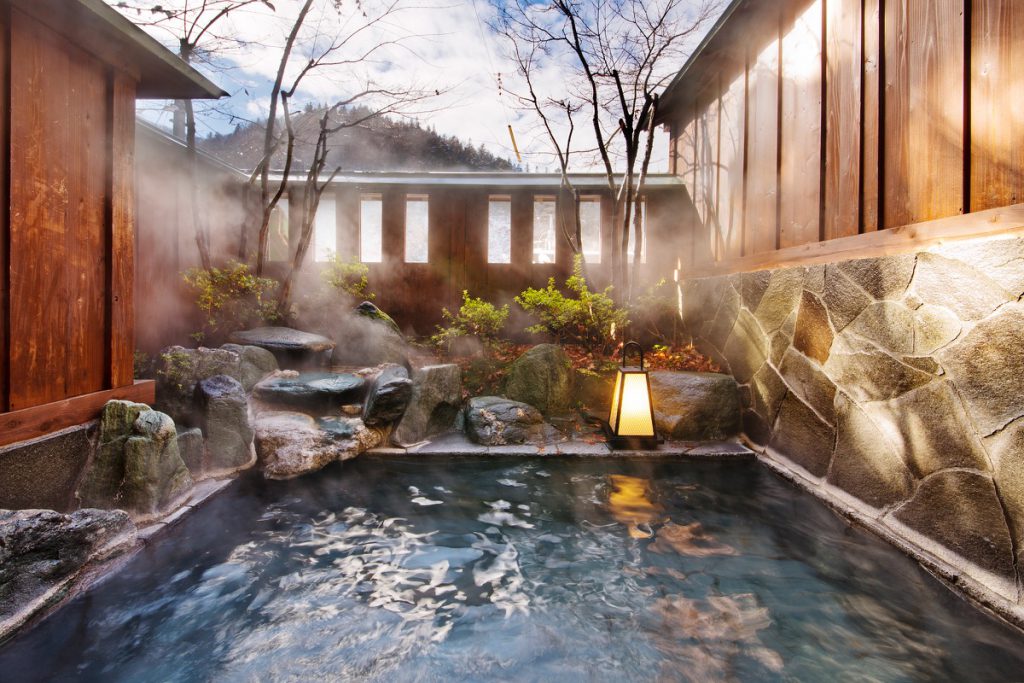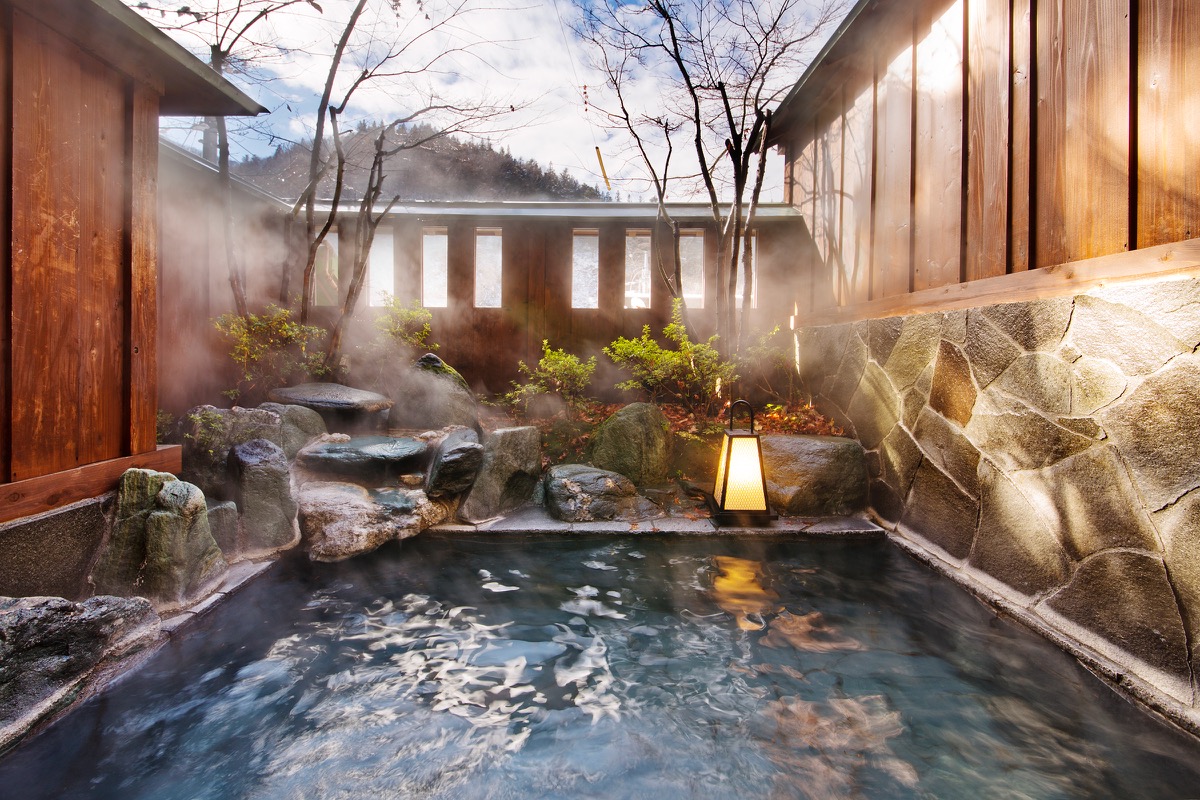 Our 'Shima Onsen Kashiwaya Ryokan' has three private onsen, all of which are open-air baths(Rotenburo), two rooms with their own private open-air onsen and large public inside onsen for both men and women.
Since anyone can enjoy a private onsen or a room with a private open-air bath(Rotenburo) without any restrictions or concerns, everyone from anywhere around the world can be satisfied with them.
Kashiwaya Ryokan is tattoo-friendly, so anyone can enjoy and participate. But if people would prefer some privacy, they can hire a private onsen or a room with a private open-air bath to further enjoy the experience.
Onsens are an integral part of Japanese culture, therefore, visiting and experiencing an onsen is a big purpose in coming to Japan for many people.
However, there are many different types of baths with different purposes and restrictions, so it may be confusing for tourists who are not used to our customs and culture.
Today, I will talk about all different types of onsen.
As I explained in another article, there is a description about hot springs in Japan's oldest history book, 'Kojiki', that was compiled in 700 A.D. From this we can tell that hot spring culture has been with Japanese people for a long time.
And even now, Japanese people still love onsen and approximately 130 million people go on an "onsen trip" every year in Japan.
There are two main types of Onsen facilities, day-use hot springs and Onsen Ryokan (hot spring focused Japanese traditional inns) or hotels with onsens at which people can stay overnight.
(However, there are Onsen Ryokan and hotels that also have day-use hot springs, so, it is difficult to differentiate between the two main types sometimes.)
I will now introduce all different types of onsens in hot spring facilities such as Onsen Ryokan and hotels.
Large public onsen separated by men and woman(daiyokujo)
Unisex large public onsen
Open-air onsen (Rotenburo) separated by men and women
Unisex open-air onsen
Private onsen (private open-air onsen)
Guest room equipped with private open-air onsen (Rotenburo)
1.Large public onsen separated by men and woman
Most onsen facilities have large public baths separated by men and woman, it can be said that it is the 'default' onsen.
The huge bath is filled with hot water and is separated by genders, but, you can enjoy the onsen with other same-sex people, while being naked.
A 'naked relationship' is an old and famous saying that describes the relationships formed when going to an onsen, meeting new people and getting close to each other by chatting. So, onsens help people in having communication with one another.
However, customers from overseas often do not have the same culture of bathing and talking with one another, so, maybe they need a little bit of courage.
We at 'Shima Onsen Kashiwaya Ryokan' have a large public bath for men, 'Hikari-no-Yu' (meaning the bath of sunshine), and one for women, 'Yamayuri-no-Yu' (meaning the bath of gold-banded lilies).
2.Unisex large public onsen
Even most Japanese people hesitate to go to a unisex large public bath. This is hard for everyone to try.
This type of onsen is part of old Japanese onsen culture, but because of generation change, it has become far less common.
Many facilities that boast this type of onsen allocate specific times at which only women can use the onsen and also allow women to wear clothes for their comfort.
The most famous unisex large public bath is 'Sen-nin-furo'(meaning the 1000 people bath) which is available at 'Sukayu Onsen' in Aomori prefecture.
Moreover, near Shima Onsen, which is where we are now, 'Maruhon Ryokan' in Sawawatari Onsen has a unisex large public onsen.
3.Open air onsens separated by men and women
An open-air bath (Rotenburo) is a bath which is outside.
This is probably the 2nd most common bath type, after large public onsen.
Open-air onsens are typically an accompaniment to large public onsens inside. You won't generally find one on its own. It feels great to see the scenery, the stars in the sky, or the snow falling around you whilst enjoying the bath.
4.Unisex open-air onsen(Rotenburo)
When onsens were first introduced, the bath was placed near the natural onsen fountain. So, unisex open-air onsens were the origin of onsens.
In our prefecture, Gunma prefecture, there are unisex open-air baths available in 'Manza Onsen' and 'Takaragawa Onsen' but people must cover their bodies.
5.Private Onsen
If you hire a private onsen, you can enjoy the experience without having to share the onsen with other people; you can relax in your own space on your own private time.
Many people try to find facilities which have private onsens, especially customers from overseas. This desire is so prevalent that on Instagram, there is the hashtag, #privateonsen .
Private open-air onsen is more popular than others, because you can enjoy the beautiful views, the calming, warm onsen and the fresh air with your partner and/or friends, without any distractions.
There are many different ways to use a private onsen. Private onsens often require payment and/or pre-booking, but some may be free to use or at least free to use unless they've already been booked.
'Shima Onsen Kashiwaya Ryokan' has three different private onsens, named 'Tsuki-no-Yu', 'Sakura-no-Yu' and 'Kaede-no-Yu'. These are very popular because if they are vacant, anyone can use them without charge. Please lock the door from inside.
6.Guest room with private open-air onsen
A "Guest room with an open-air onsen" comes with, as the name suggests, a private open-air bath.
The price of these rooms are higher than other rooms without their own open air-bath. But you can use the onsen as many times as you would like and at your leisure between check in and check out, as a result, these rooms are quite popular, and you may need to book early in order to secure one.
There are two rooms with open air baths available at 'Shima Onsen Kashiwaya Ryokan', 'HANA' and 'KAME' room.
There are more services provided at onsen facilities including 'mist baths', that can have good effects on the skin from the onsen mist. This service is quite rare, but you might often find drinkable onsen water and foot baths.
Please enjoy as many onsens as possible… After all, you are in Japan!
If you interested in Japanese style Onsen, Please click here
Shima Onsen Kashiwaya Ryokan >