It is said that there are more than 3,000 onsen with accommodation in Japan.
On the contrary, looking at the number of onsen in the world, Australia is about 50 and Germany is a little less than 200, thus you can see that Japan has overwhelming onsen powers. (Source: National Diet Library database)
In addition, its history and traditions are also great.
Onsen that was Described in the Japanese Oldest Book
A relationship between Japanese and onsen is so deep that there are descriptions about onsen on "Kojiki" that is said to have been compiled in A.D. 712 and is the Japanese oldest book. We often say, "Onsen culture is due to Japanese DNA." It is exactly like that.
Where is the oldest onsen in Japan? Onsen enthusiasts often discuss it.
From a view that are appeared in the ancient texts such as Nihonsyoki (Chronicles) and Fudoki (Topography), commonly referred "Japanese three oldest onsen" are Dogo onsen (Ehime Prefecture), Arima onsen (Hyogo Prefecture), and Shirahama onsen (Wakayama Prefecture).
In the era when medical care was undeveloped, onsen was revered as Holy Land that has amazing efficacy for injury and illness. It was after the Kamakura era that bathing became a common culture same as modern. Then in the Edo era, "Toji (onsen therapy)" culture, that is people heal their fatigue in onsen during agricultural off-season, spread and has continued unbroken until now.
Tradition of Shima Onsen
Tradition of Shima onsen is also very old and nobody knows exactly, however, there are episodes, such as Shogun of the time, Sakanoue no Tamuramaro, discovered it at Ezo conquest during Enryaku period (from A.D. 782 to 806) according to a legend, and Usui Hyuganokami Sadamitsu, a vassal of Minamoto no Raikou, discovered it when traveling From Echigo country to Ueno country in Eien 3 (A.D. 989).
The legend is like this. Usui Hyuganokami Sadamitsu was spending time by chanting while he was camping in the middle of the journey. Then suddenly, an unfamiliar child appeared and left mysterious surrender, "I bestow you a holy onsen that cures 40,000 diseases as I was moved by your sincerity of chanting. I am a divine spirit of this mountain." Although Sadamitsu was almost falling asleep, he examined the peripheral in a hurry, and found onsen gushing out there. According to these legends, it is likely that onsen had been known before the 10th century.
It was during the Warring States Period of the 16th century when Shima onsen ryokan was full-fledged open. The length of history is also a proof of the height of efficacy. It is said that when taking Shima onsen, it demonstrates wonderful effects on improving skin diseases, such as atopic dermatitis or burns, and poor physical condition of gastrointestinal system disease. Thus, Shima onsen is highly acclaimed as a premier Toji place. In addition, skin effect is also outstanding, thus many female customers also visit for cosmetic purposes.
Shima onsen is a spa town, and there are more than 30 accommodations along Shima river. One of them is "Sekizenkan main building," which is said to be the existing Japanese oldest Yuyado architecture.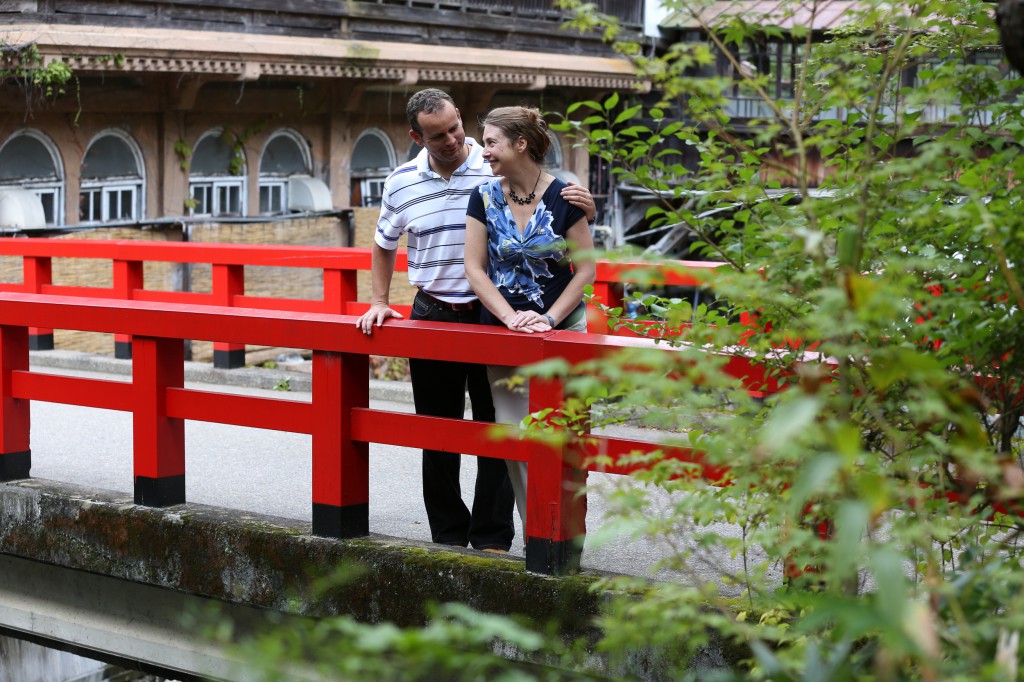 So, you can feel good old Japanese tradition. Sekizenkan is said to have become the model of the stage of "Spirited Away," a Studio Ghibli's masterpiece. If you look at the red bridge towards straight extending to the front door, many people raise impressed voice by superimposing with the world of the anime.
In October, a Shima autumn festival is held, where local young people play grand festival music works together. The traditional festival lives up the onsen town, so you can enjoy a little bit different Shima onsen's taste from usual one.
"Yakushido," a national designated important cultural property, that has been dedicated to Yunomae Myojin at Hinatami district is a symbol of Shima onsen tradition.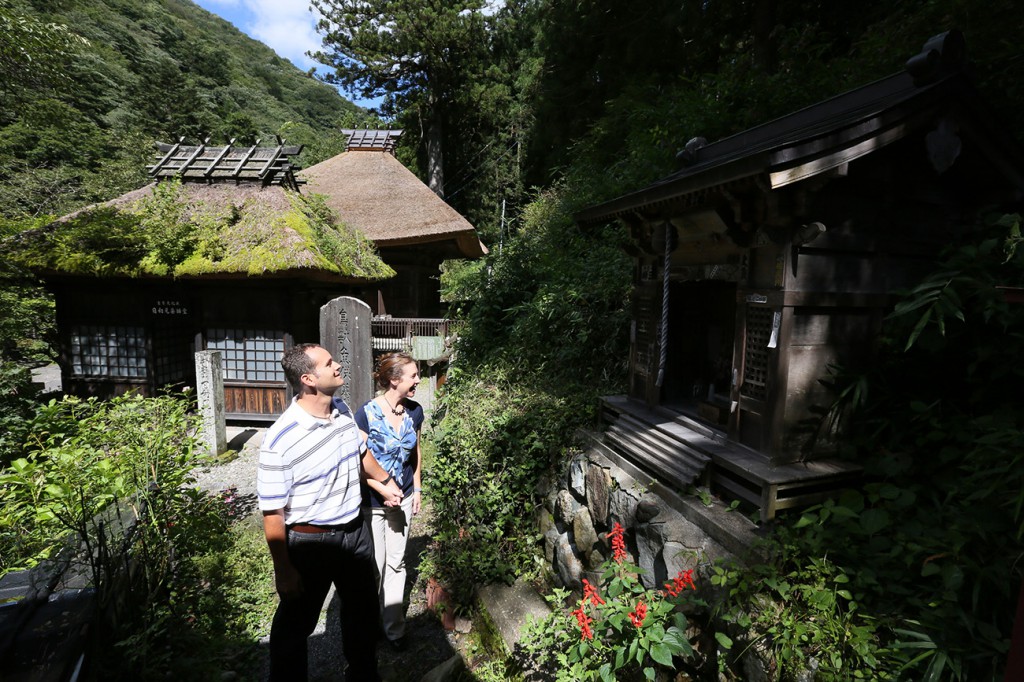 It is said to be architecture of late Muromachi Era. The fact that there was such a splendid building from that time is also a testimony that Shima onsen has prospered from old time.
There is a system called "national resort onsen," best onsen as resort designated by the Ministry of the Environment, in Japan. Shima onsen was designated as the first national resort onsen in 1954. This would show that Shima onsen is traditional and also has excellent medicinal efficacy.
As Toji culture had been remained until the 1975's at Shima onsen, you can walk the streets where you can feel the Toji culture even now, such as shopping mall and drinking onsen spot.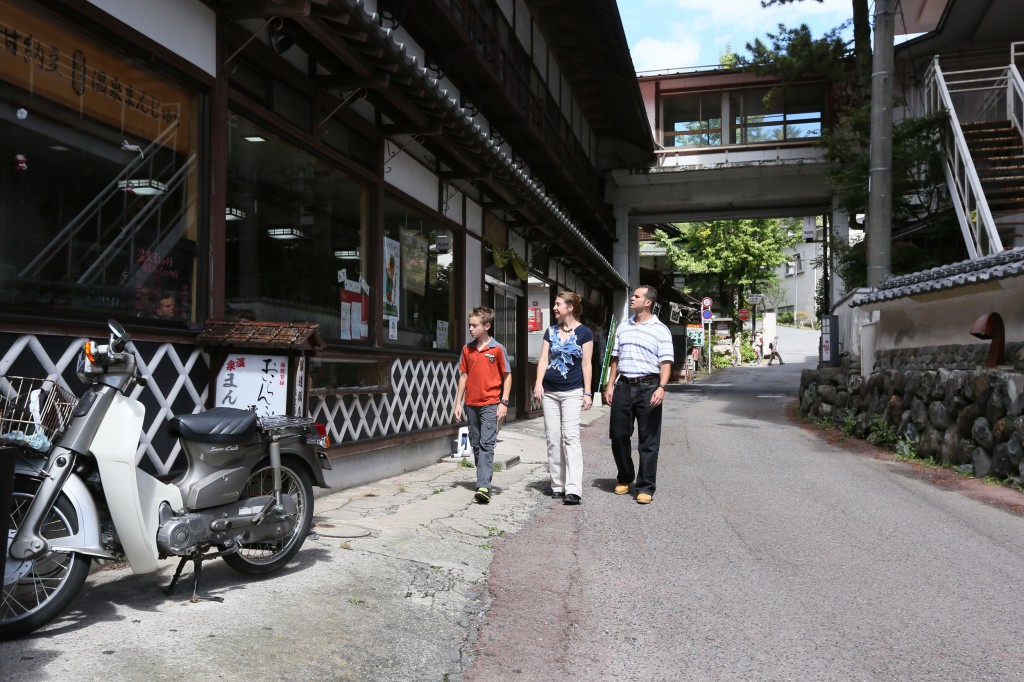 In addition, concerning the humanity of people living at Shima onsen, most of them do not care business profit that is same as in Toji era, thus people sometimes say that it is like the time of this town has stopped.
Fully enjoy onsen atmosphere at traditional Japanese onsen, especially among them, at Shima onsen with old history.
If you interested in Japanese style Onsen, Please click here
Shima Onsen Kashiwaya Ryokan >