Did you know that right here at Shima Onsen, there is a building said to be have inspired the setting for the famous animated film, Spirited Away? Today we're going to talk about the little-known connection between Spirited Away and Shima Onsen.
Manga, TV anime, and animated films are one aspect of Japanese culture that we Japanese are very proud of. One Piece, Fullmetal Alchemist, and Captain Tsubasa are just a few examples of manga and anime titles that are popular all around the world. And you often hear Studio Ghibli, the producer of so many feature-length animated masterpieces, touted as one of the most beloved names in Japanese animation.
Among Studio Ghibli's many works, Spirited Away (winner of Best Animated Feature Film at the 75th Academy Awards) is one of the most famous of all. The setting for this movie is the supernatural bathhouse for spirits called "Aburaya," run by the witch Yubaba.
In the book, Ghibli no kyokasho 12 (the Spirited Away volume in a series of books about Ghibli films), it says that "there is no specific bathhouse in existence on which Aburaya's design was based." Despite this, the question of where director Miyazaki got his inspiration from is a question of great interest to the Japanese.
The Edo-Tokyo Open Air Architectural Museum and the Meguro Gajoen hotel are commonly believed to have influenced Spirited Away, and even Studio Ghibli recognizes this influence. Among other locations said to have influenced Spirited Away are Dogo Onsen Honkan, Shibu Onsen Kanaguya, Tsurumaki Onsen Jinya, and finally Sekizenkan Honkan, located here in Shima Onsen.
Shima Onsen's Sekizenkan Honkan, designated one of Gunma's Important Cultural Properties, was built in 1691 and is said to be the oldest wooden bathhouse (Ryokan) in Japan. As such, the nostalgic atmosphere of the period is perfectly preserved there. As an Important Cultural Property of Japan with as much prestige as Nikko's Yakushido, Sekizenkan Honkan is one of the most historically significant structures in Shima Onsen.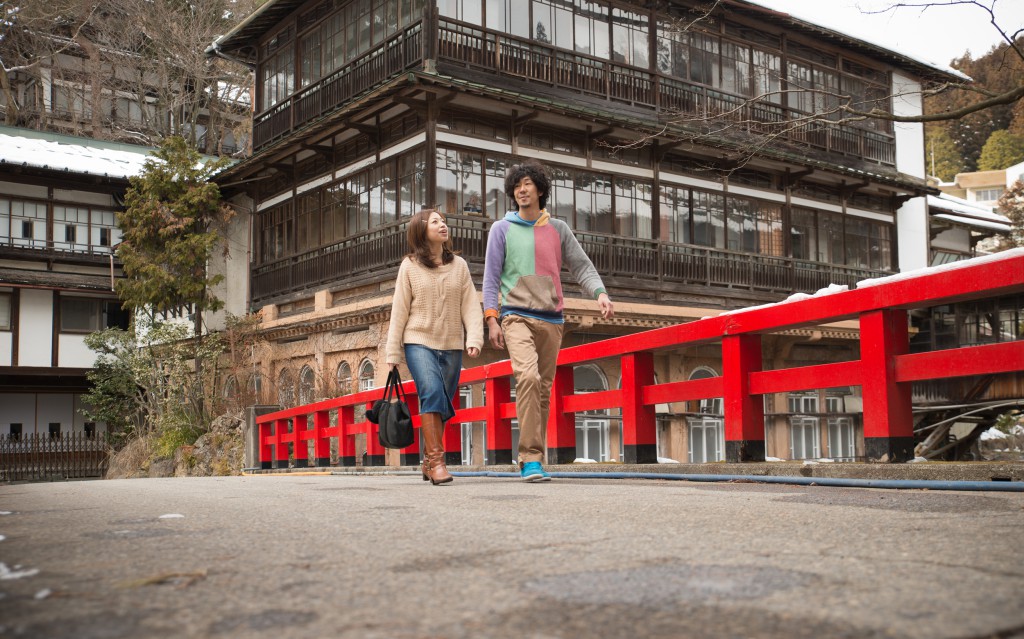 From the red bridge called Keiun-bashi and the onsen waters (Genroku no yu) to the tunnelway that leads to the upper Honkan, many aspects of Sekizenkan are reminiscent of Spirited Away, making many believe the inn must have influenced the movie in some way.
Visitors may take a tour of the facilities at Sekizenkan Honkan without actually staying at the inn. (Please bear in mind that you are not allowed to book rooms in the area of Sekizenkan Honkan that is designated as an Important Cultural Property.) It is about 2 km away from Kashiwaya Ryokan, and we recommend going there on foot or on one of our free rental bicycles.
On your way there you can do some shopping around town with your camera in hand. While you're at it, don't forget to try the yakimanju (a local pastry made of fried dough with a sweet and spicy miso sauce). And after shopping, feel free to drop by our very own Kashiwaya Cafe to rest your feet.
Next, it's time for the main event: a tour of the historical Sekizenkan Honkan, and a picture at Keiun-bashi to remember the day afterward. We at Kashiwaya Ryokan couldn't think of a more perfect day around town in Shima Onsen.
After you've seen Sekizenkan, come back to your cozy Japanese-style room at Kashiwaya Ryokan, soak in our private onsen, and enjoy the painstakingly prepared Japanese-style food and a friendly chat with our staff. This is the way many of our customers spend their time here at Kashiwaya.
'Shima Onsen is famous as the place where the onsen inn Sekizenkan is located, whose main building is said to have served as the model for the oil merchant's place in the Ghibli movie 'Spirited Away,' but we chose Kashiwaya Ryokan for its good reviews.'
From Tripadvisor.com
Now, let's change the topic for a moment. Have you ever heard of melody roads? They are roads paved with small grooves that manipulate the friction between your car's tires and the asphalt to produce musical notes as you drive over them. It just so happens that the 4km stretch of road just before Shima Onsen is a melody road. Can you guess what the song is that plays as you drive?…
That's right, it's a song from Spirited Away. Namely, the theme song, "Always With Me." Anyone who drives to Shima Onsen will undoubtedly hear this song on their approach. It truly makes for a magical atmosphere that feels like it really must have been an inspiration for Spirited Away.
If you interested in Japanese style Onsen, Please click here
Shima Onsen Kashiwaya Ryokan >