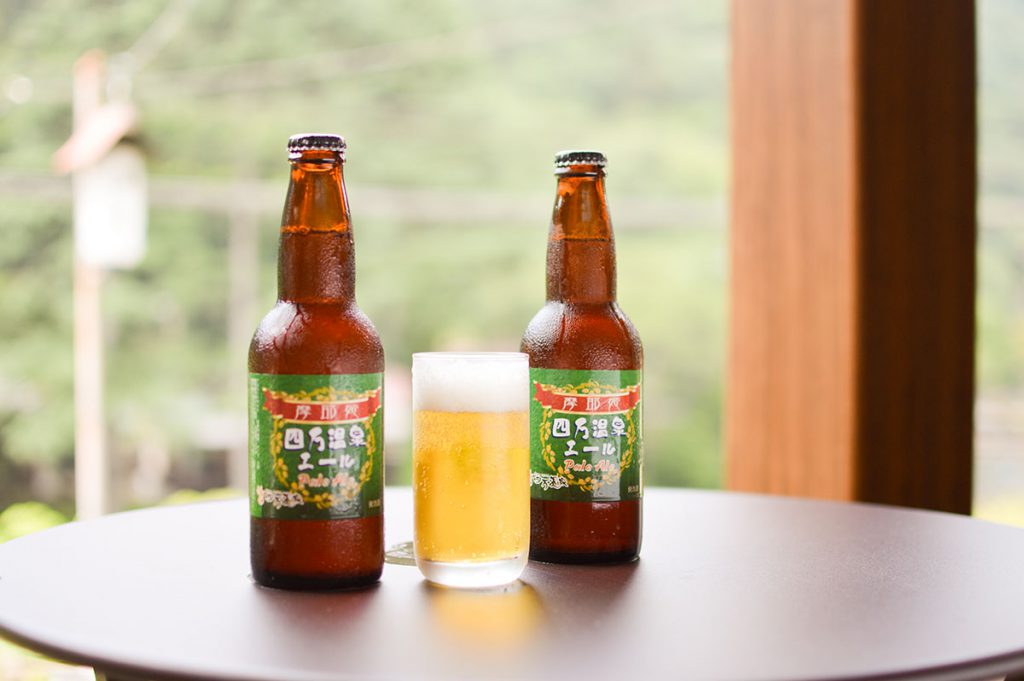 Many of us enjoy travelling all around the world, and there's one drink you can find just about anywhere you go. That's right – beer!
I myself never miss a chance to try the local beer, no matter what country I'm in. In Japan, Kirin, Asahi, Sapporo, and Suntory are the four biggest breweries, and the most popular beers among them are, of course, Kirin Ichiban Shibori and Asahi Super Dry.
But here at Shima Onsen Kashiwaya Ryokan, we have much more than your standard beers; on top of Kirin and Asahi, you can enjoy Yebisu on tap or "Shima Onsen Ale," our very own locally brewed beer and the feature of today's blog post.
As the name implies, Shima Onsen Ales are ale-style beers made in Shima Onsen. Shima Onsen Ale brews the following 3 beers, listed from palest to darkest:
– Blond     Maya Hime
– Amber     Oketsu
– Stout     Yoru no Otozure
You can enjoy the Maya Hime when you come to Kashiwaya Ryokan.
Shima Onsen Ales use fresh, fruity hops to create a soft and slightly sweet flavor. The brewer is Shima Onsen's very own Washinoya Liquor Store, and the brewing site is located right by Himawari-yakushido, one of Japan's Important Cultural Properties. The brewing site is very adaptable, so the brewer can create a number of limited seasonal beers throughout the year on top of the above 3 varieties.
There are all kinds of ways to enjoy a beer, but we recommend trying a Shima Onsen Ale just after a bath in our onsen. For us Japanese, this is one of the best ways to enjoy an ice-cold ale. There's nothing better than an icy beer to cool your body after a hot bath, especially while listening to the murmur of the river from your hotel room balcony!
Because it's only lightly carbonated, Shima Onsen Ale pairs well with Japanese food, so we recommend a glass to start your dinner off.
You can even try Shima Onsen Ale at our cafe in town, Kashiwaya Cafe. For lunch, try it with our special Kashiwaya Curry (a combination of both Thai and Keema curries).
For today's blog post, we held a special interview with the brewer of Shima Onsen Ale, Mr. Hiroshi Yamada. Let's see what he had to say.
Q1 What characterizes Shima Onsen Ale?
We are a small microbrewery with a capacity of 180 L per batch, and all of it is hand-made by the brew master. I'm constantly studying up on brewing techniques and trying new things, so I believe with each batch the beer gets a little better.
In terms of special characteristics, I'd have to say that our ales' foam is unique. It is a very light, fine head that results from a natural carbonation process using the carbon dioxide produced in the fermenting process as-is.
Q2 What advantages does brewing in Shima Onsen give you?
Above all else it's the water here.
We use only the highest quality upstream water with absolutely no adulterants when brewing.
Beer is made up mostly of water, so if you use good water, I think you will create a delicious beer.
Q3 How will Shima Onsen Ale develop from here on out?
I hope to make more and more special limited releases. Particularly, I'd like to experiment with using local ingredients.
I tried making beer with apple and ginger, and they were quite well received, so I'd like to make them again.
I'd also like to try beer with plum, yuzu, and other unusual ingredients.
Another thing I'd like to do is to slowly begin growing my own hops to use in brewing.
Whether it would be any good, I don't really know, but I've even picked up acorns and chestnuts from the ground and thought about using them for flavoring in a beer.
Q4 Could you give us a message to our international friends who will be reading our article?
I know there are many delicious beers in other countries around the world. That's why I put my all into making beer that is just as good as the best of those. So please, if you come to Shima Onsen, try one of our Shima Onsen Ales.
If you interested in Japanese style Onsen, Please click here
Shima Onsen Kashiwaya Ryokan >