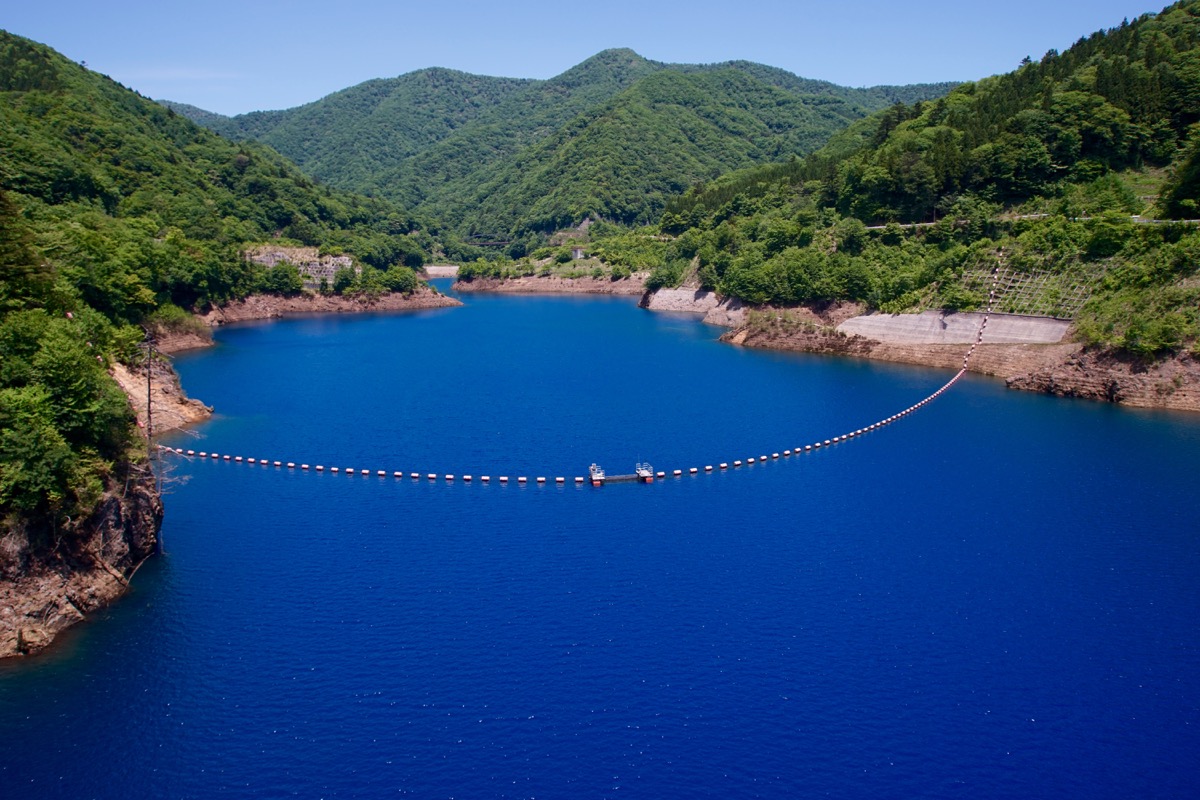 As you can know because it is inside Joshinetsu Kogen National Park, Shima Onsen is the treasure box with rich nature.
In addition, among the nature at Shima Onsen, we are proud of the color of the water of Shima Gawa River the most. We call it "Shima Blue."
We cannot expressed it in words. Because it is amazing blue that can be seen only here, please visit it once.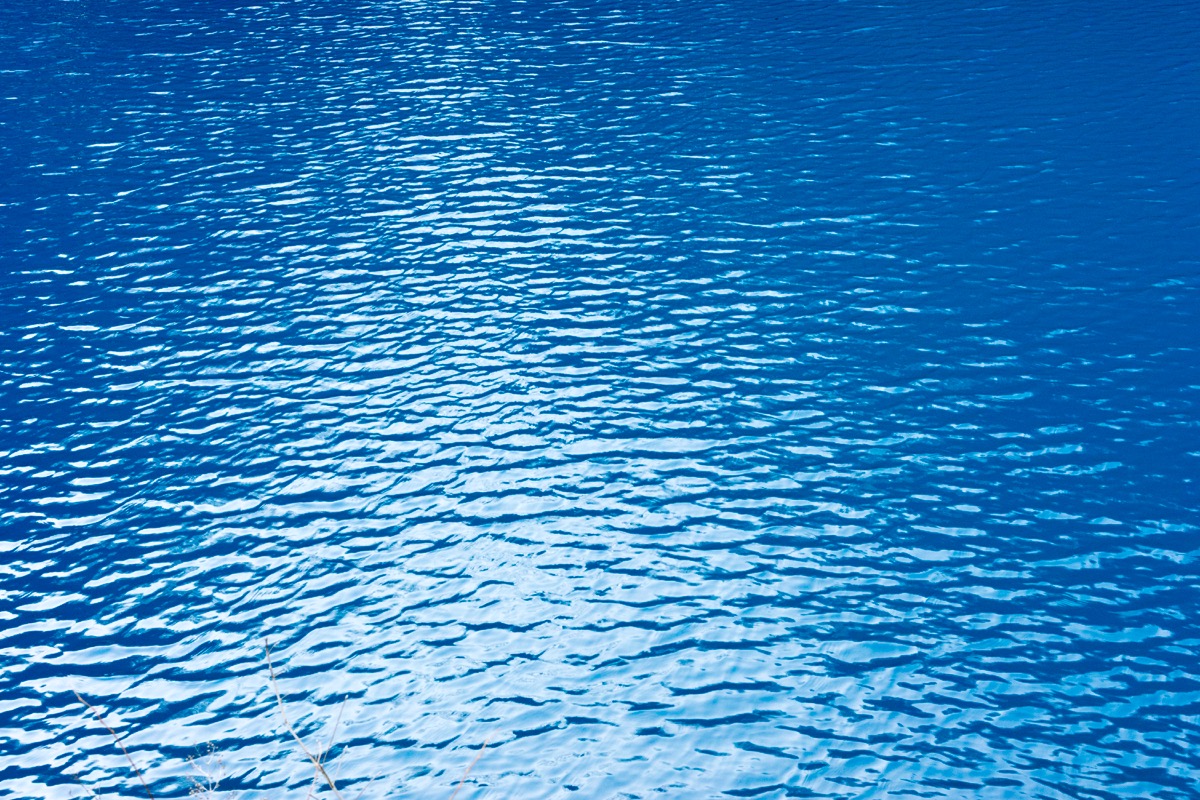 Here are some comments by people who have really seen Shima Blue.
"I have never seen a lake with this cobalt blue. It was as if somebody added a paint."
"It was breathtaking cobalt blue."
"The color of the lake was too blue. I even felt a sense of incongruity. It was a strange lake."
"I was impressed to the strong blue of greenish, which can exists nowhere else."
"As I have heard that it is blue, it was certainly blue."
"This is a very beautiful lake. For some reason, it is really blue."
Everybody is surprised and impressed.
There are many Onsen resorts along with rivers in Japan, same as Shima Onsen.
But I have never seen an Onsen resort along with a river as beautiful as Shima River.
I believe that Shima Blue of Shima River is the treasure, which we are proud of in the world.
There are various theories on why it becomes this color and we can never know the clear reason.
Some of the theories are like this:
"There are fine particle substances diffusing, called allophane."
"As the transparency is very high, blue light reaches to the bottom of the water. As red light is absorbed, it becomes blue."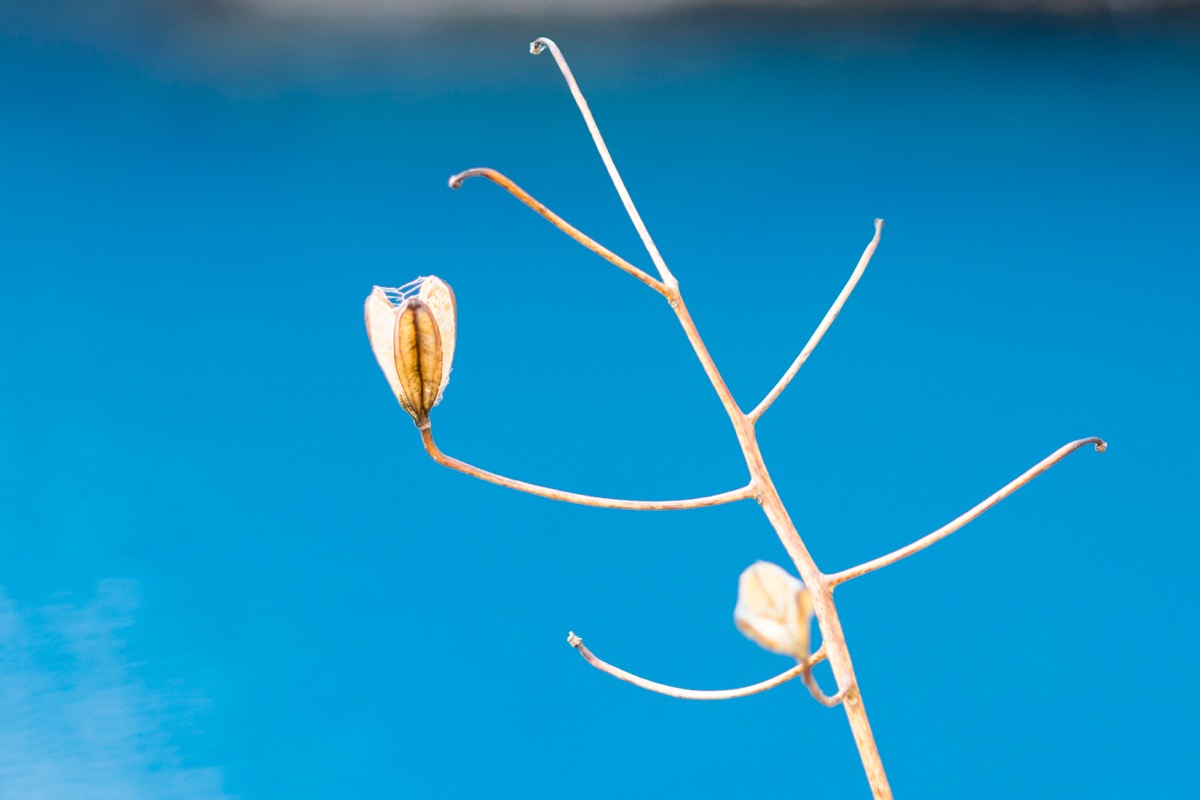 In fact, the transparency of Okushima Lake is at the 3rd place in Japan.
It was even measured as a value of the 1st place in the south area of Japan from the main island.
December 2011, measured by Ministry of the Environment, The transparency of Okushima Lake: 18.5m
Source http://www.env.go.jp/jishin/monitoring/result_pw120113.pdf
Lake Mashu (Hokkaido) 28.0m
Lake Kuttara (Hokkaido) 22.0m
Akanuma (Aomori Prefecture) 18.2m
Source http://www.biodic.go.jp/reports2/4th/kosho/4_kosho_all.pdf
Shima Blue has various expressions, depend on the location, season, weather, and time.
The blue is especially beautiful from winter to spring and in the morning of a clear day with sunshine on the lake.
Then let me introduce the recommended spots to enjoy Shima Blue.
Okushima Lake (Shima River Dam)
If you look at Shima Blue, you cannot miss Okushima Lake (Shima River Dam).
Okushima Lakes is a dam lake in place of approximately 4km from Shima Onsen Kashiwaya Ryokan.
Here, you can see beautiful Shima Blue throughout an year, such as fresh green + Shima Blue, autumn leaves + Shima Blue, and snow + Shima Blue.
We may say that Shima Blue means Okushima Lake.
In particular, it becomes outstanding blueness from winter to May, when snow melt water flows into the river.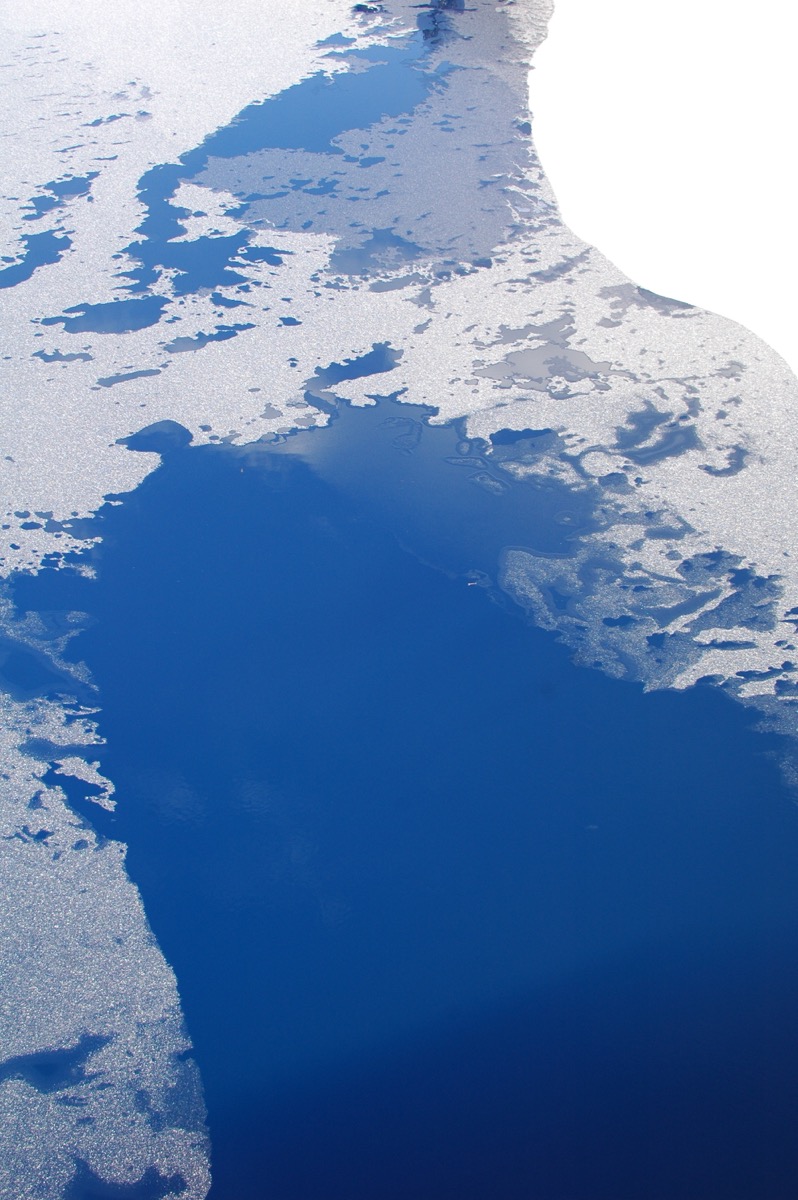 In addition, you can also experience canoe operated by Green Discovery.
You can enjoy Okushima Lake with high blue and transparent also on the surface of the lake.
In canyoning, you can enjoy it from just below of Okushima Lake.
It is the best activity to enjoy Shima Blue. This activity is also operated by Green Discovery.
As you can change to a wet suit and play with Shima River, it is very pleasant and fun.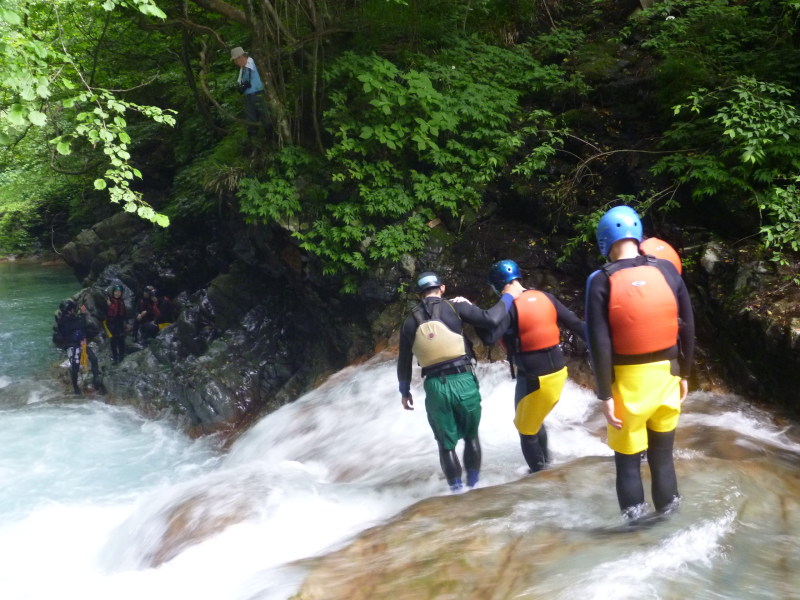 Shima Ohhashi bridge, Momotaro falls
Next, I would like to recommend Shima Ohashi Bridge near Kashiwaya Ryokan and Momotaro Waterfalls, which is located on the downstream of the river.
Here, because there is a small water storage dam for power generation, the water depth is deep and you can enjoy beautiful Shima Blue.
In particular, Shima Blue is attractive when you look down the beneath from Shima Ohashi bridge (but please be careful not to fall from the bridge!).
Shima Blue is also attractive when you go on a walk on a road and you can see it over the trees.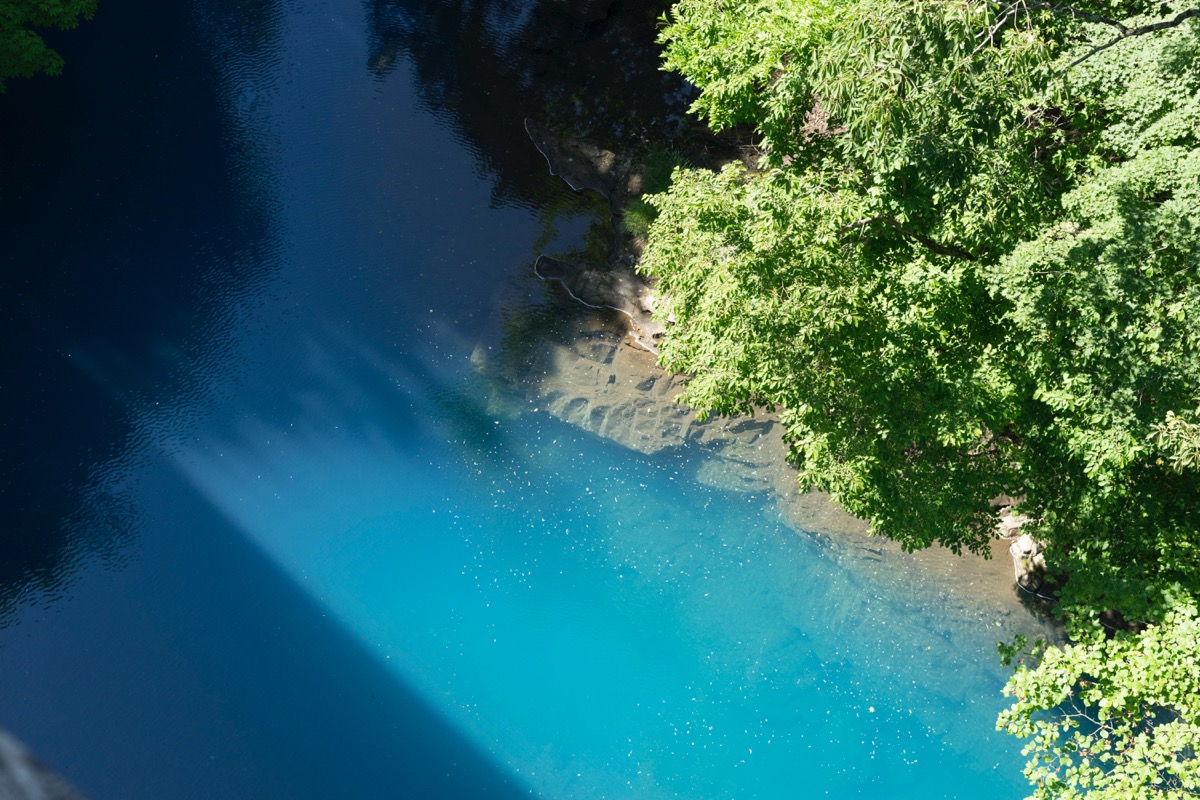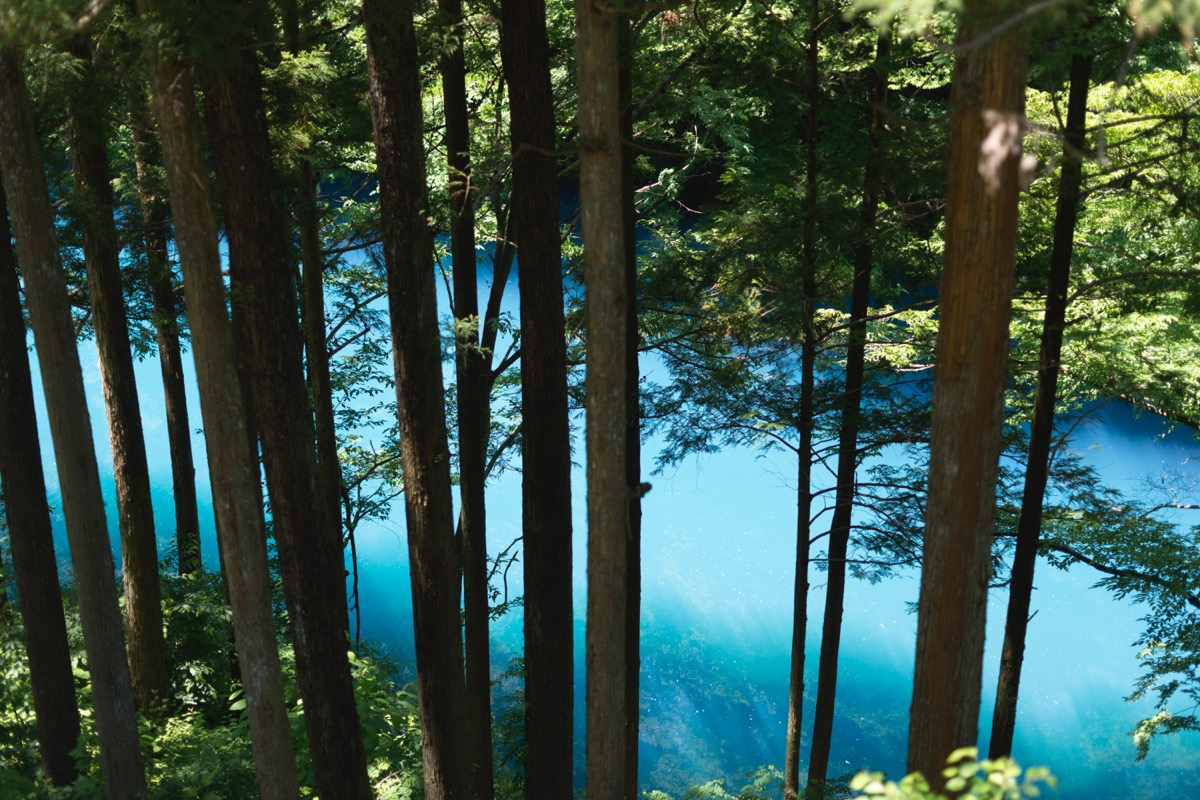 Momotaro Waterfalls are also falls, which run down into Shima Blue.
It is only about 5-minute walk from Kashiwaya Ryokan.
Please visit it.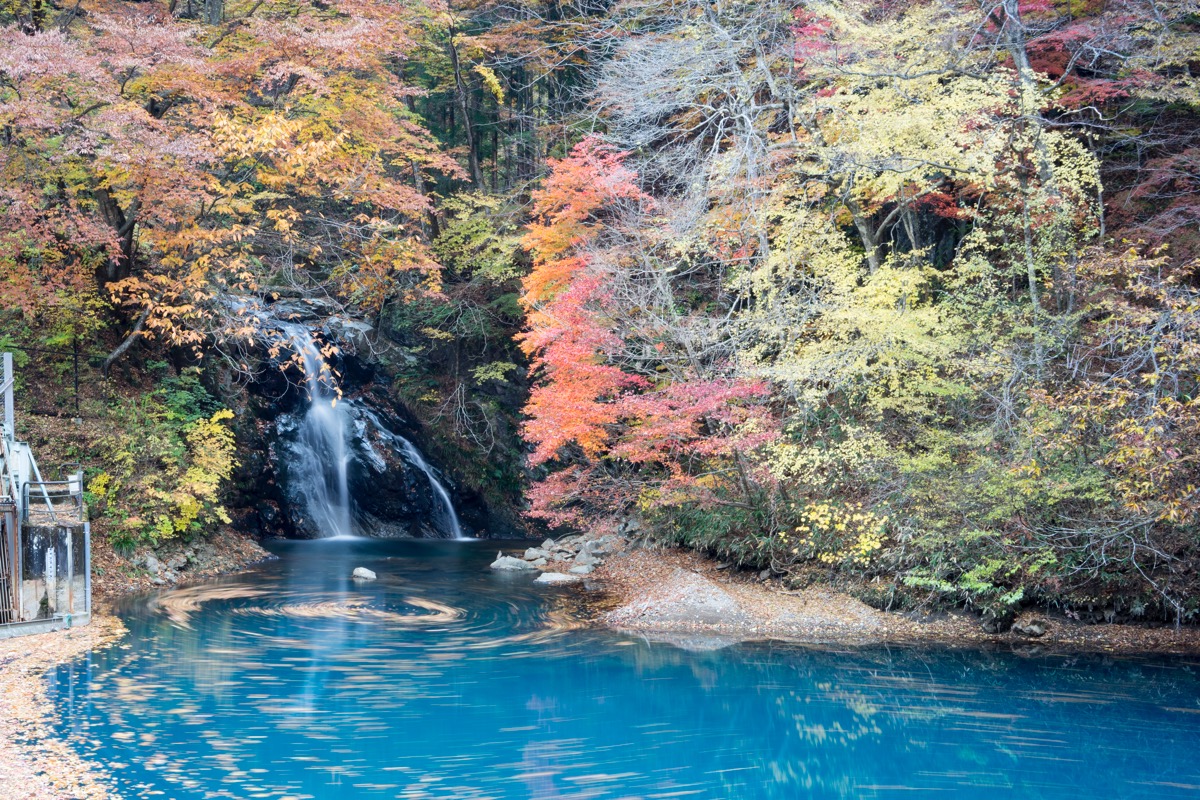 Shima Ouketsu pothole
"Shima Ouketsu pothole" is also an attraction of Shima Blue.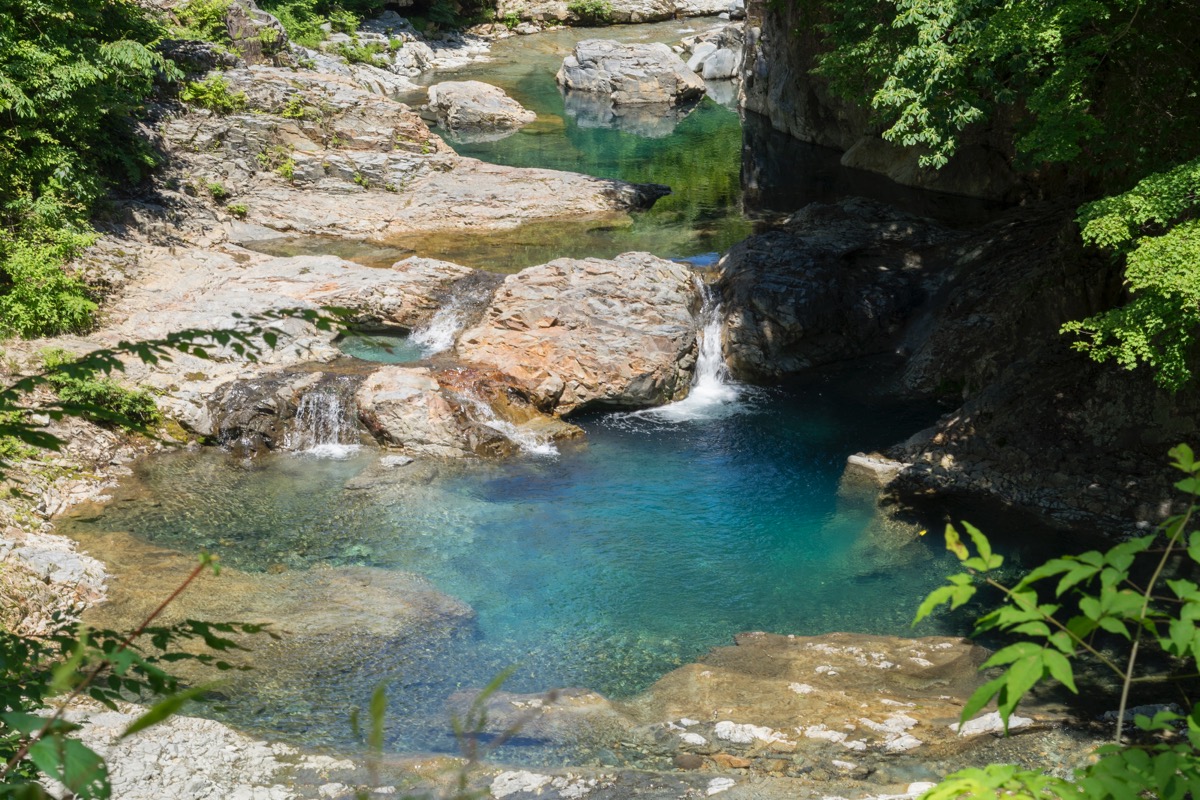 It is a Natural Monument of Gunma prefecture and is located at about 1.5km bottom of Kashiwaya Ryokan.
Ouketsu (pothole) is a round shape hole created on the bottom of a river, taking thousands years due to erosion by water flow and small stones.
At Shima Ouketsu, the depth is more than 3m at the deepest.
You can enjoy Shima Blue with the trees around, which change their expressions in each season.
You may also be able to see fish.
Shima lake
Finally, I introduce you Shima Lake.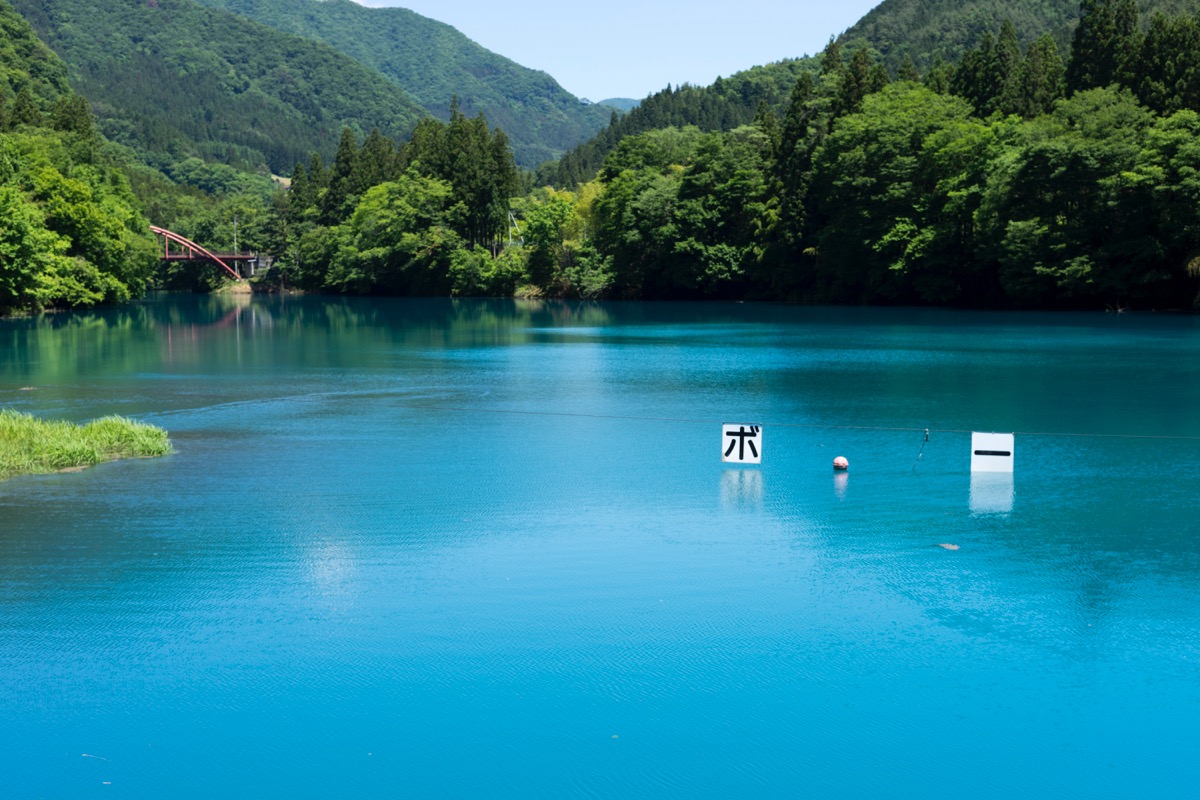 Shima Lake is located at about 8km downstream of Kashiwaya Ryokan.
It is a man-made lake at Nakanojo Dam.
You can enjoy canoe also here. This canoe is operated by Lake Walk.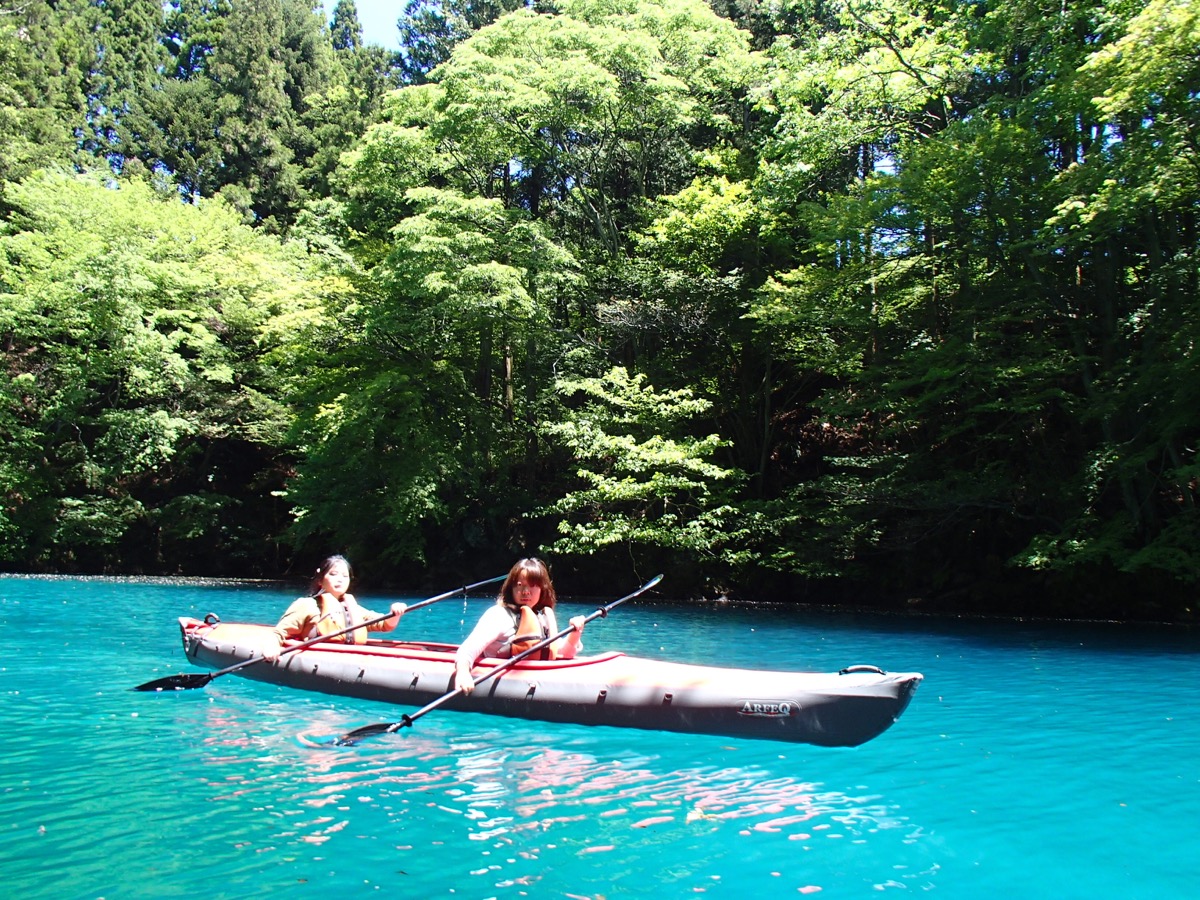 Canoeing in Shima Blue with high transparency will make you feel like floating in the air.
Amazing Shima Blue – If you visit Shima Onsen, do not miss it.
By the way, some of the luxury automobile makers represent their cars' color with the region name of resorts and color, such as Estoril Blue, Santorini black, and Florence Red.
I wish Shima Blue will join them someday.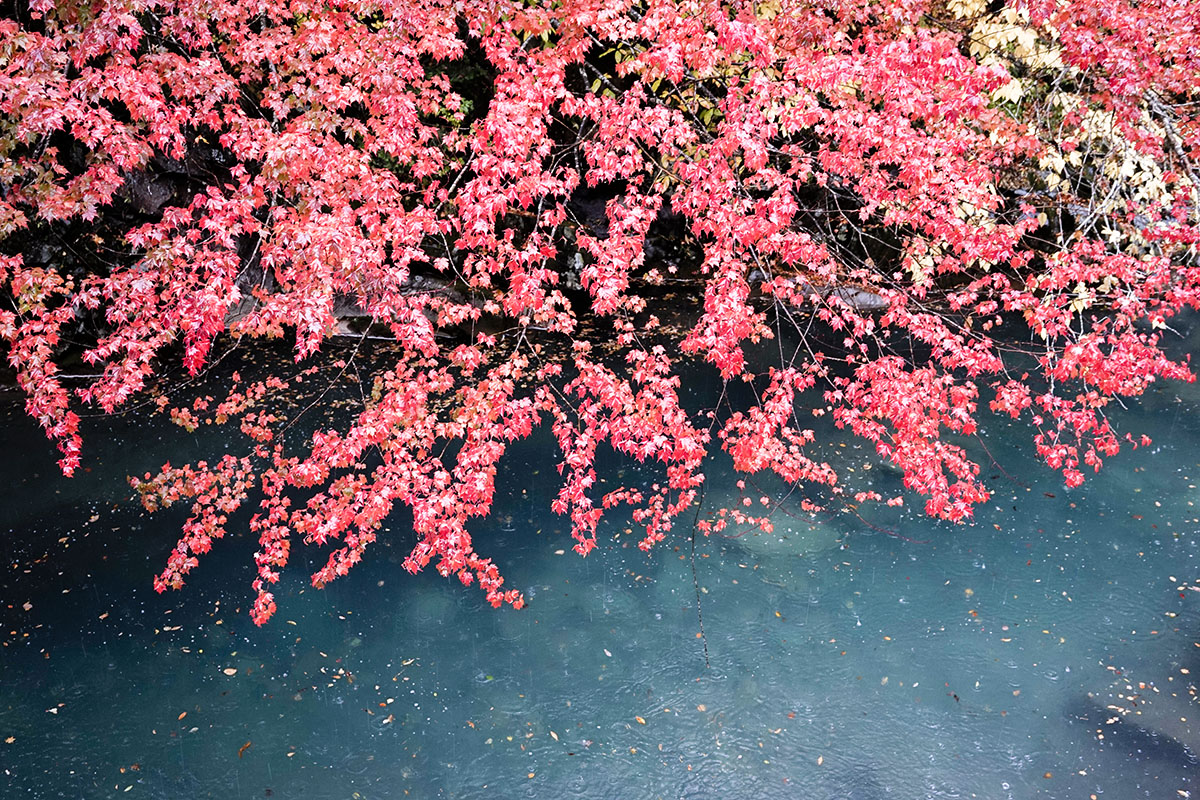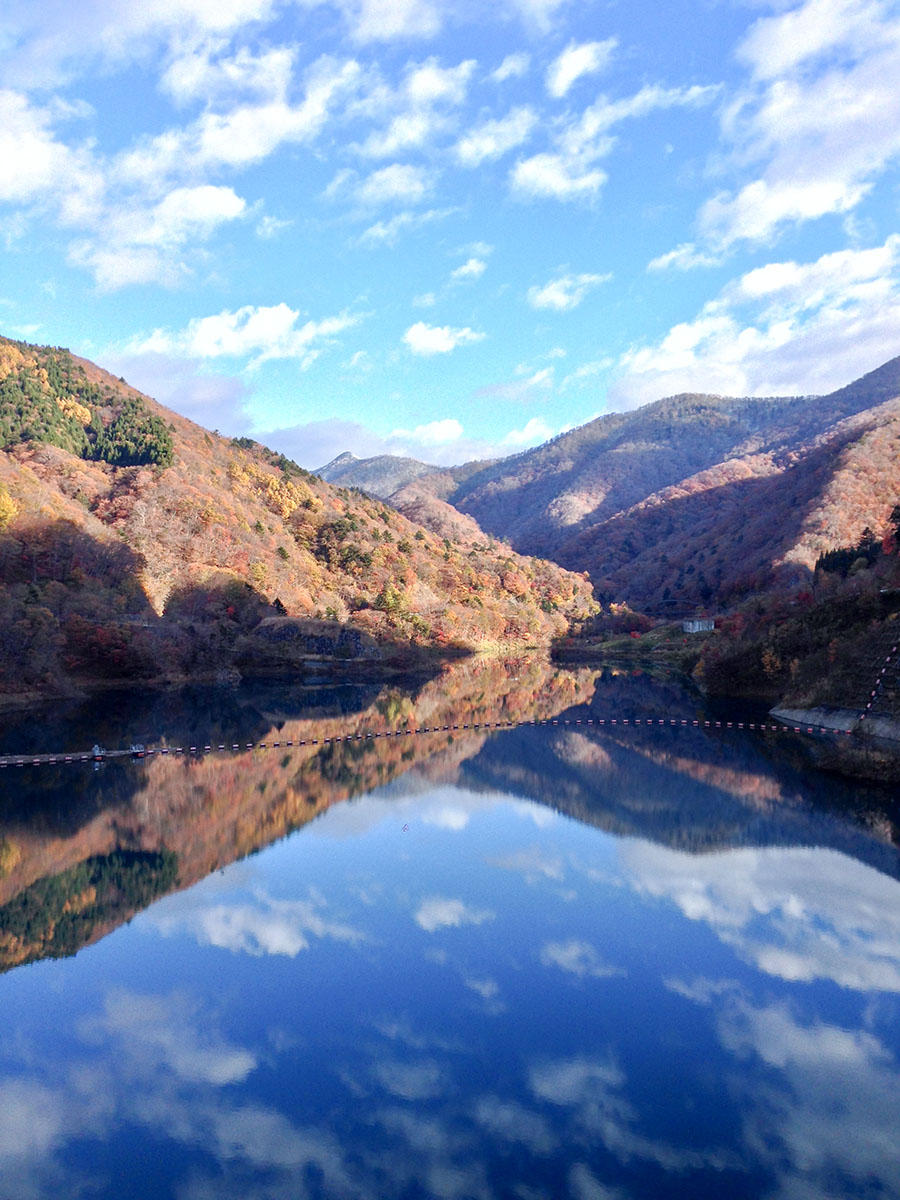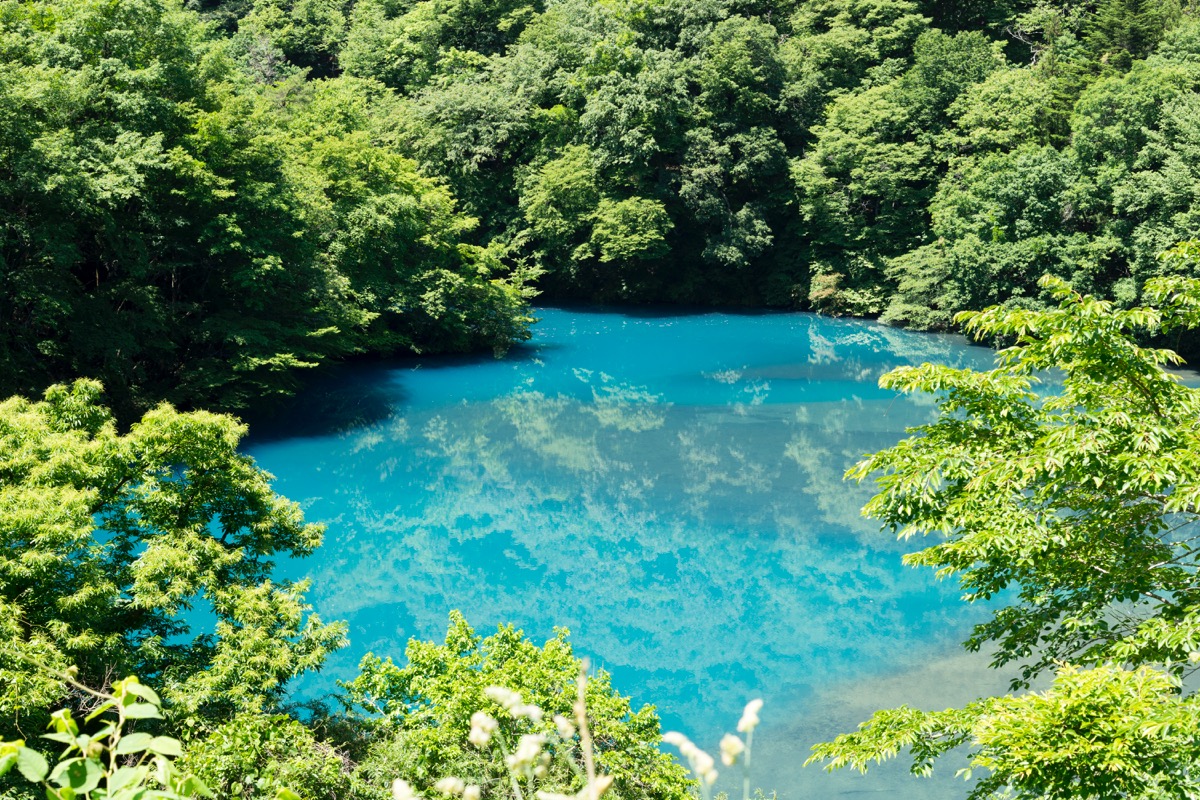 If you interested in Japanese style Onsen, Please click here
Shima Onsen Kashiwaya Ryokan >