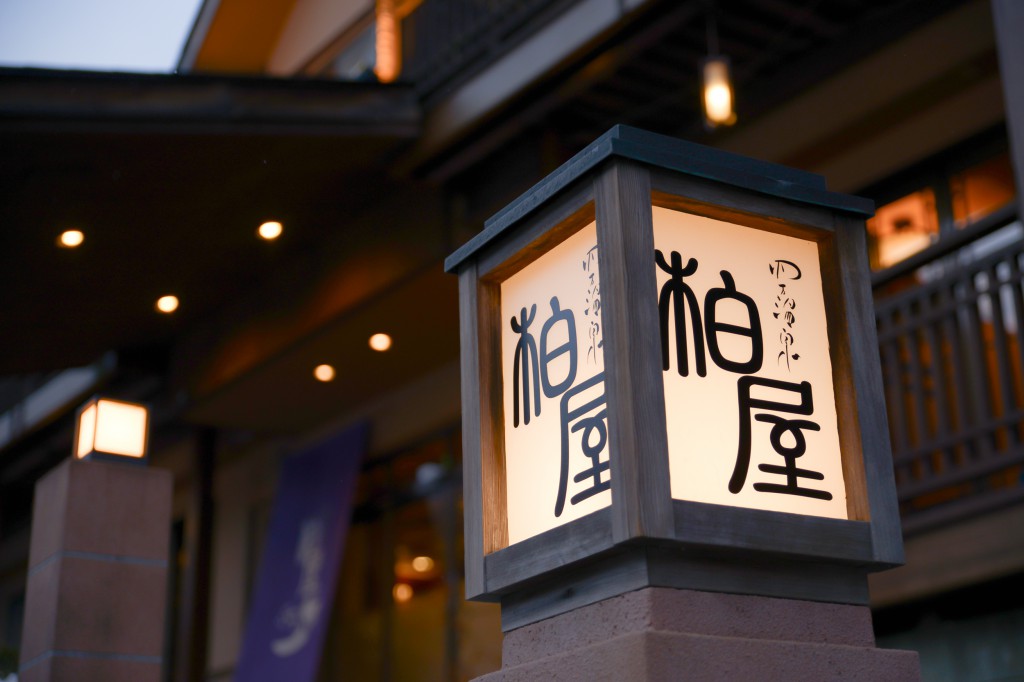 I've always liked touring onsens but I've never been to Shima Onsen so I decided to go. My friends and I were discussing which ryokan to stay in, and we decided on Shima Onsen Kashiwaya Ryokan because it's well-known, and my friend's family has stayed in it. If you don't make a reservation early enough, there's a possibility of it being fully occupied quickly so we made our reservation early.
It is said that Shima Onsen's name originated from the efficacy of its waters on forty thousand illnesses.* My body is not on the strong side so once I hear that something is effective on illnesses, I'd like to try it right away. Shima Onsen's waters were actually pleasant, and I didn't feel that bathing in it for a long time took a toll on me. Kashiwaya Ryokan's private open air baths are free to use, and you can bathe in them as many time as you want so I used them three times during our stay.
The onsens are not the only appealing things about Kashiwaya Ryokan. I heard from the family of my friend who stayed in this ryokan before that the food they had was delicious so I was really looking forward to this. For dinner, they welcomed us with seasonal dishes. The amount of food was just right – there were no leftovers and if I overate I would have felt bad so I was able to sleep soundly at night.
For breakfast, they prepared Japanese food and Western-style food. I've chosen Japanese food many times during past trips to hot spring ryokans but they've prepared a very appealing Western-style breakfast so unusually for me I chose the Western-style option. I remember that the good-quality coffee imported from Italy removed all traces of sleepiness in the morning.
While this ryokan is the best in every way – from the food, the onsens and the various services offered, I must make special mention of the accommodation fee. You can stay here at a reasonable price and receive wonderful service. They have various types of rooms so I think I'll choose a different room during my next visit.
*Translator's note: The Japanese character "shi" means "four" and "ma" (more commonly read as "man") means "ten thousand."
Time:April 2014
Gender:Man
Age:35 years old
Situation:With friends
★Response from Kashiwaya Ryokan
We sincerely thank you for staying with us here at Shima Onsen Kashiwaya Ryokan. More than anything, we are glad that you were able to recharge and fully enjoy the waters of Shima Onsen, which have long been said to be effective on forty thousand illnesses.
I actually had stiff shoulders myself the other day, and I bathed in the hot spring longer than usual. I felt very relieved on around the fourth day, and I've felt the effectiveness of Shima Onsen once again. (One of the indications of Shima Onsen is stiff shoulders.)
Thank you too for enjoying your dinner and breakfast, and for your compliments.
While our inn is a compact one with 15 rooms, you can choose from among a variety of rooms depending on your needs – from a reasonably-priced room to a room with an in-room open-air bath.
We, the whole staff, sincerely look forward to your next visit. Thank you.
If you interested in Japanese style Onsen, Please click here
Shima Onsen Kashiwaya Ryokan >