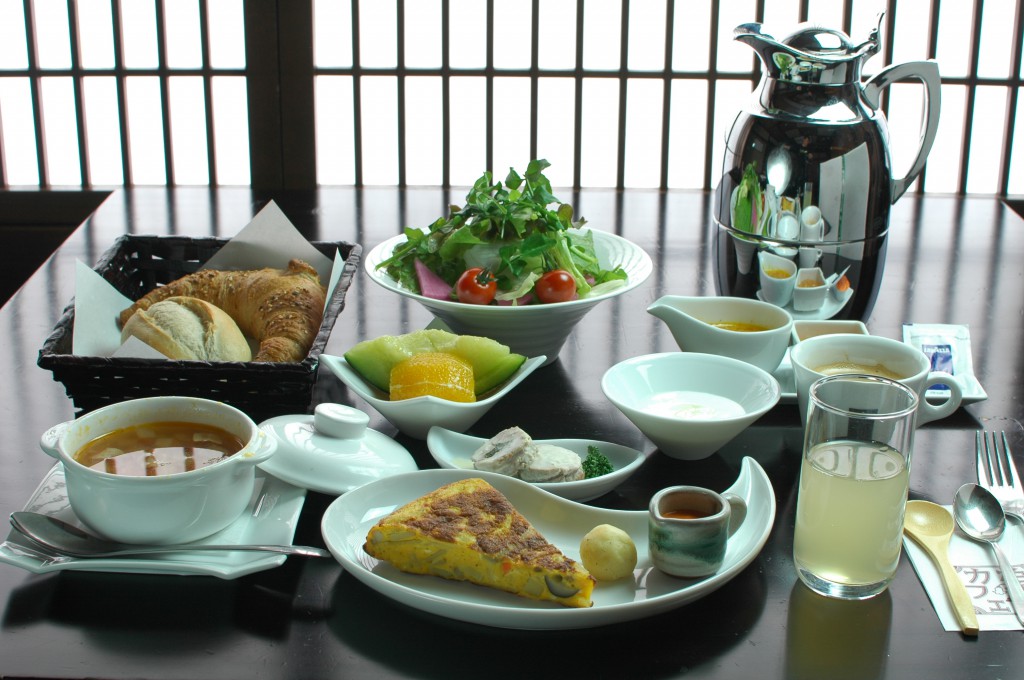 I remarried last January. Because my husband is from Gunma, he invited me to go because there are good onsens there, and at the same time it would be our honeymoon so the trip became our first after getting married.
My husband took care of the reservation and other things, and I didn't know any of the plans so it was kind of a surprise for me. Upon arrival, I was impressed with the stylish facade of the building.
Our room was so large for the two of us, almost too large that we were dumbfounded when entered the room.
We had Japanese food for dinner and it looked almost too pretty to eat. While being impressed with the food, I was also thinking that I should cook food this delicious for my husband.
After dinner, we had a bath in the onsen. We had a very romantic time with just the two of us – we didn't even have to reserve the open air bath and we had it all to ourselves. We talked a lot too.
After our bath we took it easy, and we were able to relax as if we were in our own house. It was our first time in that place but we were able to relax, and I think it was because of our room.
Our breakfast was a Western-style breakfast. I was surprised at the freshly-baked bread – it was really indescribably delicious. The other dishes were tasty too of course, but the deliciousness of the bread was so surprising that I was happy to be impressed so early in the morning.
Kashiwaya Ryokan is a very good ryokan. It was impressive from the moment we arrived, and up until the very end it did not disappoint. We have very good memories of it.
Time:November 2014
Gender:Female
Age:44 years old
Situation:Family travel
★Response from Kashiwaya Ryokan
We are very thankful that you stayed with us at Shima Onsen Kashiwaya Ryokan for your honeymoon, a trip for making wonderful memories.
It appears that your bond together has deepened after having a relaxing time in your husband's hometown.
We are also grateful for your compliments on our facilities, food and onsens that you had all to yourselves.
The freshly-baked bread served during breakfast that you were very pleased with is a secret specialty of Kashiwaya Ryokan that many of our guests order to take home as gifts.
You live in faraway Fukuoka but we hope that you will visit us again when your husband returns home to visit family. We, the whole staff, look forward to your next visit.
If you interested in Japanese style Onsen, Please click here
Shima Onsen Kashiwaya Ryokan >