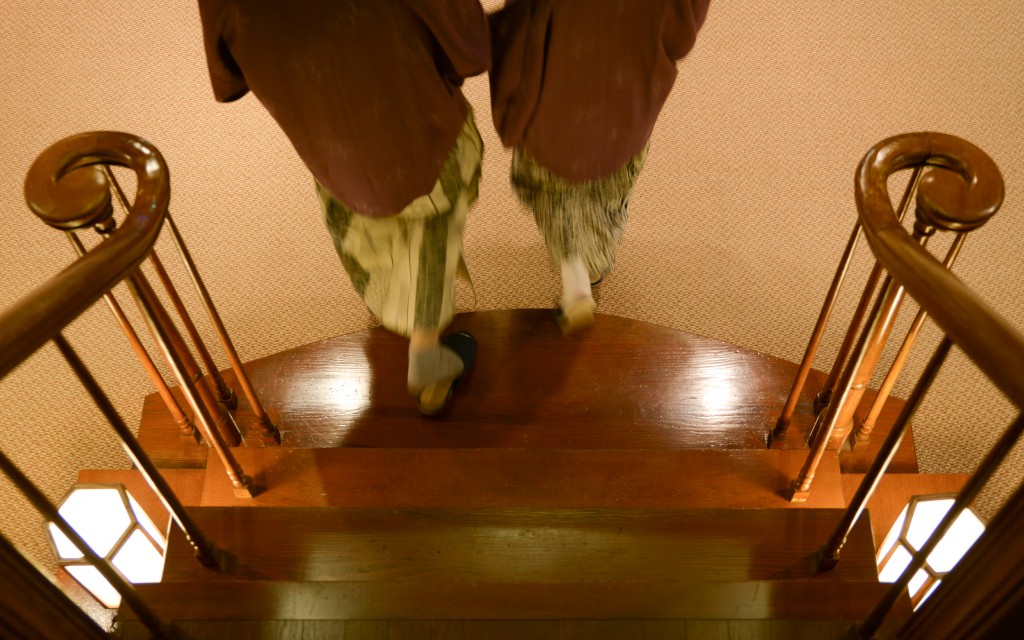 Last spring, my daughter graduated from college and she also found a job. During her college days, she would go on trips with her friends to so many places but this time, she gifted my wife and me with a hot spring trip.
It was a two-night, three-day trip to a nearby hot spring. She got tips from senior employees at work and from her college friends, and she found a hot spring where we could take our time and relax.
Once my daughter was settled at work, last October, we took a train to Shima Onsen in Gunma Prefecture. When we arrived at Shima Onsen Kashiwaya Ryokan, one of the staff who was wearing a T-shirt led us to our room. I was a little surprised at the T-shirt but I had a favorable impression of the cheery yet calm customer service.
The ryokan is described as retro-styled ryokan in their website and indeed it was. However, there were touches of modernity so we were comfortable. The room was neat and tidy, and was thoroughly clean.
After we settled in, we took a walk in the hot spring town. There were a few convenience stores, and the place had a calm ambiance that differed from the liveliness of a city.
After our walk, we returned to the ryokan to have dinner. Seasonal, local ingredients were presented stylishly, and the healthy food suited my daughter. It had good flavors that my wife and I also liked.
We found out from a guide that Shima Onsen is famous as a hot-spring health resort that is said to be efficacious for forty thousand illnesses. It appears that the rumors are true – the hot spring was really wonderful. I really had my fill by bathing in all of the baths, from the open air private onsen to the large public bath. My wife and daughter also bathed many times.
Unlike the city, the surroundings got quieter and quieter as the night wore on. The voices of the other guest gradually became more distant, and we slept well. Because the checkout time was at 12:00, we slept in and had a late breakfast. My wife and I had the Japanese breakfast while my daughter had the Western-style one.
We were thrilled with the baths, and the breakfast and dinner were good for the health that I thought of staying a while longer but of course I couldn't do that. Two nights and three days went by so fast. When we got home, my wife and I talked a lot about the kind customer service offered by the ryokan's staff and we're thinking of going back to soak in the hot springs again.
Time:October 2013
Gender:Man
Age:63 years old
Situation:Family travel
★Response from Kashiwaya Ryokan
We sincerely thank you for staying with us here at Shima Onsen Kashiwaya Ryokan.
It was very nice of your daughter to give you a gift of a hot spring trip. I was thinking I would be happy if someday that happened to me too.
More than anything, we are glad that you were able to relax, unwind and recharge because of the quiet surroundings of Shima Onsen and the 12:00 checkout time.
We are also thankful for your heartwarming compliments on the three open air private hot spring baths and the food. We will take your compliments as words of encouragement, and we, the whole staff, will continue to work together and do out best.
We sincerely look forward to your next visit. Thank you.
If you interested in Japanese style Onsen, Please click here
Shima Onsen Kashiwaya Ryokan >