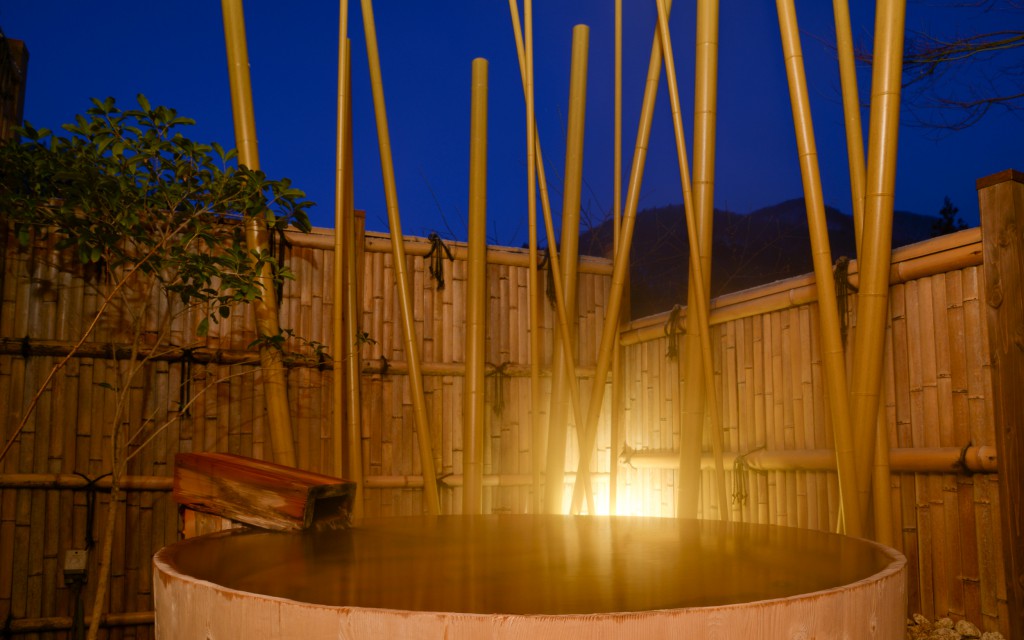 We were able to take time off from work at a short notice, and we wanted to go to an onsen so we made a reservation a few days before we left. Our trip this time was mainly for bathing in onsens, and we wanted to take it easy so we chose Kashiwaya Ryokan which has a 12:00 pm checkout. It was also perfect that the ryokan is located three hours away from Tokyo by car.
You can bathe in the three private open air baths any number of times at no additional cost as long as they are unoccupied. If the baths were by reservation only, I wouldn't be able to relax and bathe again at my own pace, so for someone who loves onsens like myself, I'd come back just for this system.
At first I thought I wouldn't bathe in all three, but each one had its own atmosphere so I enjoyed bathing in all of them without losing interest. The large public bath was not an open air bath. However, it was thankfully open until late at night so I was able to bathe immediately when the private baths were occupied.
Our room was done in the Showa* modern yet retro style, and its relaxing atmosphere was great. Since it was a trip mainly for bathing in onsens, it was the best setup for me because I wanted to leisurely spend time in the room. Bathing, relaxing in the room, bathing again and monopolizing the three open air baths were incredibly satisfying. I especially liked the "Tsuki no Yu" bath that I bathed in it twice.
We ate dinner in our room. The timing of the serving of the meal was good, with the food still warm so we were able to dine leisurely. We ate after fully enjoying the onsens so I had no make-up on. It was truly a big plus that we were able to eat in our room without worrying about other people looking at us! Maybe it was the water, but the rice was very delicious. The meal had plenty of vegetables so it was healthy. It was enough for us, a couple in their thirties, but for families with growing children and those who like meat, the steak plan might be a better choice.
We felt the sentiments of a traveler because at night, we were able to sleep while hearing the quiet murmurings of the river.
We could choose between Japanese or Western-style meals for breakfast. We're heard reviews that the bread is yummy so we chose the Western-style meal, but it was unfortunate that the bread has cooled a little, maybe because the timing of the serving was not good. (But the taste was good.) Nevertheless, the juices of the vegetables in the pot-au-feu delivered, and it was very delicious.
Moreover, we had a very pleasant stay because of the staff's thorough customer service and their smiling faces. We got the impression that employee training was properly conducted because even the younger staff members were qualified and reliable. Compared to a hotel, the employees of a ryokan have more opportunities for attending to guests so one's overall impression of a trip changes depending on one's impression of the staff. Regarding this point, we are really glad that we chose Kashiwaya Ryokan.
Once we have have time off from work again, we will check the vacancy at Kashiwaya Ryokan right away.
*Translator's note: The Showa Period lasted from 1926 to 1989.
Time:September 2014
Gender:Woman
Age:32 years old
Situation:Family travel
★Response from Kashiwaya Ryokan
We really thank you for staying in a room with an in-room open air bath here at Shima Onsen Kashiwaya Ryokan for your family trip.
We sincerely thank you for choosing us, Shima Onsen Kashiwaya Ryokan for your onsen trip with your husband.
You stayed with us in September when the days and nights are cooler, and we are glad that you enjoyed the murmurings of the river and the invigorating autumn breeze.
Our three private open air baths do not need reservations so our guests are very happy with this system of bathing in them any number of times with ease.
We recommend both the mountain ranges by day and the starry skies at night.
Thank you for your heartwarming, complimentary words regarding our meals and our staff's customer service. We will use your words as encouragement, and we will continue to improve.
Regarding the bread that you have kindly pointed out, the bread that we serve for the day's breakfast is baked all at the same time before the meal so we were not able to serve your bread piping-hot. We will think of ways in which we could improve on this, but we ask for your understanding at our present situation.
We, the whole staff, sincerely look forward to your next stay with us.
Thank you.
If you interested in Japanese style Onsen, Please click here
Shima Onsen Kashiwaya Ryokan >