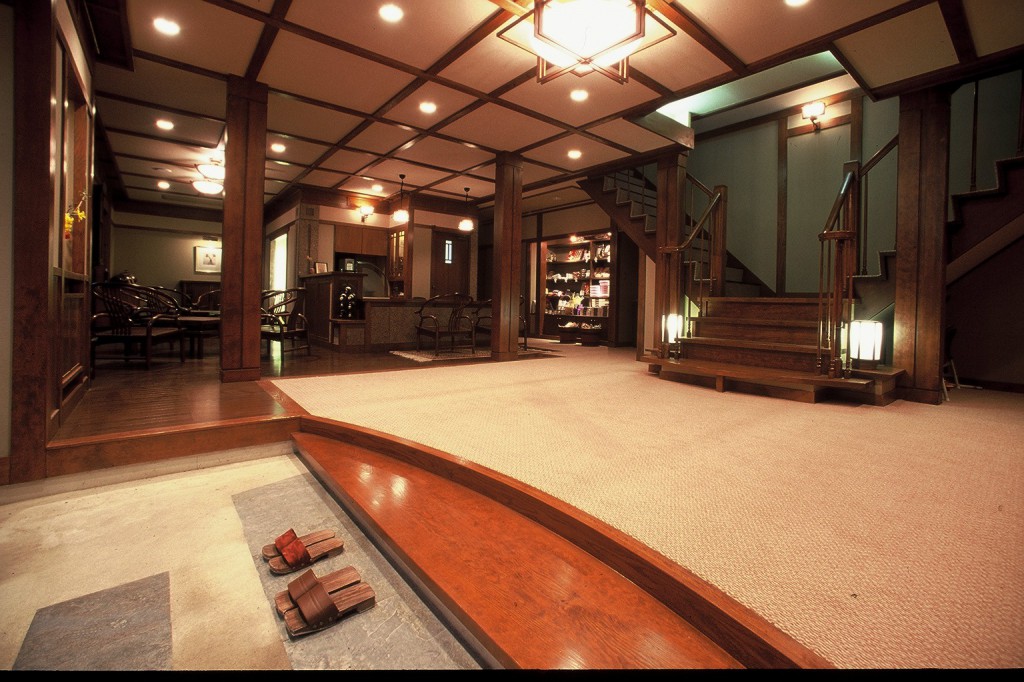 My wife and I went to Shima Onsen for a trip.
It was our first time at Shima Onsen, and we chose Kashiwaya Ryokan for our accommodations because we were drawn to its retro vibe and its private open air baths.
We really wanted to stay in a room with an in-room open air bath but the rooms were already reserved so we weren't able to stay in one.
Upon entering the ryokan, a very retro space unfolded before us. There was a beautiful staircase which I especially liked. When I asked one of the employees to take our picture, I was happy that she took a lot of photos while changing places. She was a young staff member whose hospitality was kind and she had a cheerful vibe which was very pleasant.
Aside from the indoor onsens that one can freely bathe in, there were three private open air baths. In many instances, private open air baths in other ryokans need to be reserved in advance and entail additional fees but at Kashiwaya Ryokan there are no extra costs and there is no need to reserve in advance. Moreover, it's great that one can bathe in them many times. We went when it was very cold, and there was a fan heater in the changing room so it was very good that we were able to change while we were still warm.
There was a lot of food for our dinner; so much that we couldn't finish it all. We had the accommodation plan that included steak, and we were very happy with the very delicious meat. Personally, I found the salad at breakfast especially tasty. It had a lot of fresh vegetables sourced locally, and I was impressed with their crisp texture.
I thought our room was a little small, but it was just my wife and I so we didn't mind. However, we heard sounds from the room next to us probably because the building is old, but because of the ryokan's wonderful retro vibe, we felt that this was part of the fun.
It was a very good ryokan so next time, I'd like to stay in a room with an in-room open air bath.
Time:December 2013
Gender:Man
Age:34 years old
Situation:Family travel
★Response from Kashiwaya Ryokan
We sincerely thank you and your wife for staying with us at Shima Onsen Kashiwaya Ryokan.
Kashiwaya Ryokan has undergone a number of renovations but the staircase where you had your photos taken has not been changed since our establishment, and it is our hallmark. We hope you would display your photos or proudly share them on social media.
The accommodation plan which includes Akagi beef steak is our most popular one and guests who choose this plan are very happy with it. Staff members who serve the steak everyday to our guests say "Oh, I want to eat this!" as they serve, LOL.
Thank you too for bathing in our private open air baths a number of times. The water at Shima Onsen has properties of really warming up the body, and is especially recommended during winter.
We hope that you could try staying in one of our rooms with an in-room open air bath next time.
We, the whole staff, sincerely look forward to your next visit.
If you interested in Japanese style Onsen, Please click here
Shima Onsen Kashiwaya Ryokan >