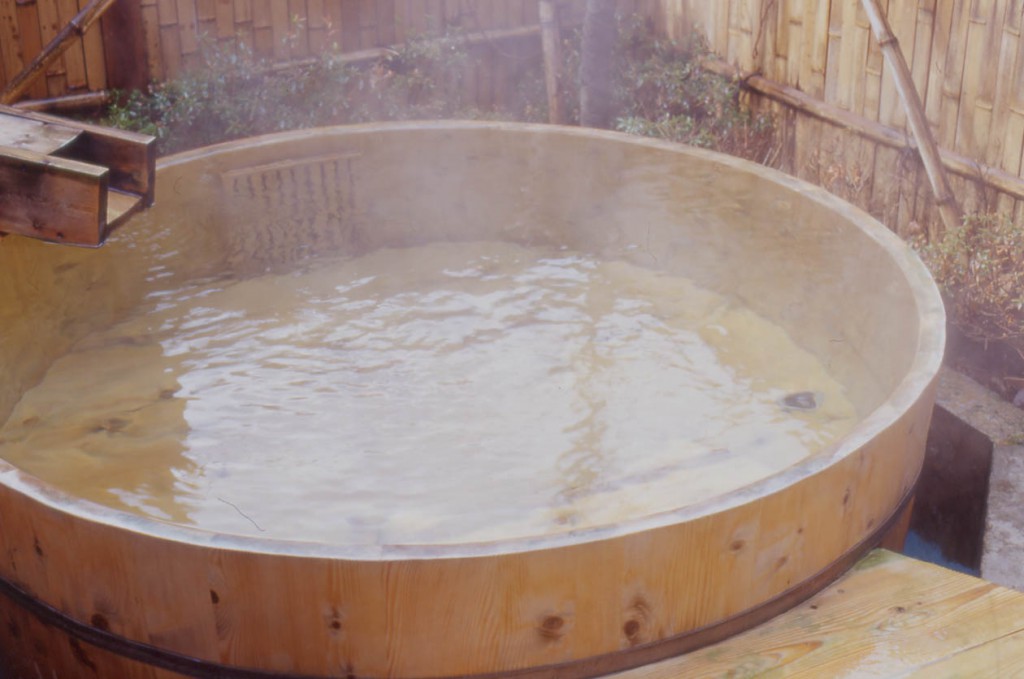 When I was planning a family trip for the occasional splurge, I found Shima Onsen's Kashiwaya Ryokan by coincidence. I was drawn to the delicious-looking food so I decided that we would stay there.
When we arrived at Kashiwaya Ryokan, the staff received us politely and guided us to our room. I chose a room with an in-room open air bath, and the room felt really clean because of the its thorough cleaning. The 10-tatami mat room felt spacious and open, and the view from the outdoor deck was very beautiful and felt exceptional. My wife and I were both impressed, and the children were jumping around in excitement. We have Western-style rooms at home so the Japanese room felt new.
Furthermore, the room included a flowing, open air bath so we didn't need to go out of our room for our bath and we were free to bathe in our own hot spring.
In addition, aside from the one in the room, there were three private hot springs that one can bathe in as many times as one wants. Families can use them by themselves without worrying about other guests looking at them.
The barrel-shaped open air bath was surrounded by bamboo which allowed us to truly relax. Aside from that bath, there was a stone bath and a bath that utilized Japanese cypress wood. Each baths was wonderful which impressed us greatly. I think that you can hardly find private hot spring baths that you can bathe in as many times as you want in other ryokans.
Moreover, the food was the best. The dinner was Japanese food, and the dishes used seasonal ingredients produced locally in Gunma Prefecture. In addition to being gorgeous in appearance, the food was delicious and had a lot of vegetables so they were healthy and exuded warmth. Also, the Joshu Mugi Pork in the hotpot was fresh, soft and very tasty. We ordered Akagi Beef sirloin steak as an additional dish which we grilled by ourselves. The rich taste of the meat that unfolded in our mouths was exceptional and went well with sake – we were truly impressed. There was also cake on the menu which made the children very happy.
We could choose between Western-style and Japanese breakfasts and we decided on Western-style as requested by the children. The bread baked within the ryokan was freshly-baked and very good, and the omelette with eggs from Gunma Prefecture was very rich. In addition, there was a wide variety of salads and other food so the breakfast was healthy.
This family trip was supposed to be a splurge but the cost was by no means expensive. We felt their hospitality at a fair price.
We were soothed by the hot springs and the food, and it was such an impressive hot spring inn that in my heart, I said "I will definitely come back" in reply to the parting words of the staff of "Please come back" as we were leaving. I think that Kashiwaya Ryokan is a first-rate inn in terms of food, hot springs and hospitality.
Time:December 2012
Gender:Man
Age:33 years old
Situation:Family travel
★Response from Kashiwaya Ryokan
We really thank you for staying in a room with an in-room open air bath here at Shima Onsen Kashiwaya Ryokan for your family trip.
We, the whole staff, are very happy that we were of help in creating memories for your family.
We also thank you for bathing many times in the private open air baths aside from bathing in your in-room hot spring with the whole family, as well as your comments on the food.
The Spanish omelette that you praised uses "Sato no Tamago" eggs that are produced with great care by poultry farmers in Nakanojo.
The dinner menu changes five times a year so we will be able to welcome you with new dishes the next time you visit us.
We sincerely look forward to your next visit. Thank you.
If you interested in Japanese style Onsen, Please click here
Shima Onsen Kashiwaya Ryokan >