There are varieties of fun at staying at Onsen Ryokan.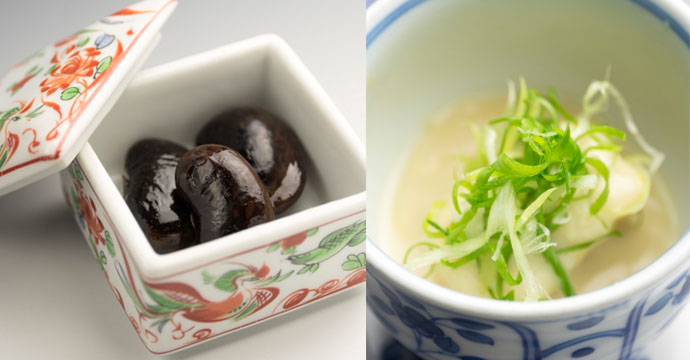 In particular, if it is your first time of staying at Onsen Ryokan, you will experience new things one after another and cannot help saying "Amazing!"
Natural environment at Onsen resort, atmosphere of Onsen town, buildings of inns, Japanese-style room, Onsen, and so much others.
Every one of them is a typical experience in Japan.
And one of the highlights is meals.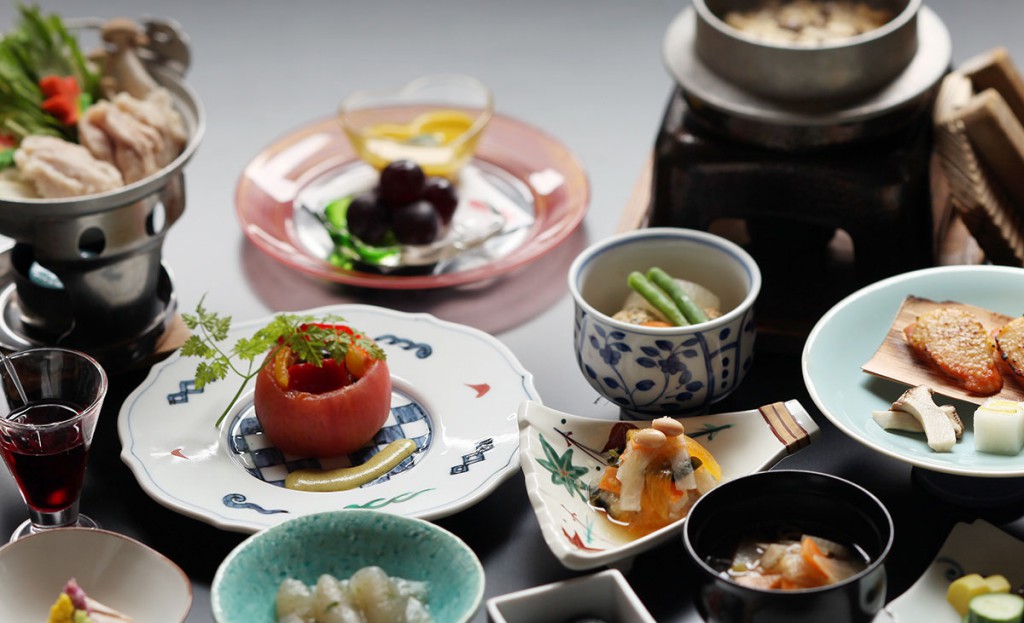 As you can see the "Washoku" has been registered as UNESCE intangible cultural heritage, Japanese traditional meals are valuable culture, which we can be proud in the world.
Although the dining style of dinner at Ryokan has been gradually changing, the main stream is "Kaiseki Ryori," which is a course style meals used for parties and banquet, and its arranged styles by each inn.
Dinner at our Shima Onsen Kashiwaya Ryokan is also arranged course meals in Kashiwaya style, based on Kaiseki Ryori.
For up to 3 people at a room, you can eat at your room.
For 4 or more people, you can eat at a restaurant with a private room style.
Although there are many popular Japanese foods, such as Ramen, Sushi, Tempura, Yakiniku, and so on, it is rare change to eat Japanese traditional course cuisine at Onsen Ryokan for dinner.
So please enjoy meals at Onsen Ryokan.
However, meals at recent inns have more varieties, such as buffet style and simple set meals.
Thus it is recommended to confirm in advance what kind of meals they serve.
Well, dinners at our Shima Onsen Kashiwaya Ryokan change its menu 5 to 6 times in one year. I'll show you some examples.
2015 Autumn Dinner Menu
Autumn of appetite.
It is relaxing menu with autumn color. We have arranged Gunma ingredients and autumn ingredients in nice balance, such as Hotaka salmon produced at Mt. Hotaka, a famous peak in Gunma. – Chef Tetsuo Inoue
Aperitif
Plum wine in OhSakazuki
A plum wine made with Nihonshu of "OhSakazuki," a sake brewery at the foot of Mt. Haruna. Gunma is also the best origin of plums in East Japan.
Specialty
Hanamame and Sashimi konjac handmade by proprietress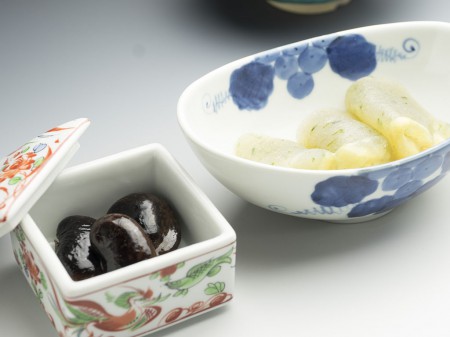 A popular and classic dish.
Seriously selected local Agatsuma products and handmade.
Appetizer
Walnut tofu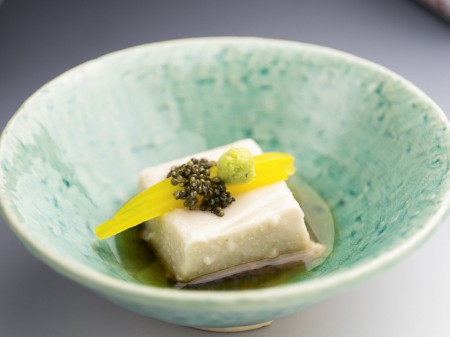 It is made by combining walnuts and Kudzu. Served with Tonburi, wasabi, and yellow paprika.
Grilled dish
Hotaka salmon grilled with Yuzu and Miso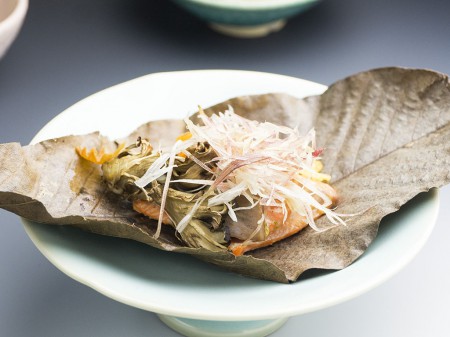 Kawaba village salmon grilled with Yuzu and Miso fragrance. Served with persimmon Dengaku and Maitake.
Middle Plate
Akagi chicken dip and burdock confit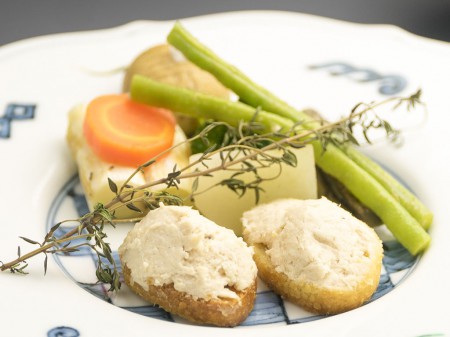 Garlic toast style Akagi chicken putty. Served with burdock confit and autumn vegetables.
Stewed dish
Awafu and winter melon with soy milk sauce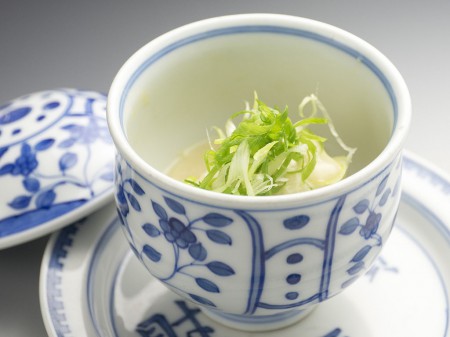 Boiled Awafu and winter melon in soy milk. With soy milk sauce.
Hot pot
Kashiwaya style JyoShu Okkirikomi pot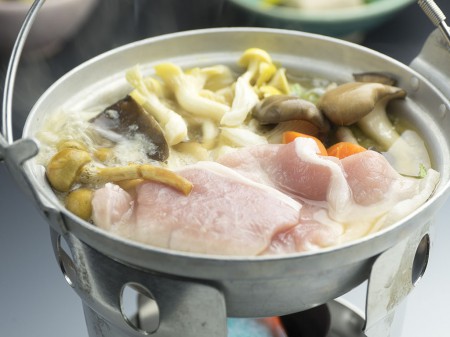 A pot dish with lots of autumn mushrooms.
Enjoy local Udon and JyoShu Pork with miso taste.
Tome Sakana
Yam and mushroom with chrysanthemum sauce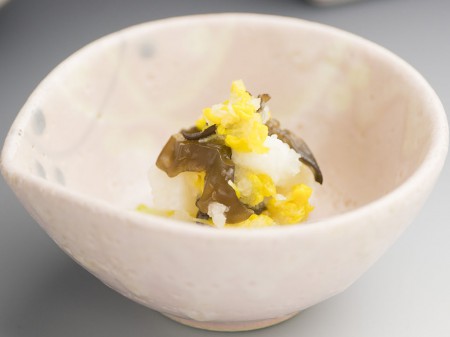 Yam, mushrooms, edible chrysanthemum, and so on, mixed with radish Tosa vinegar.
Boiled rice
Cooked in front of you. Chestnut rice.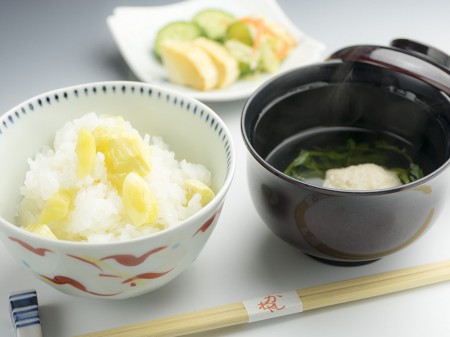 Please enjoy the autumn taste.
Soup
Lotus ball soup
Lotus ball, garland chrysanthemum, Yuzu
Pickles
Dessert
Apple pie with Sawada apple and sweet potato pudding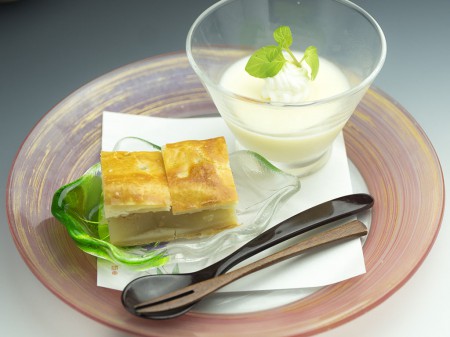 An apple pie with local Nakanojo apples and lightly sweet potato pudding.
Healthy and Tasty is our theme.
Please Enjoy Japanese style cuisine and original taste of vegetables.
If you interested in Japanese style Onsen, Please click here
Shima Onsen Kashiwaya Ryokan >