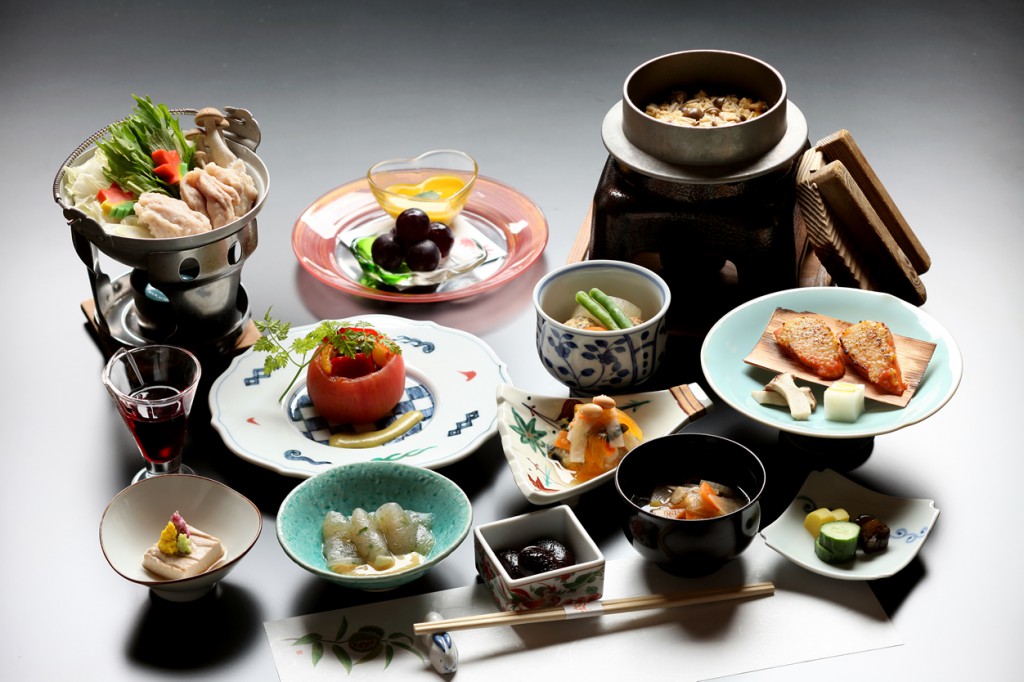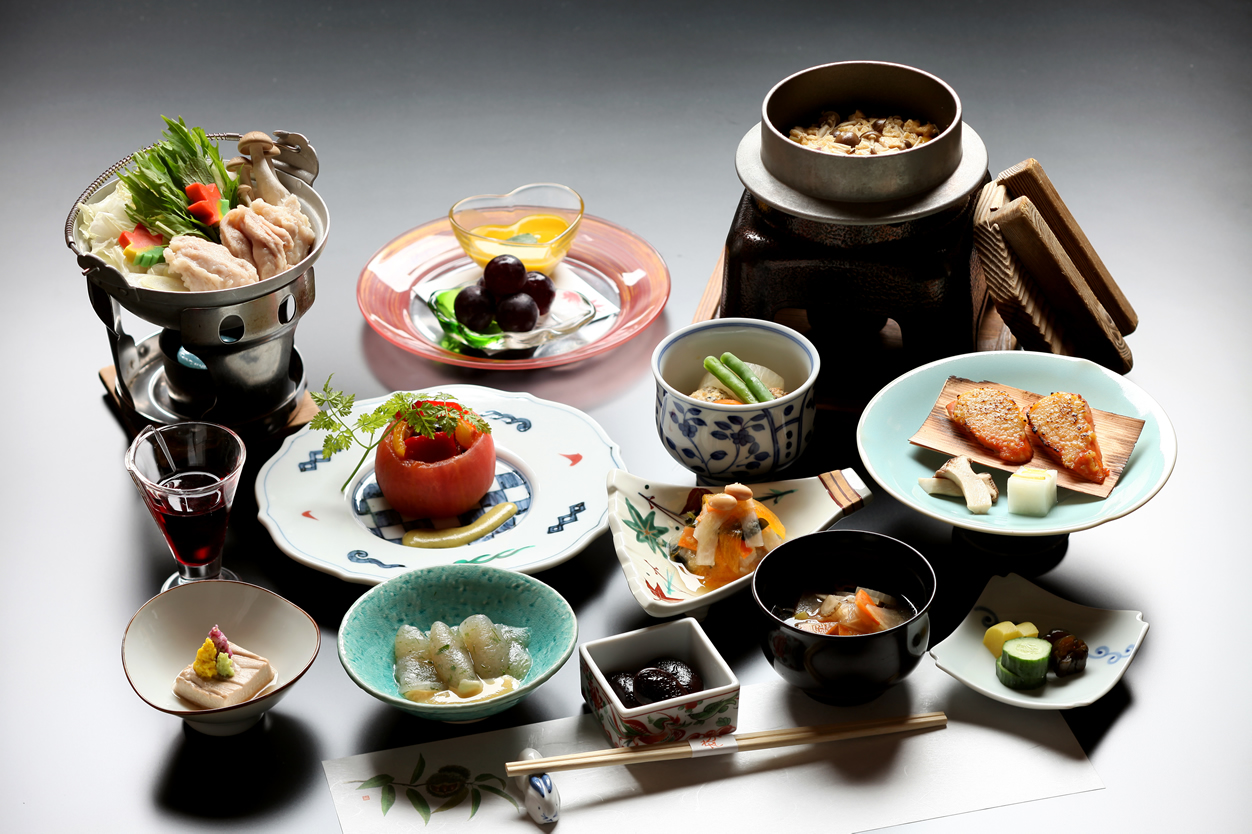 Except ryokan in urban areas of Tokyo and Kyoto, the basic Japan ryokan accommodation system is one night two meals (Half Board) with dinner and breakfast.
In recent years, including our Kashiwaya ryokan, more and more ryokan are accepting other styles, such as B&B, accommodation and breakfast, and just sleep over.
Ryokan the Perfect Place to Taste Washoku
However, if you're staying in long-awaited Japan, I recommend that you eat both dinner and breakfast at ryokan at least once. This is because ryokan is the perfect place to taste "Washoku; the Japanese Traditional Food Culture" registered as the UNESCO intangible cultural heritage.
However, a lot of ryokan provide in buffet style at relatively large-scale ryokan, so you need to be careful. Of course, I do not deny buffet style, but this is from a point of view in order to taste "Washoku; the Japanese Traditional Food Culture" registered as the UNESCO intangible cultural heritage.
What is Kaiseki Ryori (traditional Japanese meal brought in courses) ?
Most ryokan have their base of dinner as washoku, and many of them have the flow of "Kaiseki Ryori." Kaiseki Ryori was originally dishes to enjoy drink and consists of various side dishes for sake, such as soup, sashimi, grilled, boiled, fried, steamed, marinated, and vinegared. Then it has a style of rice and soup (Tomewan; finish bowl) coming up at last. There are versatile ryokan; some ryokan serve traditional style of Kaiseki, some provide a little simplified, and some arrange in Western-style.
In addition, there are also ryokan, which serve "Kaiseki Ryori" that has same the reading but different kanji and has its roots in Teaism to enjoy tea and "Shojin Ryori (vegetarian food)" that does not use meat and fish.
Breakfast has more wide variety depend on each ryokan. Some ryokan serve feast more than enough to eat all even at dinner, some serve simple and basic one soup and three dishes, and some serve Western style as selected like our Kashiwaya ryokan. There are also many ryokan, which serve in buffet style only for breakfast.
Meals at Kashiwaya ryokan
Dinner at our Kashiwaya ryokan has the basic of "Kaiseki Ryori" and is arranged so that modern customers and younger customers can also enjoy. In addition, although Kaiseki Ryori tends to serve lots of amount, we are committed to serve reasonable amount. For menu that changes about 5 times a year, we use local ingredients from Gunma Prefecture, where lots of fresh vegetables are available, and cook them in gentle taste that takes advantage of bonito soup unique to Japan.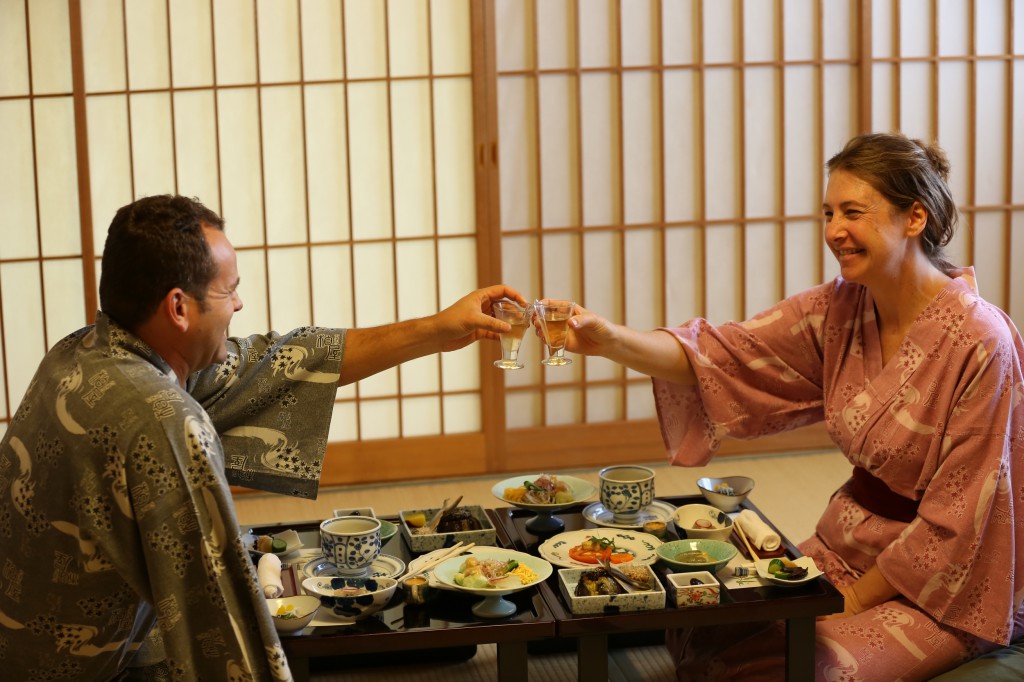 For breakfast, you can choose from Washoku, which has lots of local ingredients, such as local miso and tofu, and Japanese rice gruel, Washoku with freshly baked bread and coffee, or brunch at Kashiwaya café at onsen town.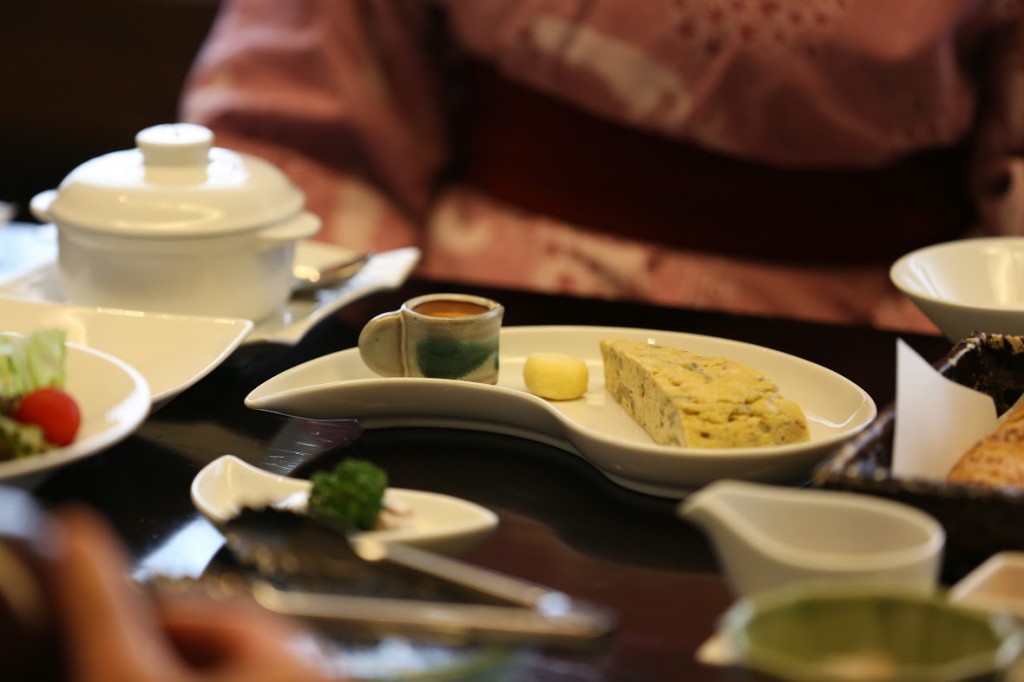 "Food" is one of the great funs of travel, so please fully enjoy.
If you interested in Japanese style Onsen, Please click here
Shima Onsen Kashiwaya Ryokan >