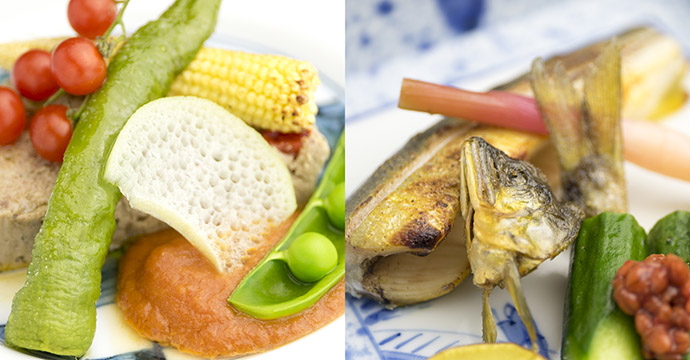 The dinner menu is now early summer version.
Dinner at Shima Onsen Kashiwaya Ryokan is Japanese Kaiseki style.
Mainly with Gunma Local Ingredients, our well-experienced cook mix Japanese traditional technique and new technique, which is beyond Japanese. Not only the taste, but also looking you can enjoy.
I will introduce dinner menu every time the version is changed at this blog.
Stay tuned!
For dinner menu in early summer in 2016, I combined Gunma made ingredients, such as vegetables and wheat pork, and a little early summer ingredients, such as Ayu and winter melon, resulting in gentle style.
Chef, Norihiko Sakamoto
Aperitif
Plum wine "Osakazuki"
Plum wine is made with Japanese Sake, "Osakazuki", of brewery in the foothills of Mt. Haruna. Gunma is also one of the most producer of plums in East Japan.
Specialty
Hanamame (beans) and Sashimi Konjac handmade by the landlady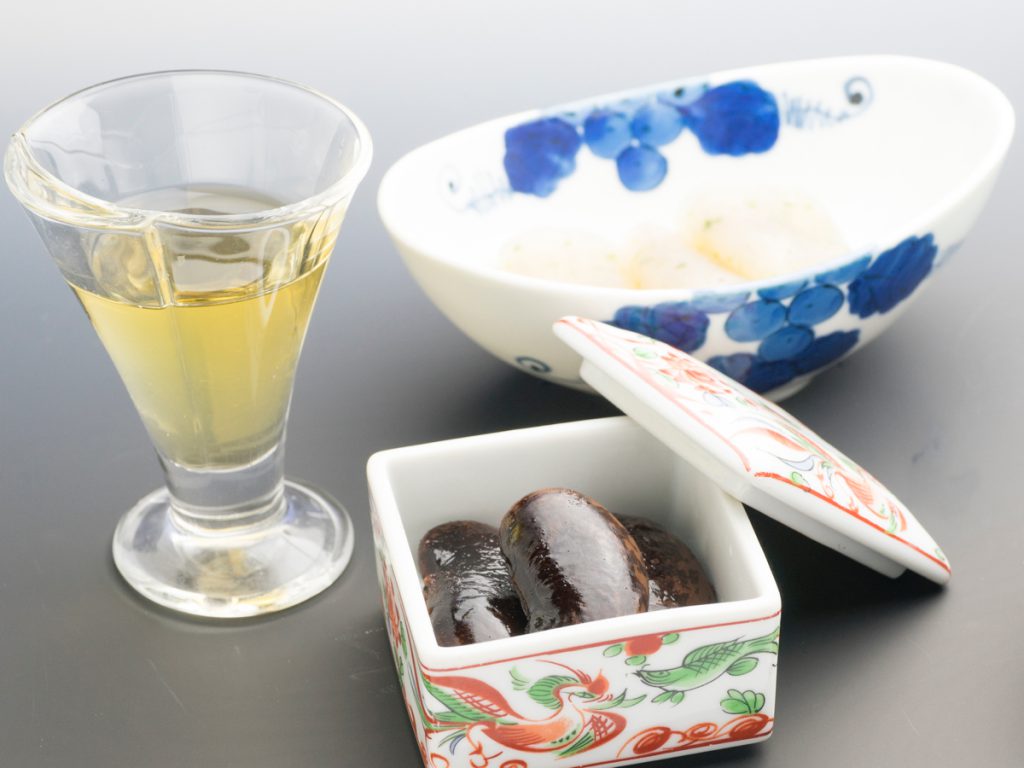 Well evaluated classic menu.
The key points are handmade and local Agatsuma production.
Appetizer
Cone Tofu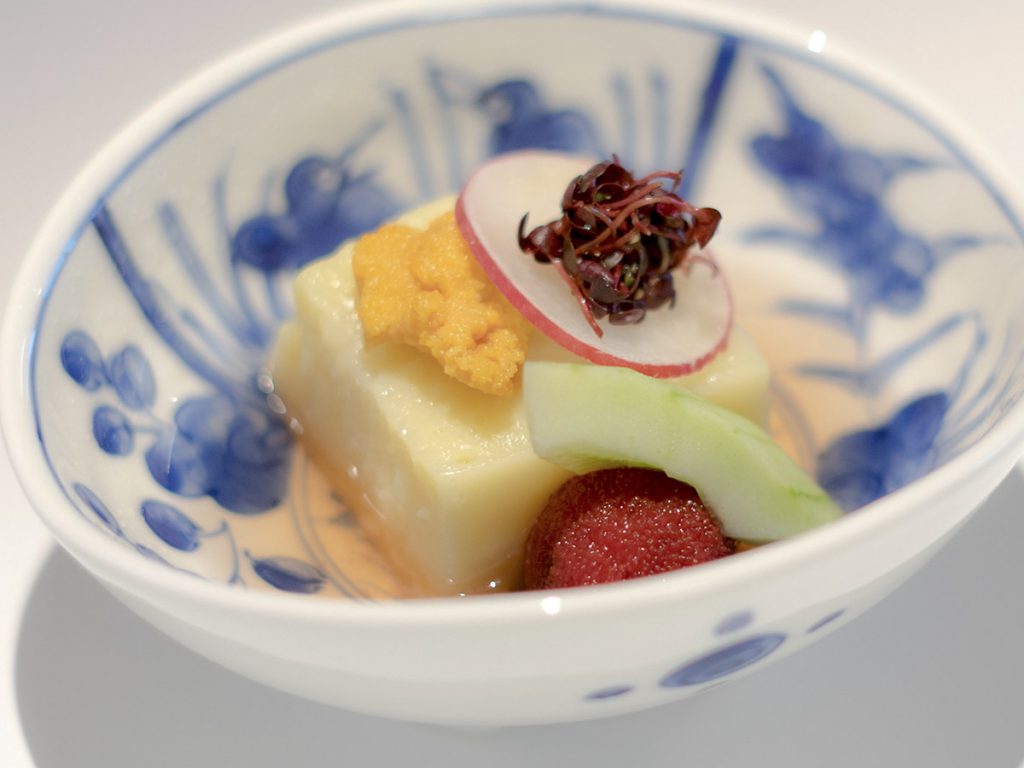 Soy milk is mixed with early Hokkaido corns and made to deep taste Tofu-yose.

Grilled dish
Grilled Pickled young Ayu, Japanese pepper leaves taste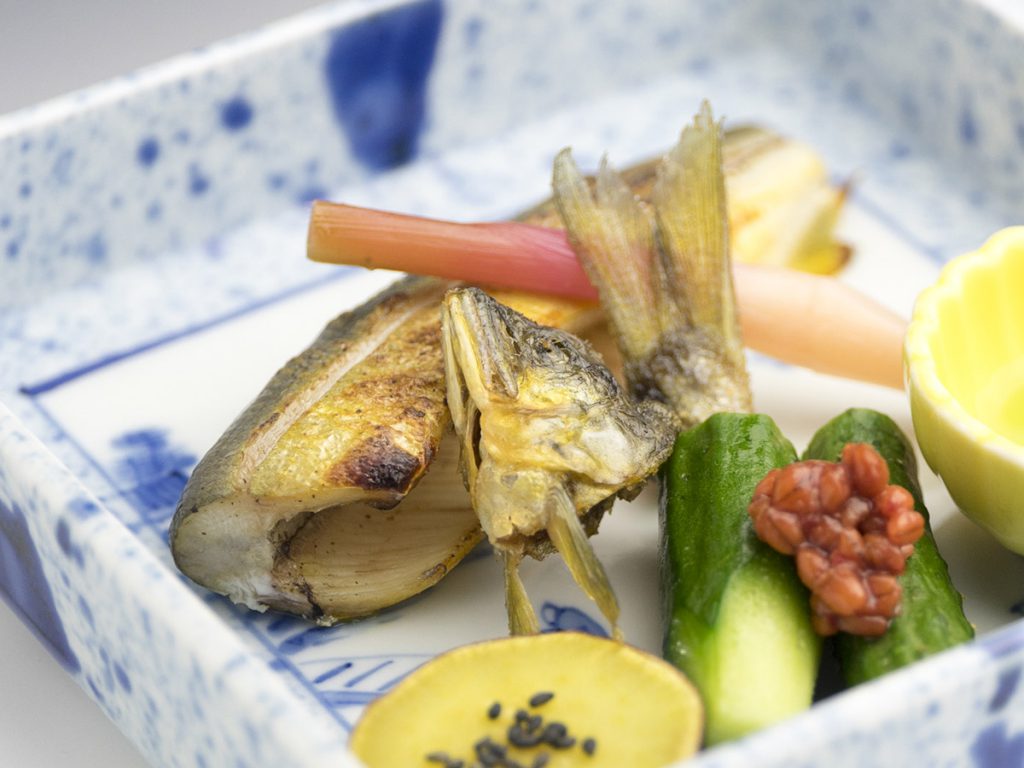 Japanese pepper leaves Tsukudani handmade by landlady are mixed with source.
Ayu is pickled and It's aroma and taste are confined.
Middle Plate
Cold terrine of chopped summer vegetables fruit tomato sauce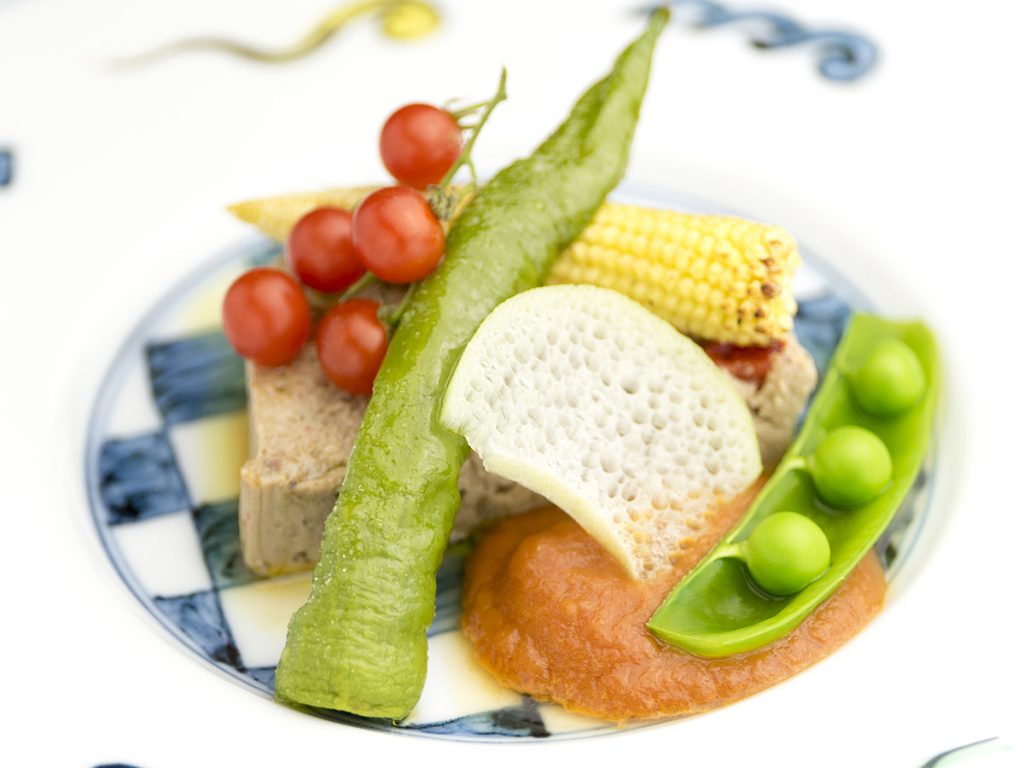 Summer vegetables are cooked as terrine with minced Akagi chicken and domestic chicken liver. They are decorated with other grilled vegetables so to well for early summer.
Stewed dish
Winter melon with soup, green peas paste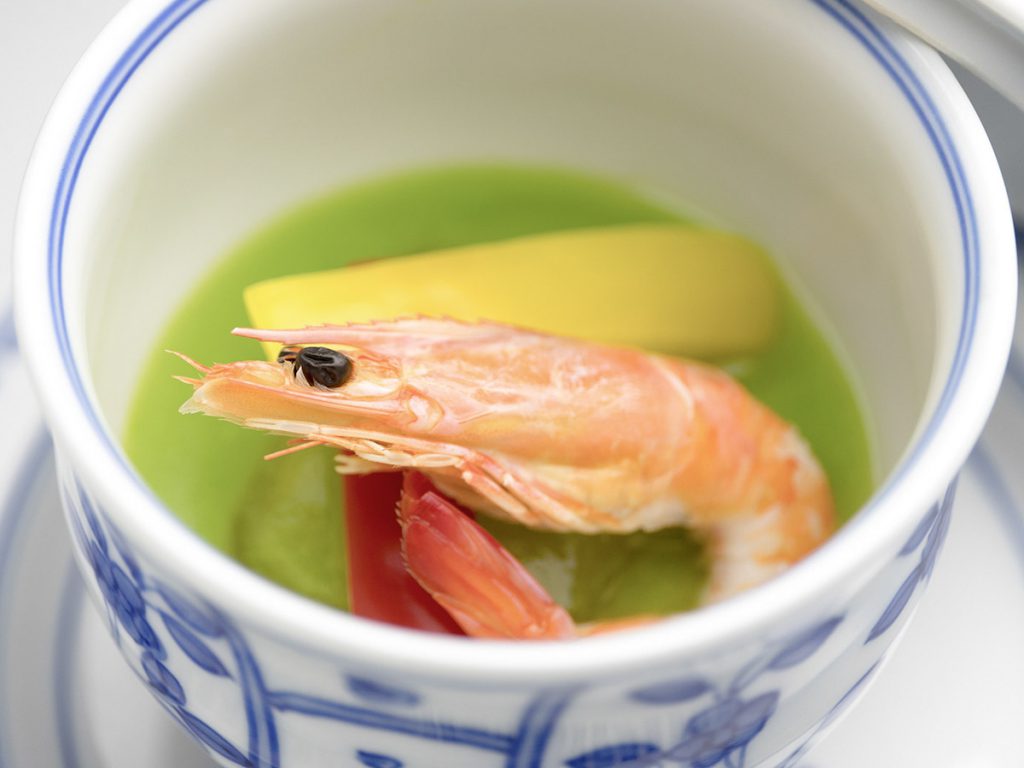 Almost high season winter melon is boiled with soup extracted from chicken.
Hot pot
Shabu shabu style Gunma vegetables and "wheat pork" with lemon taste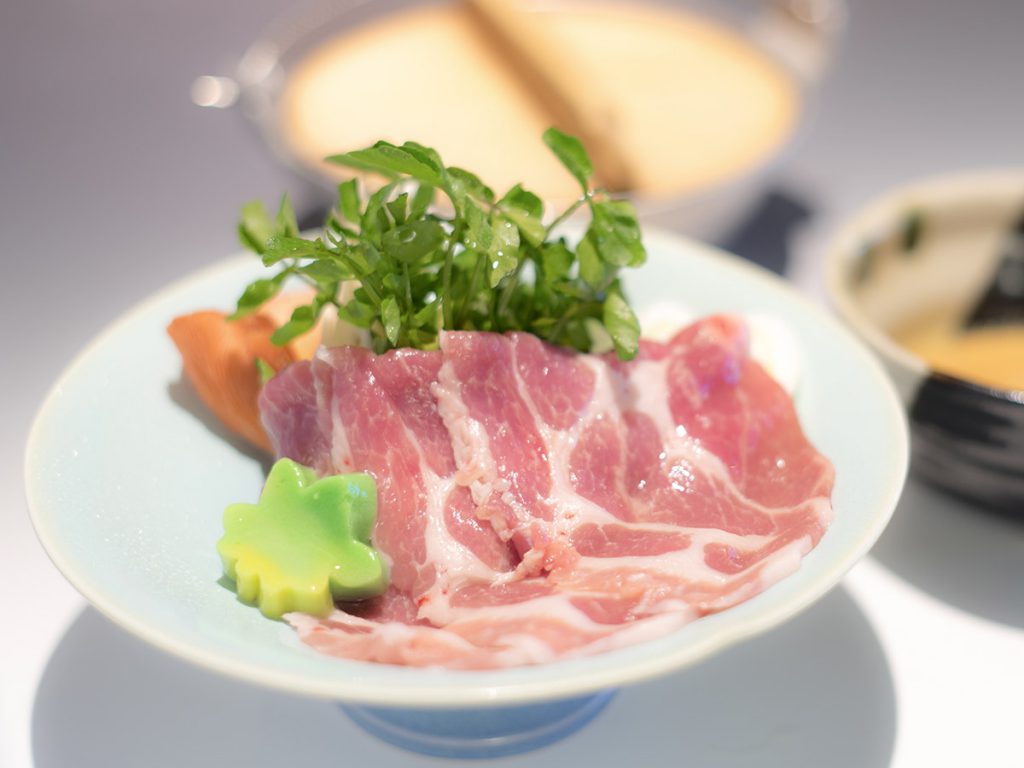 Lemon sour and aroma are added to bonito soup. Gunma "wheat pork" is cooked as Shabu shabu style
Side dish
Shirodatsu (stem of shrimp potato) mixed with Egoma (wild sesame)


Shirodatsu is boiled.
Enjoy its crispy taste and aroma of Egoma.
Boiled rice
Cooked at the site. Eel Kamameshi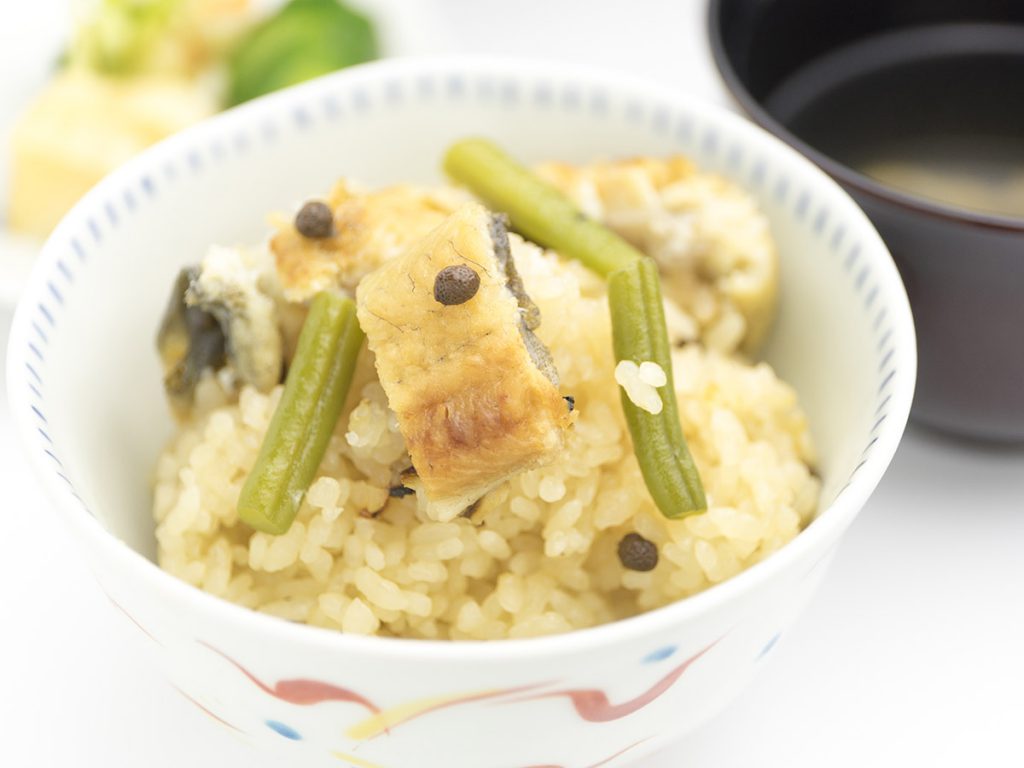 Eel taste is purified with aroma of Sansho(Japanese pepper). It's a deep taste Kamameshi.
We use Koshihikari rice made at this town.
Japanese Soup
Water shield, bud okra, blue citron
Pickles, pickles in three types
Dessert
Seasonal fruit compote, grapefruit gelee
Served with golden sponge cake made of Nakanojo rice flour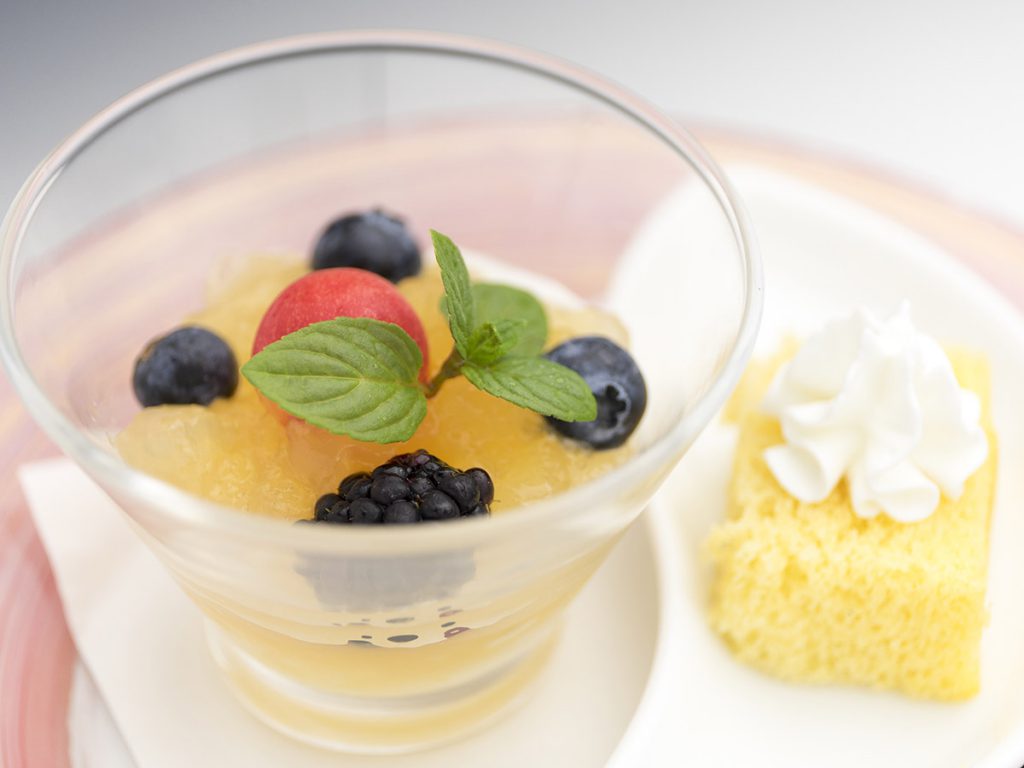 If you interested in Japanese style Onsen, Please click here
Shima Onsen Kashiwaya Ryokan >