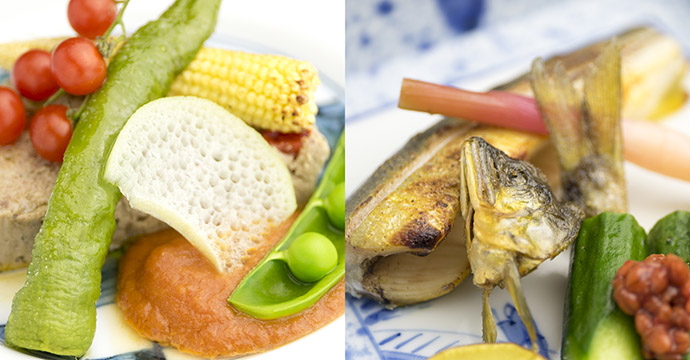 The dinner menu is now early summer version.
Dinner at Shima Onsen Kashiwaya Ryokan is Japanese Kaiseki style.
Mainly with Gunma Local Ingredients, our well-experienced cook mix Japanese traditional technique and new technique, which is beyond Japanese. Not only the taste, but also looking you can enjoy.
I will introduce dinner menu every time the version is changed at this blog.
Stay tuned!
For dinner menu in early summer in 2016, I combined Gunma made ingredients, such as vegetables and wheat pork, and a little early summer ingredients, such as Ayu and winter melon, resulting in gentle style.
Chef, Norihiko Sakamoto
Aperitif
Plum wine "Osakazuki"
Plum wine is made with Japanese Sake, "Osakazuki", of brewery in the foothills of Mt. Haruna. Gunma is also one of the most producer of plums in East Japan.
Specialty
Hanamame (beans) and Sashimi Konjac handmade by the landlady


Well evaluated classic menu.
The key points are handmade and local Agatsuma production.
Appetizer
Cone Tofu


Soy milk is mixed with early Hokkaido corns and made to deep taste Tofu-yose.
Continue reading →