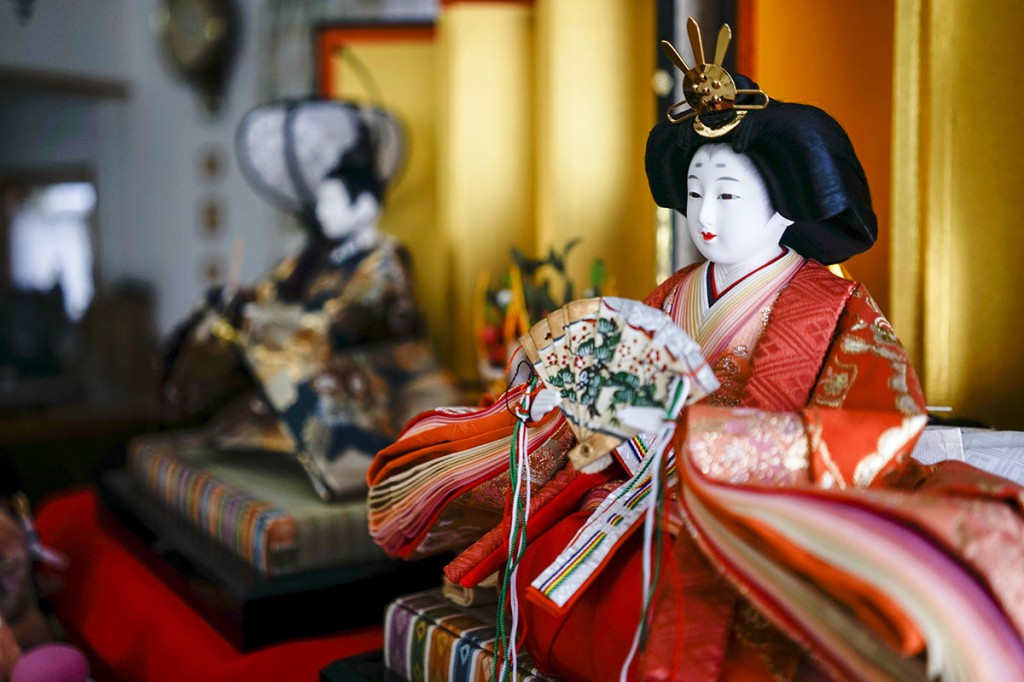 From mid-February to mid-March in each year, Mayahime Matsuri (Princess Maya Festival) is held at Shima Onsen. Ryokan and shops at the onsen resort are decorated with Tsurushibina (mobile dolls) and Hina dolls.
Since ancient times, there has been a tradition, called Hina Matsuri (Hina Festival) in Japan, where we wish for girls' healthy growth.
Hina Matsuri is held on March 3 in every year.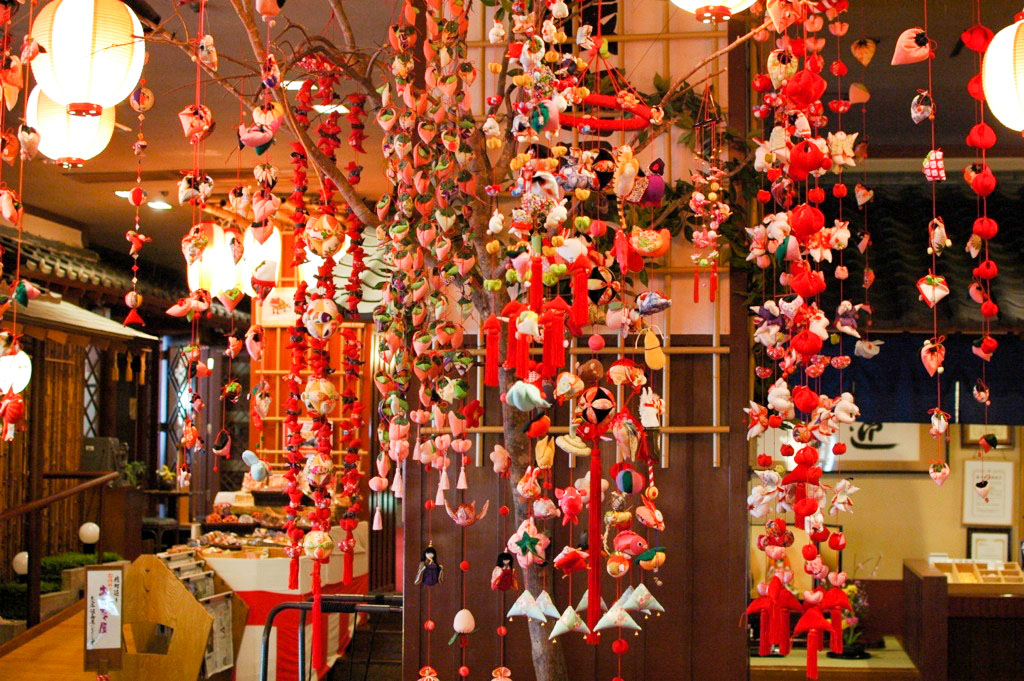 Each family decorates Hina dolls, prepare feast and Hina rice snack, and wish for girls' healthy growth.
Before Edo period, people used to decorate only a pair of male and female dolls.
This is said to be originally to scapegoat misfortune of people.
After Edo medium-term, the custom shifted to be more respectable, and now, we decorate dolls on many stairs. (Dankazari).
Having said that, the living of common people during Edo period was humble, so they could not afford to decorate respectable Hina dolls.
Yet, they also wished for children's healthy growth as we do now.
Then, Tsurushibina began, where people hang many small and mobile dolls.
It is said that Tsurushibina was originated at Inatori Region in Izu Peninsula (Shizuoka Prefecture) and transmitted from the late Edo period.
People decorate Tsurushibina with wish so that children will have enough clothing, food, and shelter.
Most people start decorating Tsurushibina and Hina dolls not only on March 3, but also from February.
This is because there is a popular belief that girls cannot get married unless they clean up the dolls right after March 3.
Some people follow the belief but others decorate for a long time.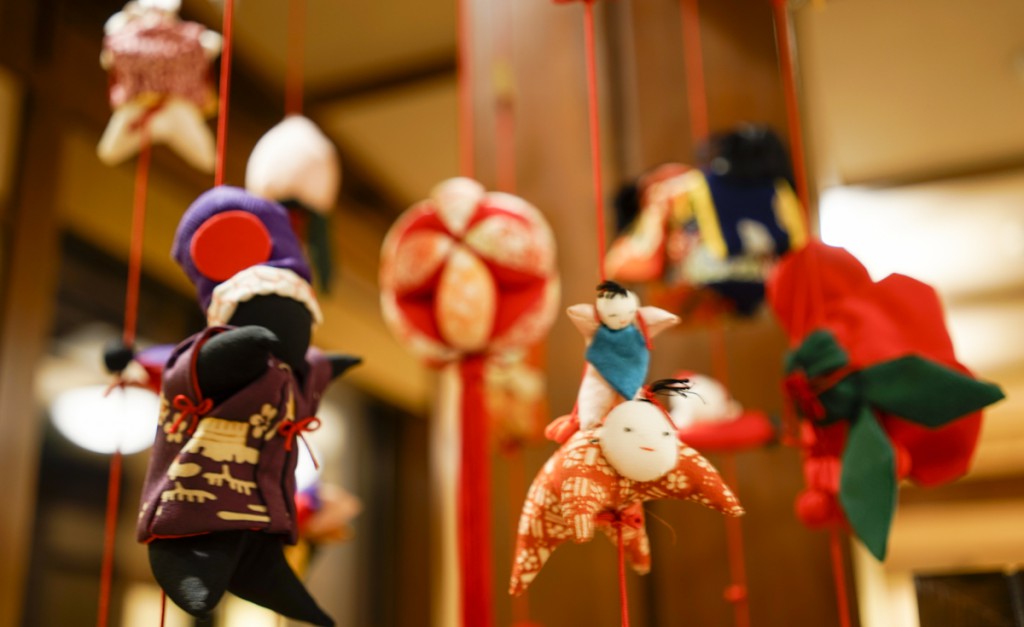 On the other hand, there is a "Mayahime legend" at Shima Onsen about marriage.
As I introduced previous blog, there are many waterfalls at Shima Onsen.
Among them, Maya Falls are heroic and impressive. Mayahime legend is based on this Maya Falls.
The marriage legend is as following:
There is a woman who was praying at Fudo Acala at the bottom of the Falls. Then an old woman appeared from nowhere.
The woman followed the old woman to the Falls then she met a wonderful man. They lived happily ever after.
The Fudo Acala in the legend is still enshrined now as Maya Fudo near Hinatami Yakushido.
Then, we have combined this Mayahime legend and Hinamatsuri and created Mayahime Matsuri at Shima Onsen.
The concept is have customers enjoy Tsurushibina and Hina dolls while walking around the Onsen resort, as well as wishing for girls' healthy growth.
On a Sunday closest to March 3 during the period (March 6 in 2016), there is a main event of meeting Mayahime-chan held at a shopping district nearby Kashiwaya café.


Mayahime-chan and friends
There, people can enjoy Amazake, rice cakes, picture-story show, shooting, and so on.
As the coldness is loosened, walking is also comfortable at Shima Onsen in early spring. Please enjoy walking while watching Tsurushibina and Hina dolls.
Well, because it is precious, I introduce more places to enjoy Tsurushibina other than Shima Onsen.
There are many Tsurushibina at "Chikyuya (Earth Shop)," a shop of Japanese items, at Shinto village, about an hour by a car from Shima Onsen.
Among them, there is Tsurushibina, which was certified by Guinness World Record as "the world's best 13,556 mobile decoration."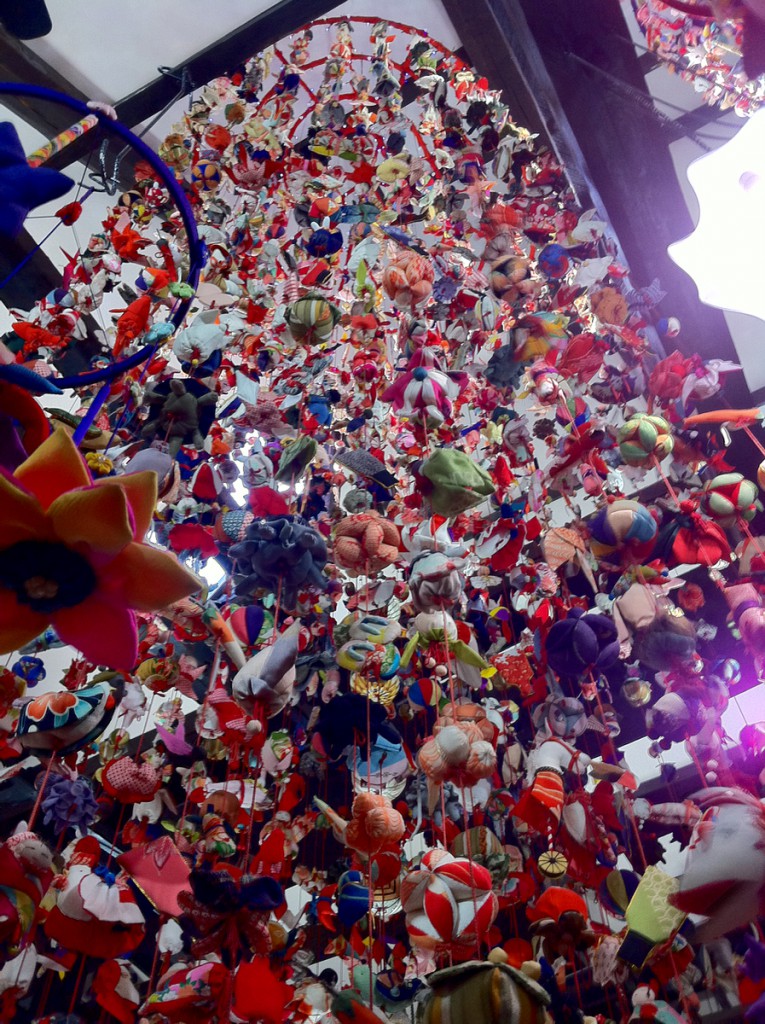 Guinness World Record's Tsurushi-bina
As Japanese people love Japanese (the world's?) 3 major XX, there are also Japanese 3 major Tsurushibina.
They are;
"Tsurushibina Decorating Festival" at Inatori, Higashi-Izu, Shizuoka, where is the origin of Tsurushibina,
"Yanagawa Hina Matsuri; Mobile Festival" by Yanagawa, Fukuoka,
"Kasafuku" by Sakata, Yamagata.
It is.
Please check them as candidates during traveling in Japan from February to March.
If you interested in Japanese style Onsen, Please click here
Shima Onsen Kashiwaya Ryokan >