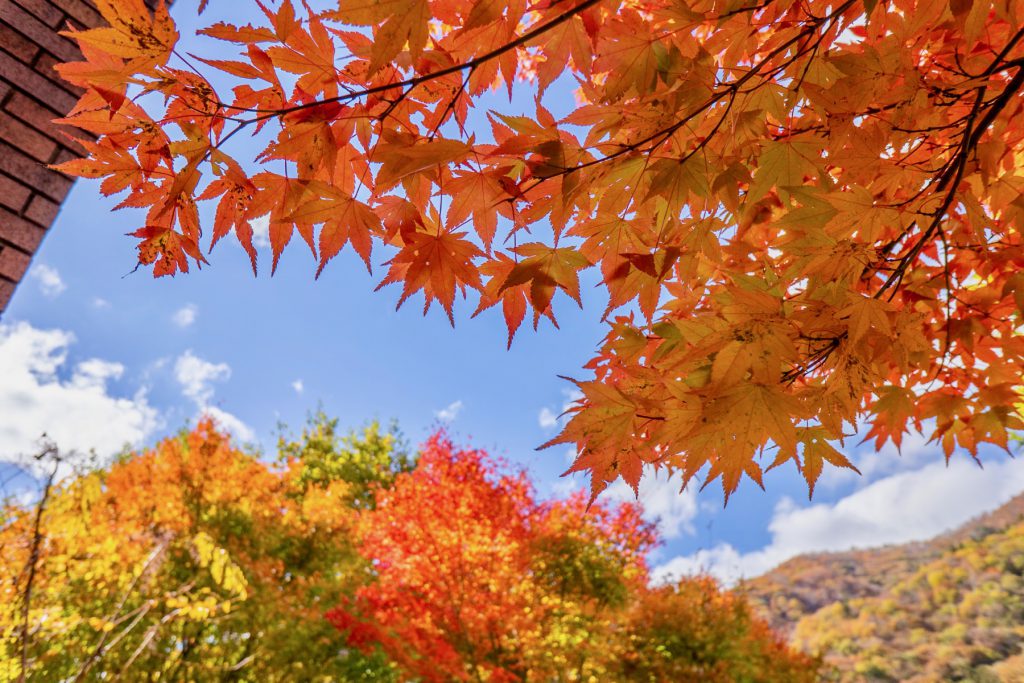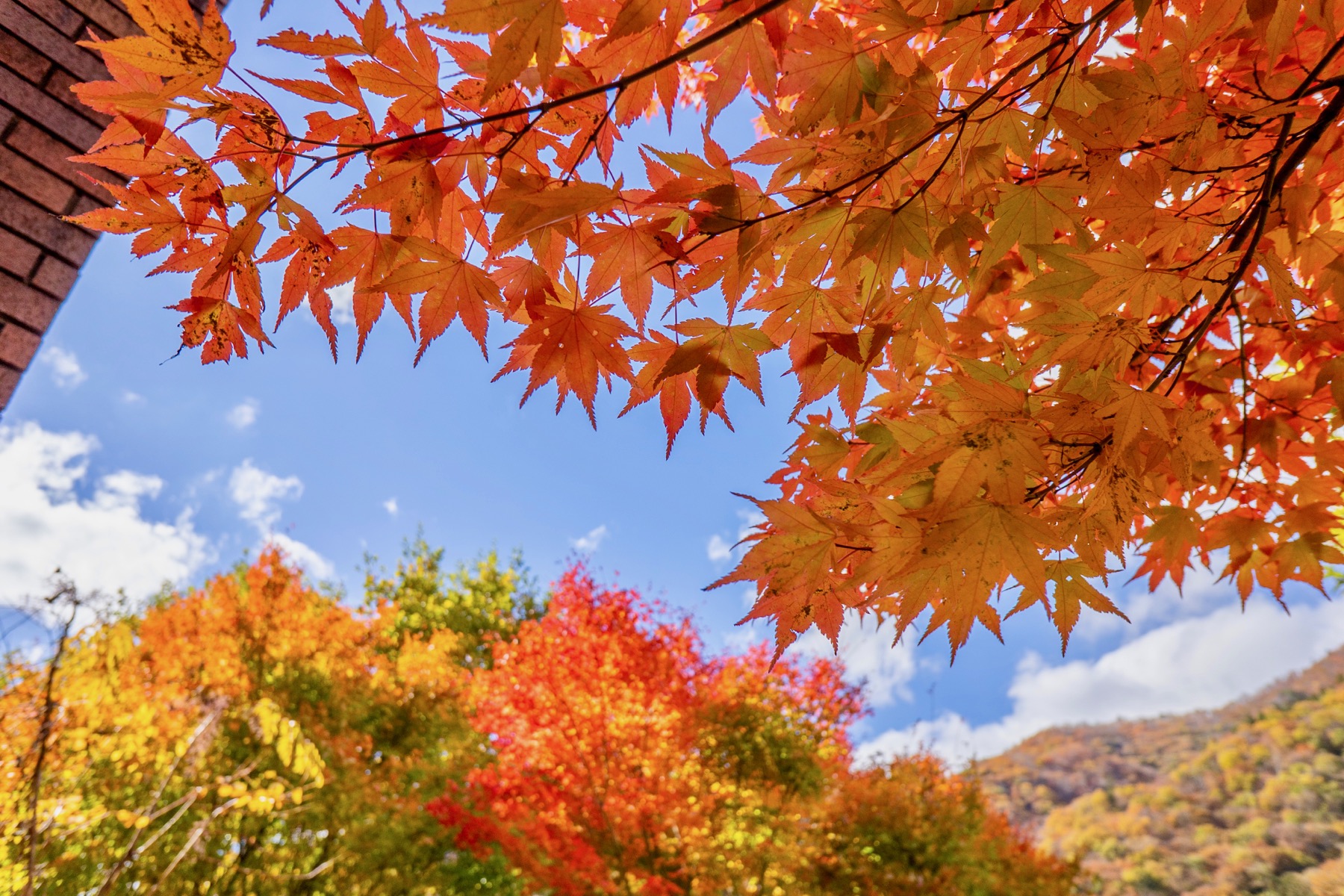 Contents:
– Kanto's Top 10 Locations for Fall Foliage
– Shima Onsen Town and Autumn Leaves
– Things to Keep in Mind for Autumn Leaves
– area map
Introduction
Shima Onsen and the Kanto Region are full of fantastic spots for seeing the gorgeous autumn leaves. Though Tokyo is known as a bustling metropolis, there are actually many areas of Kanto that are filled with natural beauty.
The autumn foliage in Kanto is best seen between September and December, and we believe this is the next best season to visit Japan after the spring cherry blossom season. Now, allow us to introduce some of the best places to visit in Kanto during the fall. You won't want to miss the opportunity to enjoy one of the most appealing aspects of Japan's natural beauty!
Kanto's Top 10 Locations for Fall Foliage
Let's get right into it and start with our ranking of the 10 best places to see autumn leaves in Kanto.
#1: Shima Onsen / Shima River / Okushima Lake (Gunma Prefecture)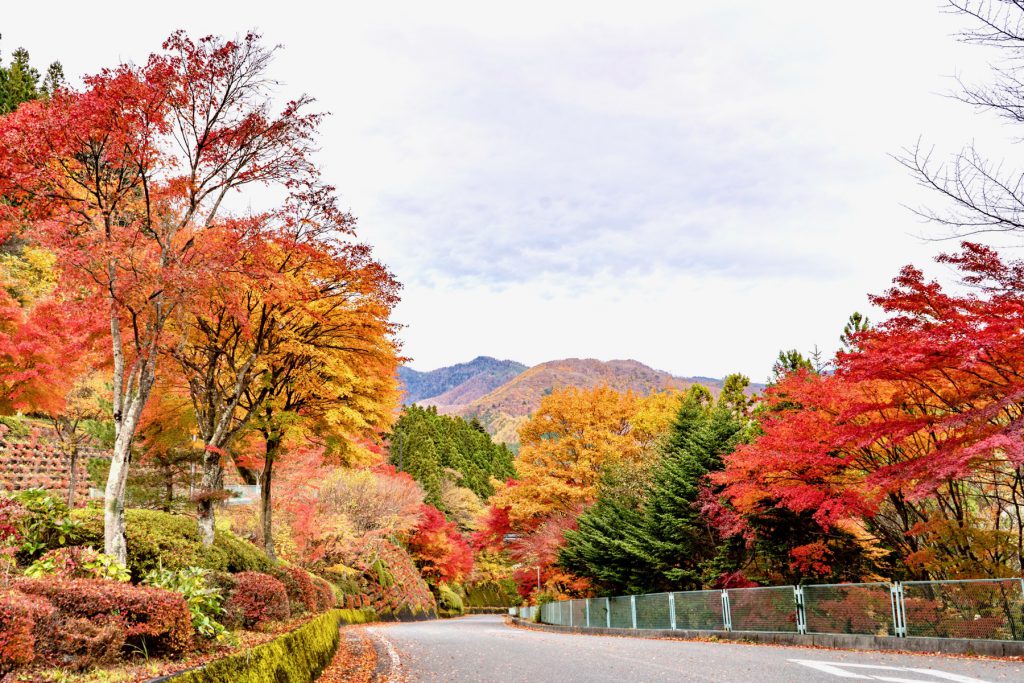 You'll have to forgive us for putting Shima Onsen in the top spot. This is of course where our very own Kashiwaya Ryokan is located, but it isn't an exaggeration to say that Shima Onsen is one of the best spots in Kanto for enjoying the gorgeous hues of fall. After all, we are located right in Joshin'etsu-kogen National Park.
There's a lot to say about Shima Onsen, but we'll get into that after we've finished the ranking.
Shima Onsen:
3 hours from Tokyo by train, bus, car
Best season: late October – mid-November
#2: Nikko (Tochigi Prefecture)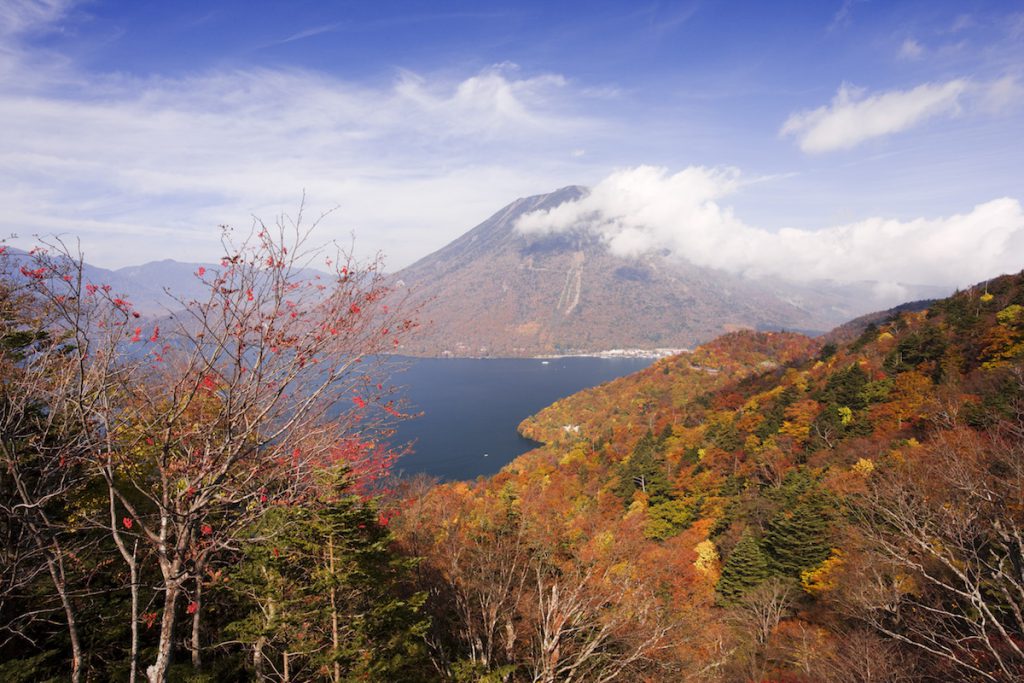 Nikko is an expansive region ranging from 1500m to 600m in elevation at the famous Toshogu Shrine. The autumn foliage can be seen from October to November, and there are a number of World Heritage Sites to enjoy as well. We recommend seeing Senjogahara Fields, Lake Chuzenji, Irohazaka, Kegon Falls, among many other unique attractions.
Nikko:
120 min. from Asakusa to Nikko Station via Tobu Line Rapid
Best Season: early Oct. – mid Nov.
#3: Jingu Gaien Ginkgo Avenue (Tokyo Metropolis)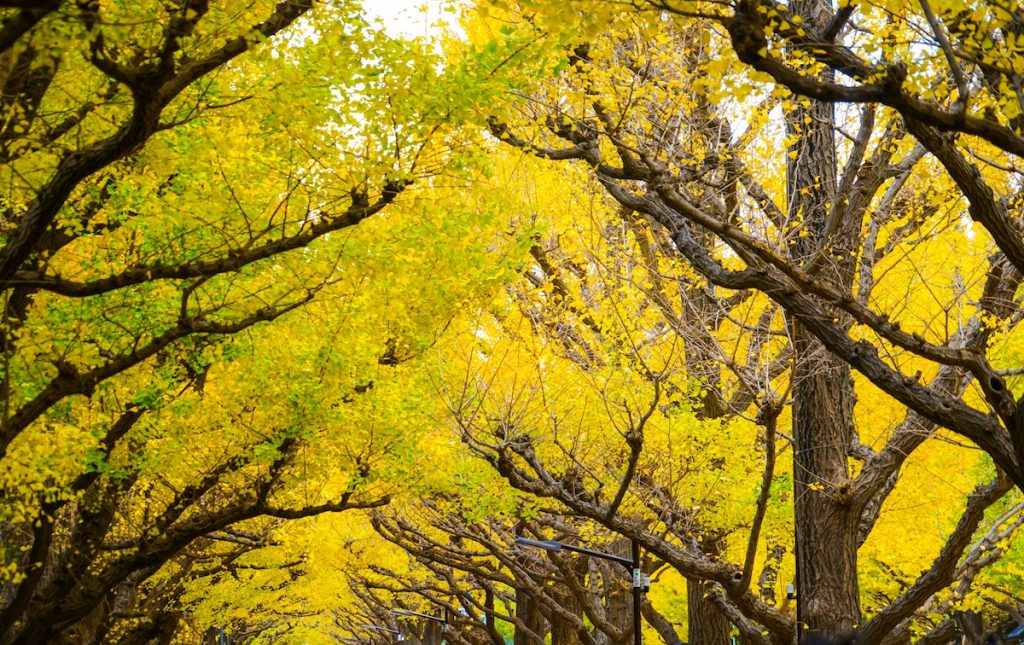 When you think of autumn leaves, you often imagine maple trees, but ginkgo trees can also be quite lovely. The Jingu Gaien Ginkgo Avenue in central Tokyo is one of the best places to see the gorgeous yellow ginkgo leaves. Don't take our word for it though. The Ginkgo Avenue is often placed at number 1 in national rankings.
Meiji Jingu Gaien:
Tokyo Metro Ginza Line Aoyama Icchome Station
Best Season: late Nov. – mid Dec.
#4: Tanigawadake / Terihakyo Ravine (Gunma Prefecture)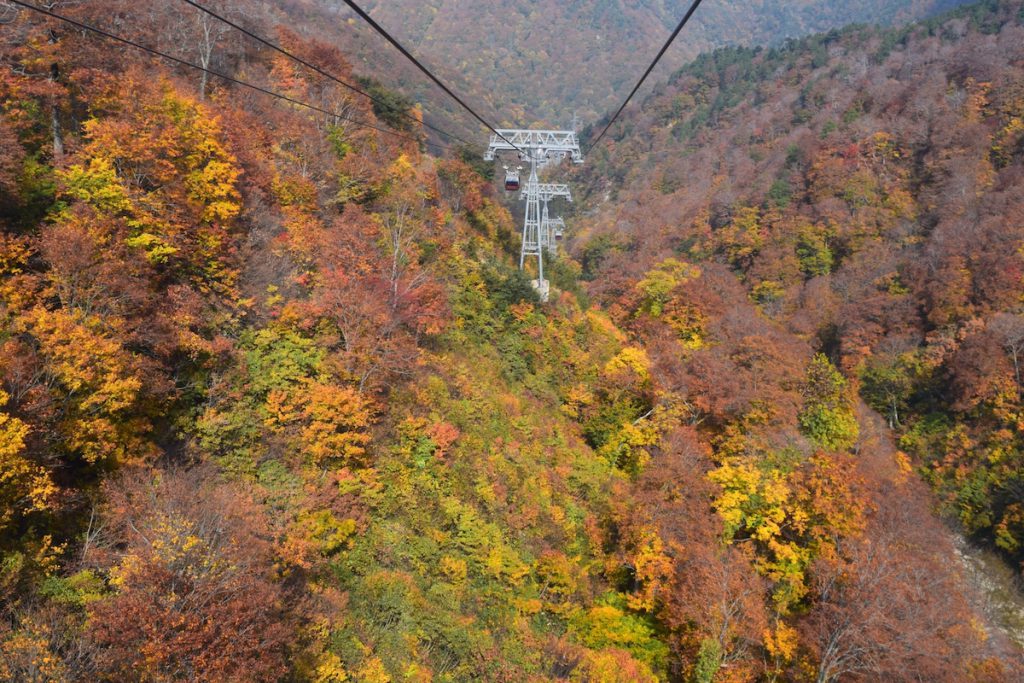 Tanigawadake is absolutely one of the best spots to see the fall colors in Gunma. Located next door to Shima Onsen, Tanigawadake's Ichinokurasawa Gorge is known as one of the 3 great rock faces of Japan. We highly recommend taking the ropeway or the lift up the mountain. They offer a truly phenomenal view of the autumn leaves. Terihakyo Ravine is also highly recommended. There are 11 separate falls in the ravine that were named by the haiku poet Shuoshi Mizuhara and offer a variety of views from which to enjoy the autumn colors.
Tanigawadake:
20 minutes from JR Joetsu Line Minakami Station
Terihakyo Ravine:
50 min. from JR Joetsu Line Minakami Station
Best Season: mid Oct. – early Nov.
#5: Nagatoro (Saitama Prefecture)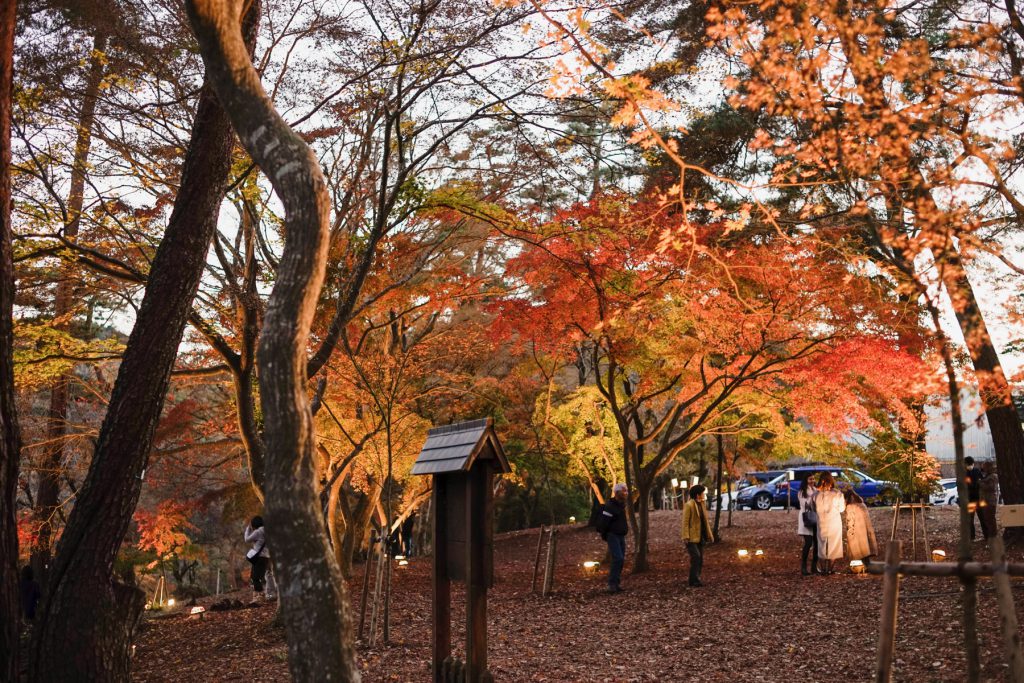 Nagatoro Valley is officially designated as a National Location of Scenic Beauty (nihonkoku shitei meisho). It is known for its gorgeous rock faces and uniquely shaped boulders. Tsukinoishi Momiji Park also has a light up show that offers a unique autumn foliage experience.
Nagatoro:
120 min. from Tokyo via Hokuriku Shinkansen and Chichibu Railway
Best Season: November
#6: Ikaho Onsen / Mt. Haruna (Gunma Prefecture)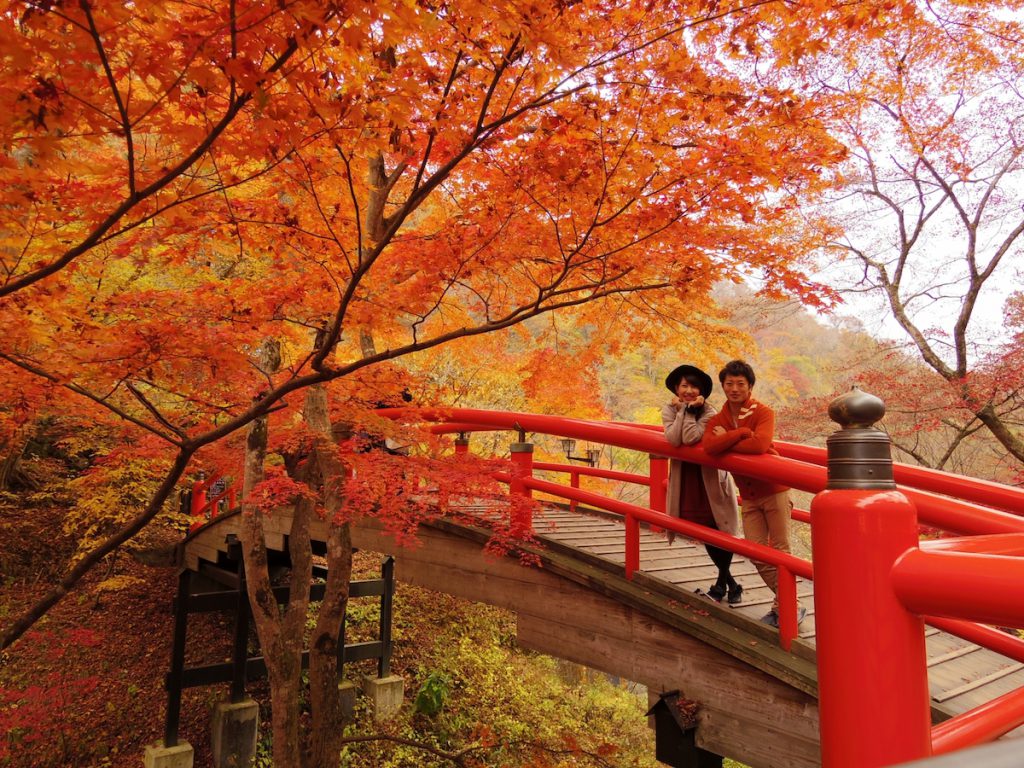 The gorgeous Haruna Mountains and the onsen town at their foot offer some of the best places to see autumn leaves, including, of course, the view from the top of Mt. Haruna. There is a gorgeous lake formed from a volcanic crater, as well as Haruna Fuji, a mountain similar to the famous Mt. Fuji in Yamanashi. Needless to say, the natural beauty here is phenomenal, offering for a stunning view of the autumn foliage. After a day on the mountain, we recommend making your way down to Ikaho Onsen for a relaxing bath and some local sightseeing. We also recommend taking a boat out on the water or going on the ropeway to enjoy a stunning panoramic view of the fall leaves. An don't forget to see Kajika Bridge, located at one of the highest locations in the onsen town. At night you can see the trees lit up for a stunning view of the leaves at night.
Ikaho Onsen / Haruna Lake:
Bus from JR Shibukawa Station
Best Season: late Oct. – mid Nov.
#7: Mt. Takao (Tokyo Metropolis)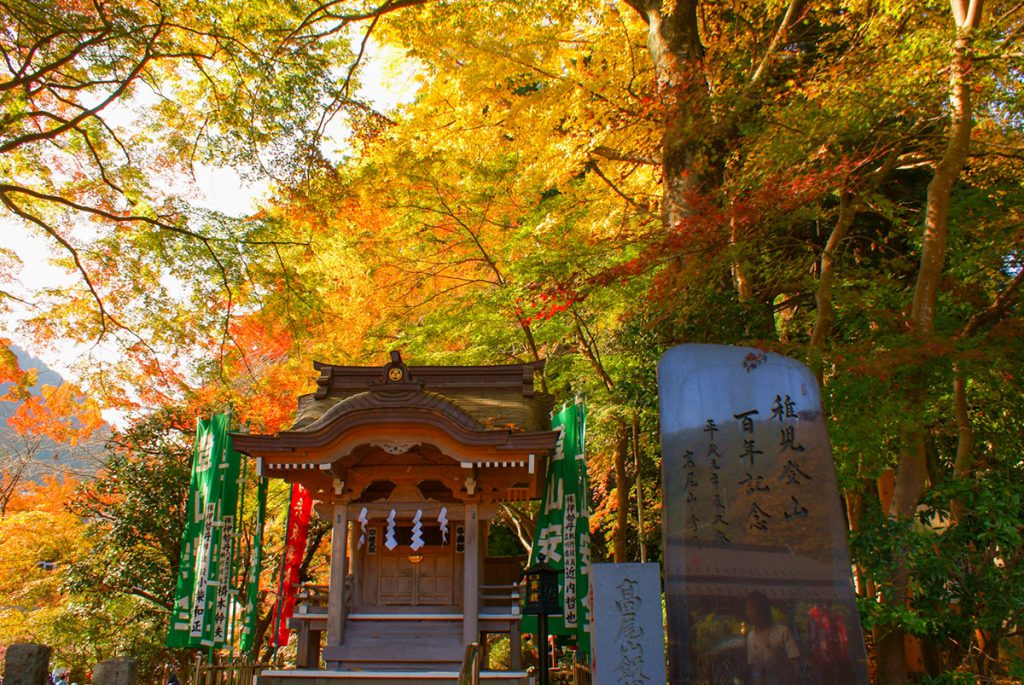 This relatively small mountain (599 meters) is located in Hachioji City, Tokyo, a conveniently centrally located location. Its popularity has skyrocketed since receiving 3 stars in Michelin Green Guide Japan. You can get a fantastic view of the fall foliage from the peak and from the local cable car.
Mt. Takao:
80 min. from Tokyo via JR Chuo Line
Best season: mid to late Nov.
#8: Hakone (Kanagawa Prefecture)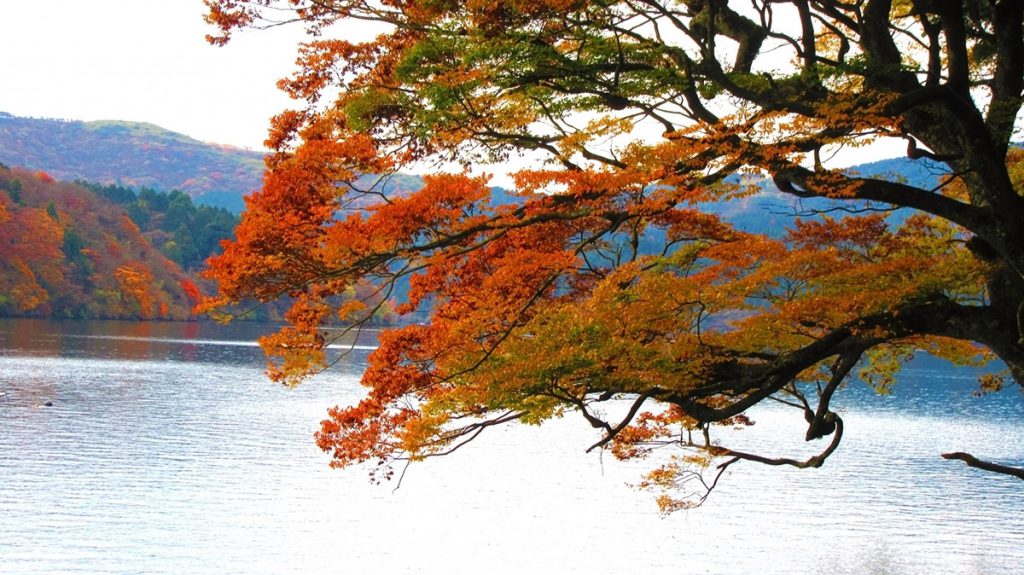 Hakone is most famous for its onsen but is also an excellent place to enjoy the fall colors. The foliage stretches downhill all the way from Lake Ashi to Hakone Yumoto Station. Although it has nothing to do with the foliage, another great attraction here is the susuki grass at Sengokuhara.
Hakone:
75 min. from Shinjuku to Hakone Yumoto Station
Best Season: mid Nov. – mid Dec.
#9: Yoro Keikoku Ravine (Chiba Prefecture)

Yoro Keikoku Ravine is located in southern Kanto. With a variety of hiking courses from 1 hour to 3 hours, this is a great place for more active visitors to enjoy the fabulous autumn colors. We recommend checking out Tsutsumori Momijidai if you really want to take in the fall leaves.
Yoro Keikoku Ravine:
2 hr 30 min via JR Uchibo Line, Kominato Tetsudo
Best Season: late Nov. – early Dec.
#10: Fukuroda Falls (Ibaraki Prefecture)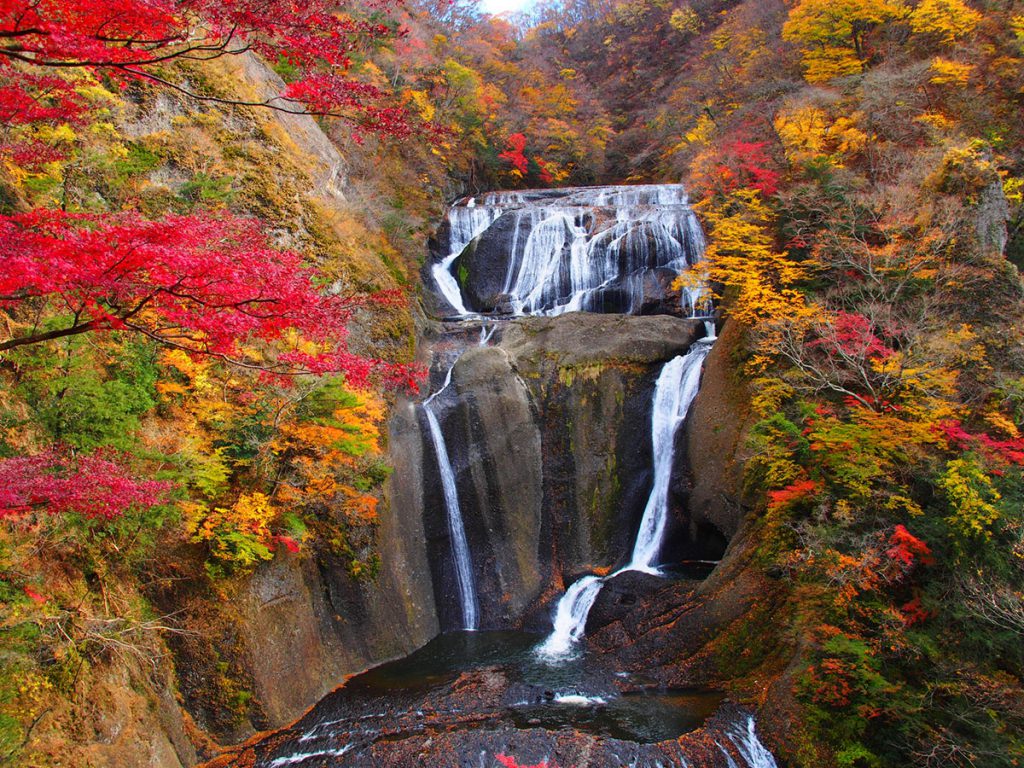 Fukuroda Falls is counted among the 3 great waterfalls of Japan (along with Nachi Falls and Kegon Falls). This is hands-down the best place to see autumn foliage in Ibaraki. The waterfall is 120 meters tall, 73 meters wide, and is divided into 4 levels for a truly stunning view. The beautiful reds and oranges of autumn make it one of the best times to visit, but winter is also highly recommended because the water completely freezes over.
Fukuroda Falls:
3 hr from Tokyo via JR Joban Line, Suigun Line, etc.
Best Season: early to mid Nov.
Special Feature
Last, we'd like to specially introduce 2 locations which, while not technically in the Kanto region, are quite close and worthy of note.
Naeba Dragondola (Niigata Prefecture)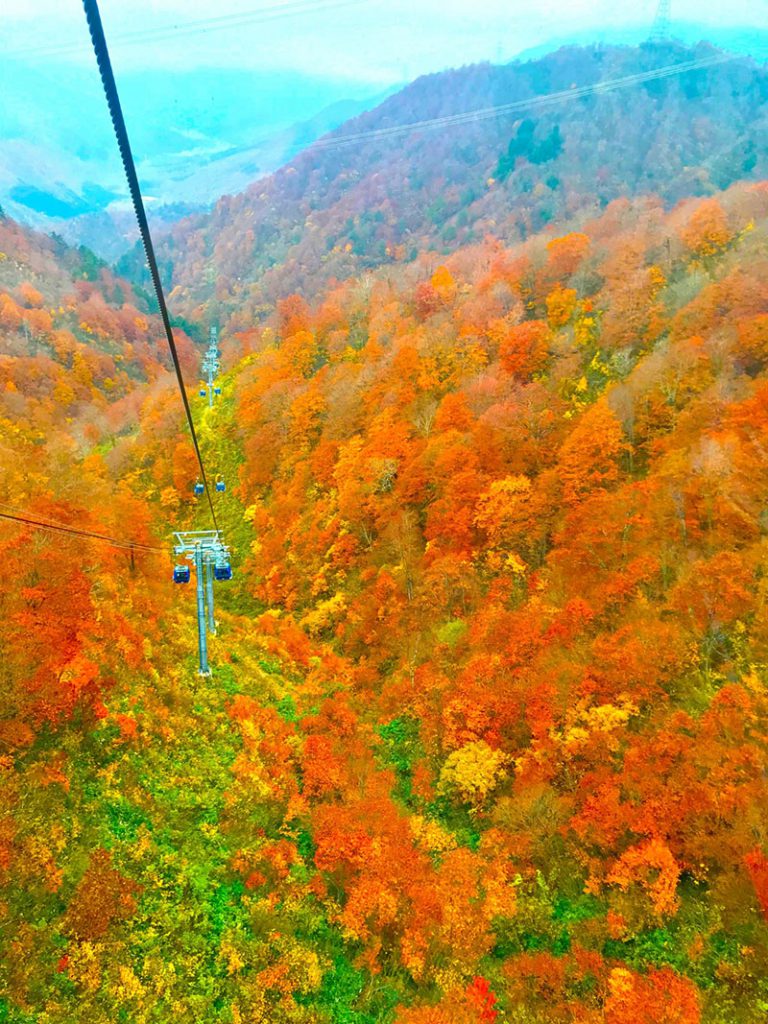 Naeba is a famous ski resort in Japan, and home to Japan's longest gondola. The 5.5km, 25-minute gondola ride offers a truly magnificent aerial view of the fall foliage while passing over the placid Futai Lake before arriving at the gondola station at the top of the mountain at an elevation of 1400 meters.
Naeba Doragondora:
50 min. from Joetsu Shinkansen Etsugo Yuzawa Station
Best Season: mid Oct. – late Oct.
Karuizawa (Nagano Prefecture)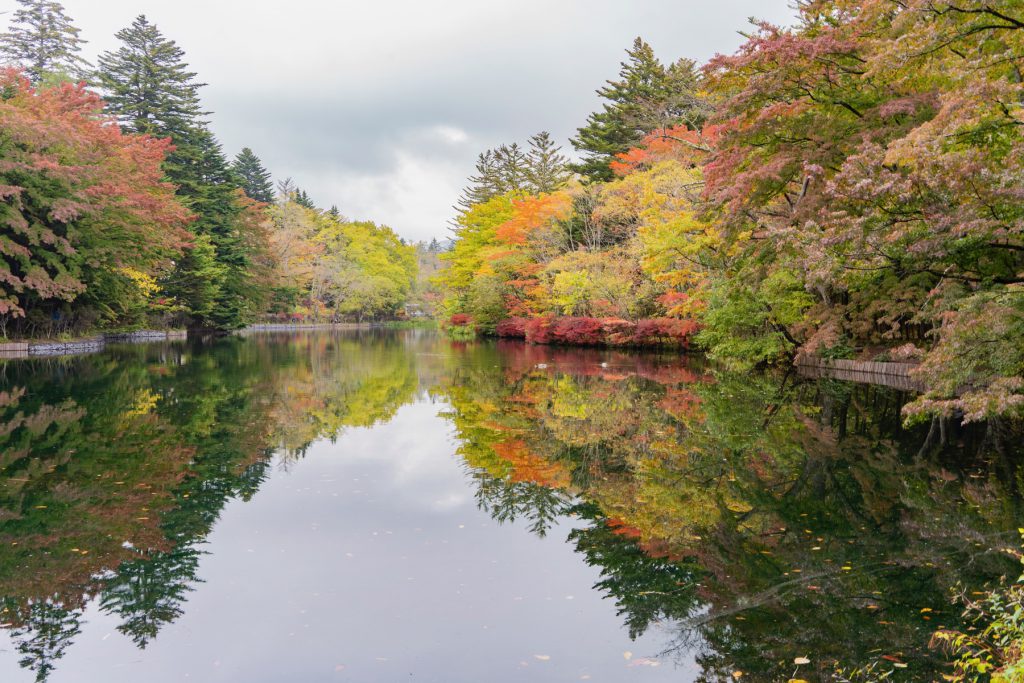 Another popular resort, Karuizawa is one of the best places to see the fall colors in Japan. Kumoba Pond offers a spectacular view of autumn leaves reflected on the water's surface with a magnificent backdrop of mountains. And the thread-like water of Shiraito Falls is another spot you won't want to miss.
Karuizawa
80 min. from Tokyo via Hokuriku Shinkansen
Best Season: mid Oct. – mid Nov.
Shima Onsen Town and the Autumn Leaves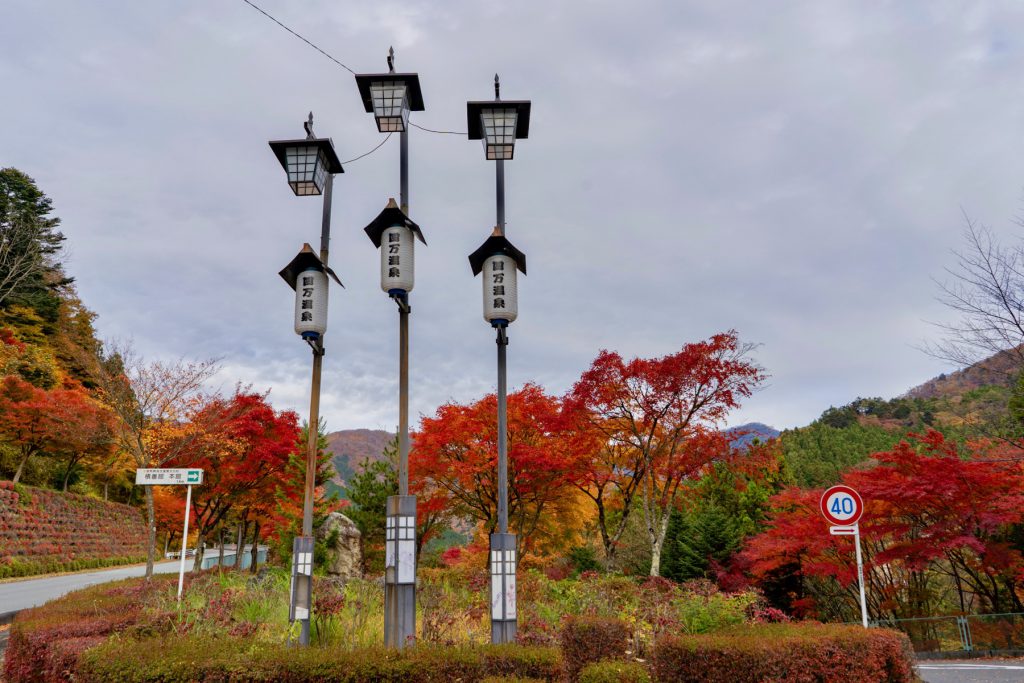 Now, let's return to Shima Onsen, which is the perfect place to see the fall colors. The 12 kilometer stretch of town along Shima River from Shima Lake to Okushima Lake and Shakunage Falls is in itself a sight to behold in the fall.
One of the best places to enjoy the autumn foliage is right here at Kashiwaya Ryokan. Both the terrace in our guestrooms and the open-air onsen offer stunning views of the leaves. A relaxing bath in our onsen surrounded by the reds and yellows of autumn is the perfect way to wash away your worries. You might even pick up some fallen leaves while your at it!
There are many locations along the river from which to enjoy the fall colors. In the lower streams you can see Shima Lake and the famous oketsu. Oketsu are unique indentations in the riverbed that give the impression of pools within the flowing water of the river. Closer to Kashiwaya there is Momotaro Falls and Shima Ohashi Bridge, along with a number of other bridges. As you go further upstream you can see Fusen-kyo Ravine, Hinatami Yakushido Temple, and Okushima Lake. And there are also a great number of waterfalls along the way, offering an astounding variety of views for nature lovers.
We highly recommend seeing the oketsu, Shima Lake, Shima Ohashi Bridge, and Okushima Lake for the stunning contrast of the autumn leaves with Shima's signature "Shima Blue" waters. We also highly recommend seeing the autumn foliage among some of the historical buildings in Shima Onsen, including Sekizenkan, said to be the model for the bathhouse in the Miyazaki animated film Spirited Away, and Hinatami Yakushido, an Important Cultural Property of Japan built in the Muromachi Period (1336-1573).
Shima Onsen is a sprawling town, and while you may enjoy walking through the town and up toward the river, Kahshiwaya Ryokan also offers free bike rentals to guests.For those who enjoy hiking, we recommend heading up as far as Ogura Falls and Maya Falls.
No matter where you go in Shima Onsen, you'll find that the autumn colors are all around you! Please enjoy your stay and relax while you're here!
Things to Keep in Mind
There are days when the temperature drops below 10 degrees Celsius (50 degrees F), so be sure to wear appropriate clothing when enjoying the autumn leaves (long sleeves, coats, gloves, etc.).
Daylight hours are quite short during the fall. Keep in mind that sundown is around 5pm, and make sure you get out early to fully enjoy the beauty of Shima and Kanto.
Some of the areas mentioned above can only be accessed via bus, and some buses only run a few times a day. When using public transportation, we highly recommend carefully researching beforehand to avoid getting stranded somewhere.
If possible, we recommend renting a car, as it is much easier than depending on buses.
Autumn leaves at Kanto area map
If you interested in Japanese style Onsen, Please click here
Shima Onsen Kashiwaya Ryokan >