There is also a proverb in Japan, meaning "When in Rome, do as the Romans do."
This proverb means that if you enter a land and an environment, it is wise to follow the customs and ways there.
Once you go on a trip, you can realize deeper the country's culture if you do so.
That is what I believe.
However, during a long journey, you will miss your usual habits.
We Japanese also visit Japanese restaurants abroad. I think this is one of the reasons.
It is a benefit for foreign customers to know about Japanese culture by staying at Japanese ryokan.
On the other hand, some customers feel stress as the life at ryokan is totally different from their usual life.
This seems to be especially strong what comes to meals and beddings.
Some customers want to sleep In Futon and enjoy Washoku as they came so far to Japan.
But others want to sleep in a bed, which they are used to, and enjoy meals other than Washoku.
We Kashiwaya Ryokan basically provide Futon in a Japanese-style room and Washoku.
But we offer other choices, thus foreign customers are pleased about it.
First, concerning beddings,
there are two types of rooms, where you can sleep in a Western-style bed.
One of them is a room, called Flower Room, with a private bath.
It is equipped with a Japanese-style living room and low-floor type twin beds in a room, which is conjugated two rooms. It also is equipped with a private onsen inside the room. This is very popular.
Another room is called "Japanese Twin." It is a simple room with low-floor type of twin beds in a Japanese-style room with Tatami.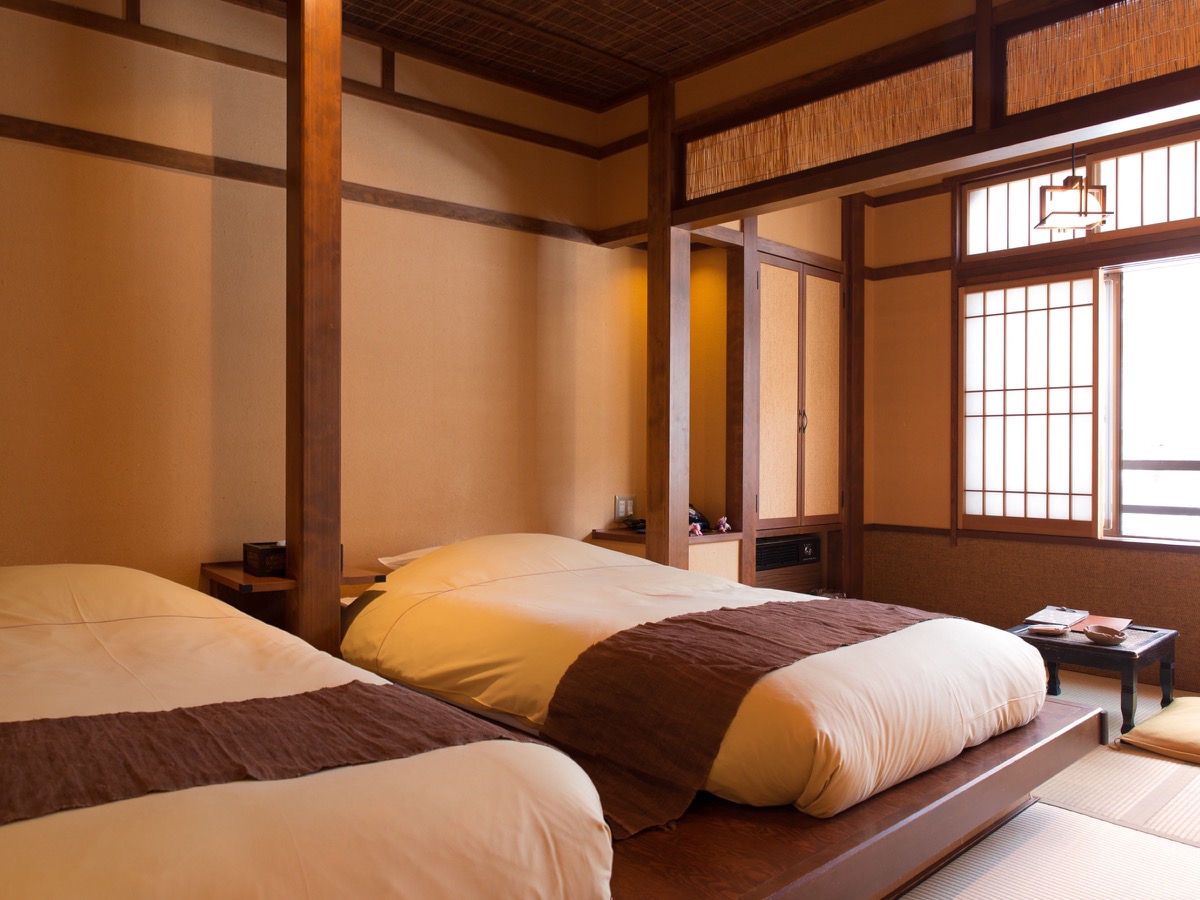 Then, meals.
We provide Washoku only for dinner, so you cannot chose it. But for breakfast, you can choose from Washoku, Western-style, and brunch at Kashiwaya café at Onsen town.
The Western-style menu is two types of freshly baked breads, pot service coffee, Spanish-style omelet, salad, and so on.
In addition, as a branch at Kashiwaya cafe, you can choose from sandwich plate, pasta, curry rice, Loco Moco, and so on.
Combine various choices and enjoy a nice trip in Japan!
If you interested in Japanese style Onsen, Please click here
Shima Onsen Kashiwaya Ryokan >