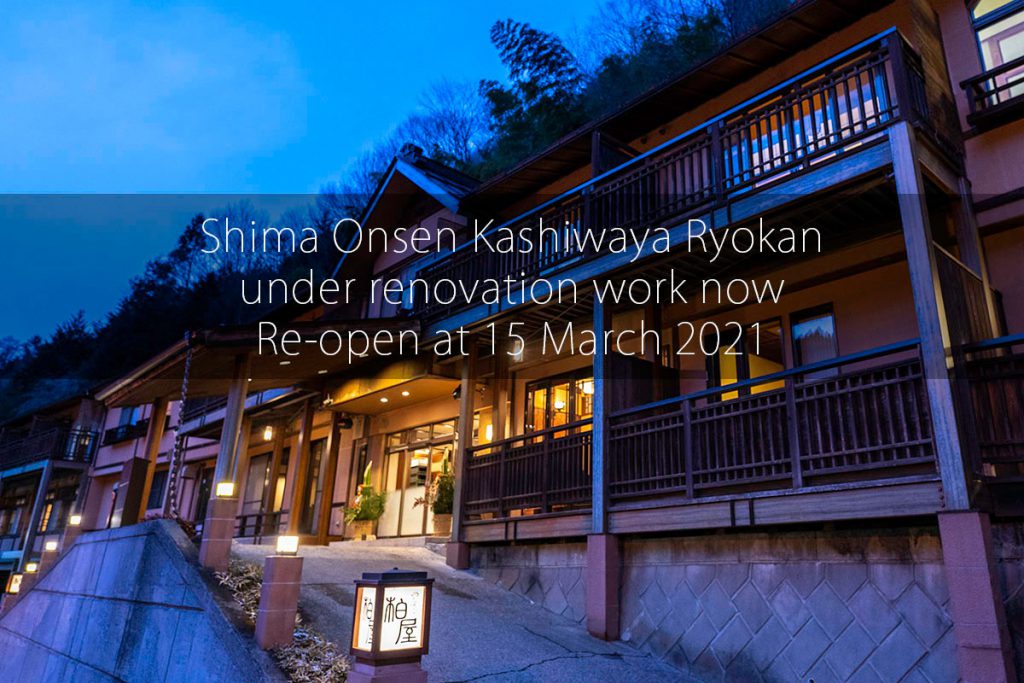 Shima Onsen Kashiwaya Ryokan has been undergoing renovation work for the entire building.
It will reopen on March 15, 2021.
It will be remodelled under the theme of "putting on light makeup" while keeping the great atmosphere of Kashiwaya Ryokan.
Details on the refurbishing project are below.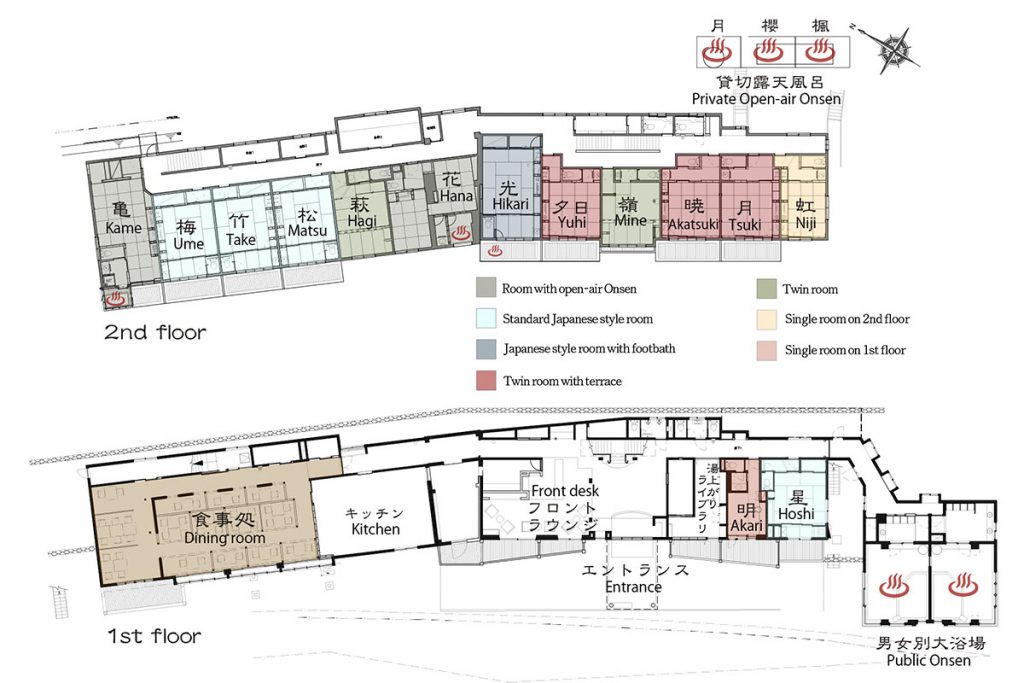 1. The guest room with an open-air bath "Kame" will be fully renovated. It is one of our two rooms with an open-air bath. It will be relocated from the first floor to the second floor and will provide our guests with more space with a comfortable ambience.
It will be made of Japanese Kiso cypress for our guests' satisfaction by wrapping you in the stylish bathroom's warm atmosphere.

2. An eagerly awaited new Japanese-style room with a footbath on the terrace is here.
It is "Hikari" with a footbath on the terrace the size of ten tatami mats. You can overlook the mountain stream of the Shima River from the decked terrace. It gives you a great view of Shima Onsen while soaking in the footbath.

3. The guest room "Hana" with an open-air bath has a new appearance.
One of the two "Hana " rooms with twin beds have been expanded in size for a more comfortable stay.

4. Newly introduced Japanese twin rooms with a decked terrace are coming. The three rooms (Tsuki, Akatsuki and Yuhi) will be renovated to improve the toilet and water area's comfort level. It will also become a twin room with tatami mats and low beds, providing more space.

5. Meals are served in a restaurant called "Osyokuji-dokoro."
We will expand the current dining room to give it semi-private dining rooms. Both dinner and breakfast will be served in the dining room. We will also further enhance the cooking ingredients. We have also dealt with the smell complaint after meals in the guest room, which caused inconvenience. We will accommodate you with a pleasant environment in the room.

6. The second floor's "Niji" has a private toilet and is exclusively for solo travelers. It will also have a private toilet closest to the private open-air bath, which used to be the size of six tatami mats and didn't have a bathroom. It is available for individual customers throughout the year. We also have optional futons for one additional person. Along with "Akari," we have two rooms for solo travelers throughout the year.
We will also renew the interior of the other rooms and public areas and renovate older parts of the building.
The floor plan of the new building is as follows.
We have been working hard to meet your expectations. Please have a pleasant stay at our new Shima Onsen Kashiwaya Ryokan!
We look forward to welcoming you all.
Click here to make a reservation.
Please enjoy the construction videos !
Click here to make a reservation.