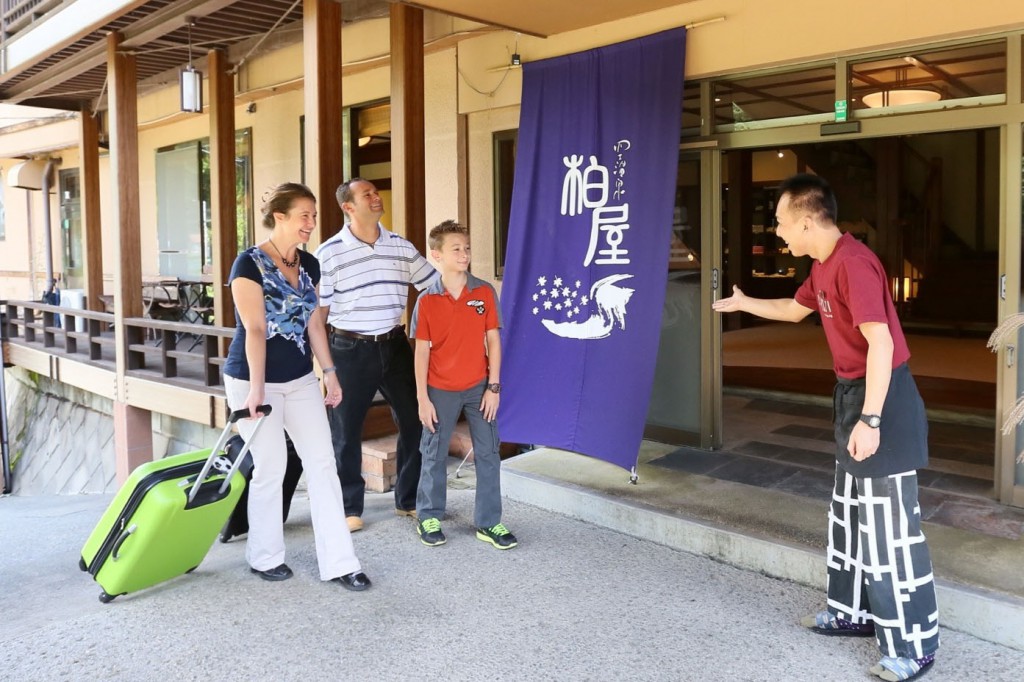 "Shima Onsen" is closer from Tokyo, where you can enjoy old-fashioned country taste of Japan. It is an Onsen (hot spring) resort, where we live.
Shima Onsen is located in Gunma Prefecture, which is at Kanto region in Honshu in Japan. It is located at approximately 150km in a straight line from Tokyo.
It will take about 3 hours by trains, a direct bus, cars, and so on to visit us.
Here is the detailed guide for the access.
Train and Local Bus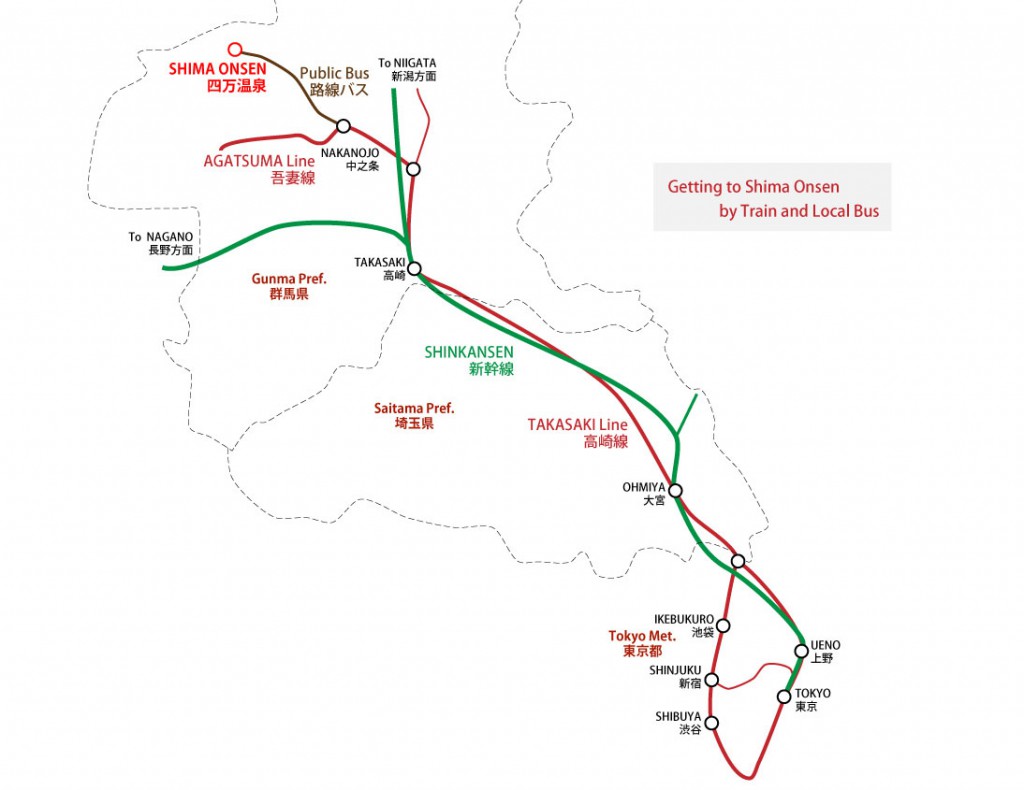 This is the most reasonable way if you have Japan Rail Pass, which is popular for guests from overseas.
Our nearest JR station is Nakanojo Station of JR Agatsuma Line.
From Nakanojo Station, it takes about 25 minutes by a local bus bound for Shima Onsen operated by Kanetsu Transportation.
The nearest bus stop is "Seiryu-no-yu."
Immediately after getting off the bus, you can see our Shima Onsen Kashiwaya Ryokan on your back.
Direct Express "Kusatsu-Shima go"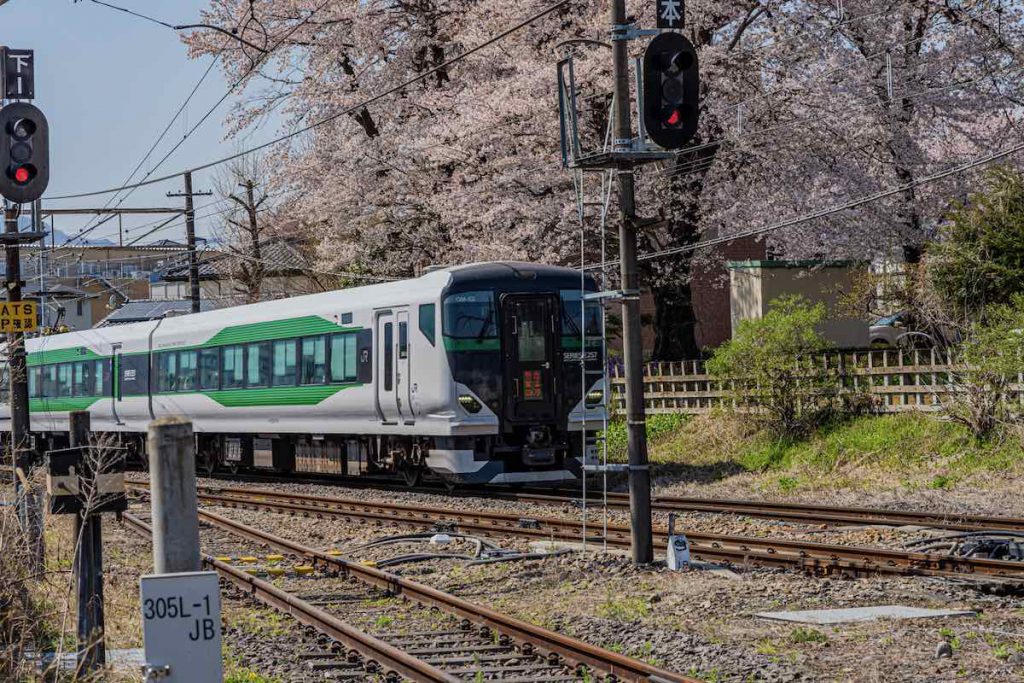 The most recommended way to visit Shima Onsen from Tokyo area by trains and buses is the way to use Direct Express "Kusatsu-Shima go" from Ueno Station.
This is because in this way you can go to Nakanojo Station without transfer, which is the nearest JR station.
Ueno Station is one of the terminal stations in Tokyo metropolitan area.
It takes 7 or 8 minutes from Tokyo Station by Yamanote Line.
Kusatsu-Shima-go is operated twice a day on around10 am and noon.
It takes about 2 hours from Ueno Station to Nakanojo Station.
For returning, there are two services on around 12:30pm and 4 pm.
Shinkansen and Agatsuma Line
When considering time saving, Shinkansen (Joetsu Shinkansen or Hokuriku Shinkansen) and JR Agatsuma Line are recommended.
Go to Takasaki Station by Shinkansen from Tokyo Station or Ueno Station.
It takes about 50 minutes to Takasaki Station.
At Takasaki Station, transfer to JR Agatsuma Line, where Takasaki Station is the first train.
It takes about 50 minutes from Takasaki to Nakanojo Station.
Agatsuma Line is operating 1 train per about 1 hour.
Although the last train at Agatsuma Line is operated until late at night, there would be no bus from Nakanojo Station.
So make sure to get on a train, which leaves Takasaki Station at 6:10 pm (As of April 2023) at the latest.
Other Ways
When leaving from Shinjuku, Ikebukuro, and Shibuya area, it may be faster and more convenience to use Shonan Shinjuku Line or Saikyo Line to Omiya, then take the ways described at 1) and 2).
It takes about 35 minutes from Shinjuku to Omiya by Shonan Shinjuku Line and a rapid train of Saikyo Line.
Since Nakanojo Station is a small station, it will be easy to find a local bus to Shima Onsen.
The lane 1, located at the front left diagonally out of the station, is the bus stop.
Also check the video.

Highway express Bus, Shima Onsen-go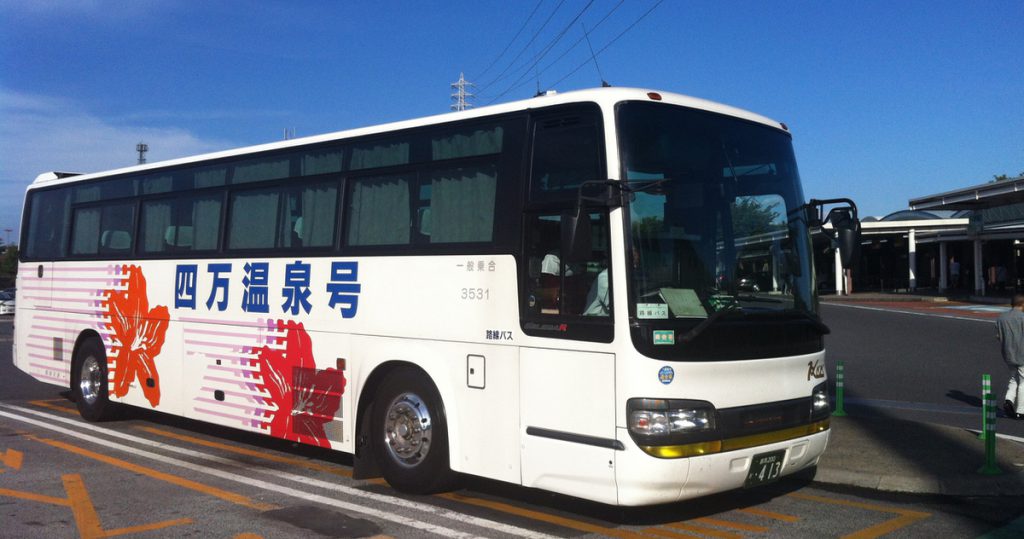 If you don't have JR-pass, the reasonable way is to use the Highway express bus "Shima Onsen-go."
The price is 5600 yen for the round-trip.
It will directly bring you to Shima Onsen without transfer from the bus stop at Tokyo staion (Yaesu south exit).
There is a package plan available at our Shima Onsen Kashiwaya Ryokan, which includes this bus and accommodation.
With this package, we will also arrange the bus.
So it will be very easy and convenient.
This plan is very popular.
Alomost half of our customers from abroad use this plan.
When leaving Yaesu South exit at Tokyo Station at 8:50 am, the arrival at Shima Onsen will be 12:20 pm.
For returning, when leaving Shima Onsen at 1:45 pm, the arrival at Tokyo will be 5:30 pm.
The number of the buses will be Increased from winter to spring.
The schedule with the increased number is as following: leave Tokyo at 10:40 am and arrive at Shima Onsen at 2:25 pm.
For returning, leave Shima Onsen at 10:45 am and arrive at Tokyo at 2:30 pm.
Visit Shima Onsen by a Car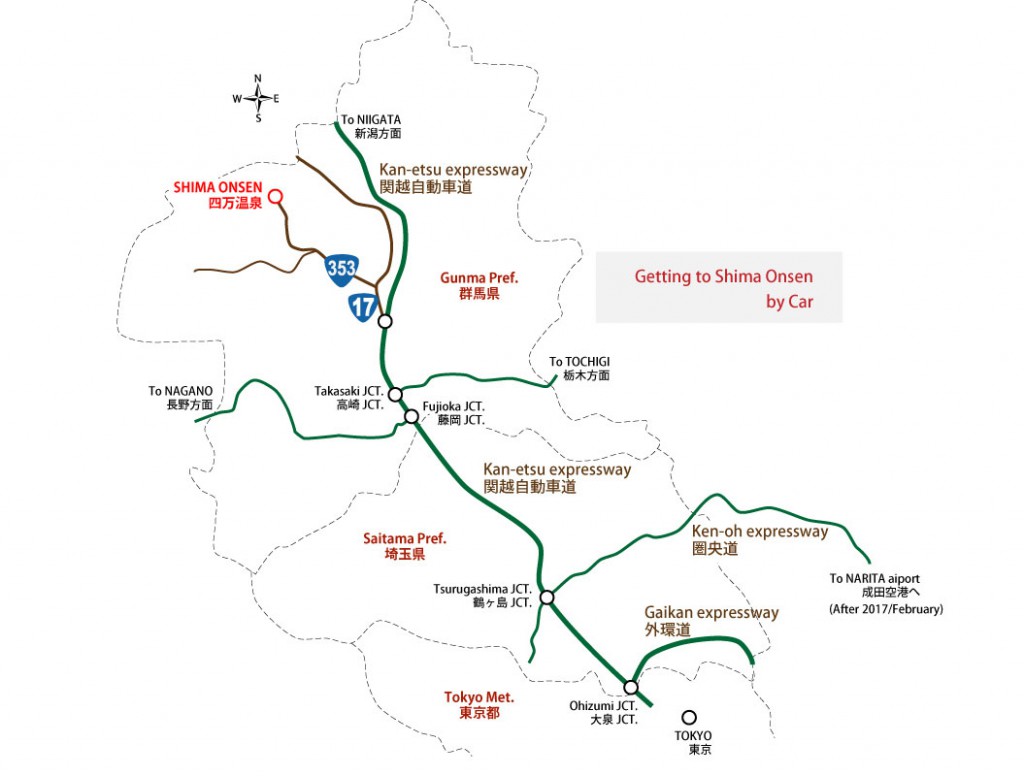 There are many sights and attractions around Shima Onsen, where you cannot go without a car.
So if you can drive a car, this is also recommended.
The route from Tokyo to Shima Onsen is as following.
Nerima, Kan-etsu expressway (Oizumi Junction of Gaikan-do expressway)
↓ 100km, 75 minutes
Shibukawa Ikaho IC, Kan-etsu expressway
The route will be 40km and take about 60 minutes from Shibukawa Ikaho IC, via Route 17 and Route 353.
Please visit our rural Onsen (hot spring) town, which is near from Tokyo.
Surely, you can discover a new Japan.
Tips,
Please Use These Images When You Get Lost from Tokyo to Shima Onsen